I'm delighted to interview the wonderful and talented David M. Brown, author of Fezariu's Epiphany and upcoming novel A World Apart. In addition to being a gifted writer, David is one of the kindest, most generous, community-oriented writers I know. I hope you enjoy the interview!
Would you please tell us about yourself? I understand you're transitioning to writing full-time. That's wonderful! Congratulations! How does that feel? What are your plans?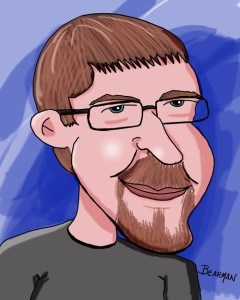 I was born in Barnsley, a former mining town in South Yorkshire, England. I spent my first eighteen years there. It was at college that I first came up with idea of Elenchera, a fictitious world I have devoted more than a decade to building and it currently stands at 47,000 years of history.
In 2000 I moved to Huddersfield, West Yorkshire, to study at the university and have remained in the town ever since. I now live with my wife, Donna, and our six rescue cats – Kain, Razz, Buggles, Charlie, Bilbo and Frodo, or the Dirty Half a Dozen as I like to call them.
I've recently started writing full-time and it's been strange adapting to having more time. I plan to publish at least one novel a year and continue with The Elencheran Chronicles. I may branch out into other areas one day but for now Elenchera has more than enough to keep me busy.
Could you please tell us about Fezariu's Epiphany and the Elencheran Chronicles? What inspired you to write fantasy? Why this genre?
I chose the fantasy genre for the scope it offers to a writer and the limitless possibilities for their imagination. After creating the world of Elenchera I wanted to write a series of self-contained novels linked only by being set in the same world. The Elencheran Chronicles is the term that encompasses all the novels but it also the title of a work in the later centuries by a historian known as Hawkswood who is said to traverse the timelines documenting history and putting an end to debates that have raged between rival historians and theologians for centuries.
Fezariu's Epiphany was my debut novel from the world of Elenchera, published in May 2011. It tells the story of Fezariu who suffers many setbacks as a boy. His mother abandons him and his stepfather is brutally murdered. Fezariu never picks up the pieces and, blaming himself for these tragedies, he runs away from home and joins the Merelax Mercenaries – Elenchera's most prestigious hired hands. This new life is perfect for Fezariu. He thrives as a mercenary and wins honour and recognition, but any hopes that the mercenaries will help him leave his past behind are soon ruined. Fezariu learns that the past can never be fully buried and if he is to move on he will have to go back to his childhood and discover the truth about why his mother abandoned him.
Would you be willing to take us behind the scenes? What has surprised you the most about writing your books?
I would say the belief I now have in myself has surprised me the most. I previously wrote four novels between 2000 and 2006 and tried submitting them to publishers but with limited success or feedback. I realised my writing just wasn't ready. Elenchera was still not fully developed and needed more work so I devoted all of my time to the world building, to flesh out the timelines and give the novels the substance they needed. When I met Donna in late 2008 I was preparing to start a new novel but my confidence wasn't high. Not only did Donna read my short stories and world history, she fed back to me with brutally honest opinions, something my friends and family had never done before. Though there were some issues with my work, the bulk of it seemed to be good and that was the springboard for me to write Fezariu's Epiphany. Although it took six drafts I actually had a manuscript that I was truly happy with. It's always a good feeling knowing you can complete a novel as it's not an easy challenge.
Your new book A World Apart is set to launch this spring. Can you tell us about that book?
A World Apart tells the story of three friends – Demetrius, Eleyna and Halcyon – who grow up together in the peaceful town of Dove's Meadow. As teenagers, the trio find themselves in an unwanted love triangle. Though Eleyna loves Demetrius, it is Halcyon that she marries, driving Demetrius away from the town and into the army. The trio do not see each other again for a decade but when they are finally reunited many things have changed. Demetrius no longer shares the same perspectives as Eleyna and Halcyon and when they do finally meet it is not as friends but as enemies!
What advice do you have for aspiring writers?
Start a blog if you haven't already. Blogs are a great way to motivate yourself to write regularly and they also help you meet and network with readers and writers alike. The best advice I can offer is to find yourself a good critic, someone you trust to be honest with you. I'm lucky that although Donna is my wife she is not afraid to tell me if my writing needs work or deleting altogether. You should see the number of red pens she goes through! I don't cry as often as I used to when she gives me feedback and I do believe I am a better writer than I was before the two of us met.
GUEST POST: What Kind of Writer Shall I Be?
There are many different kinds of writers and as you set out on your journey you may already have an idea of what sort of writer you will be. Of course, many writers will wish to write for their livings and have a wide range of readers, I certainly do, but what are we like as people? Are we polite and friendly? Is there arrogance about us? Since publishing my first novel in May 2011 I have encountered different kinds of writers, some I love, others I hope I will never have to encounter again. I'm not here to name names, of course, simply to pinpoint how I wish to be.
I encounter many writers on social networks such as Twitter and Facebook. On Facebook there are forums devoted to indie authors and they are great places to interact with your peers, exchange advice, ideas and maybe share some of your work. Exchange is the motto of these groups. My wife runs a forum, the Indie Exchange, which invites writers to share their work, such as blogs, and there is the opportunity to promote your work as well.
Writers that embrace the forums, like the Indie Exchange, and contribute regularly are the ones who are there not just for themselves but for the rest of the community. Writers that simply drop by to promote their work and offer nothing else are soon frowned upon. If a writer chooses to be self-serving then that is their decision but the forums are not the place to be. They are about community and helping one another. If you're willing to embrace that then you can reap a lot of rewards and make some good friends along the way.
When promoting a novel a great method is blog touring where you can not only have bloggers review your work but you can do interviews and guest posts too. They're a great thing to take part in and I love them, especially the interviews. What I hate to see is writers approaching bloggers in a rude manner. I've known bloggers that receive a request to review books where the author hasn't spelt their name right, has sent them a sci-fi novel when their guidelines clearly say 'no sci-fi thank you' or simply sent their pitch, which has clearly been copied and pasted from a template without any amendments to be tailored towards a specific blog. Review guidelines are in place for a reason. If we don't abide by them we've already damaged not just our book's prospects but our reputation.
My thoughts on reviewers is that they are busy people and the fact they have taken the time to read your work should be approached not with scorn but with gratitude. As writers, we have no right to expect our books to be read and reviewed by everyone. If we want a blogger's time then we should at least take time of our own to approach them in a decent manner. After all, we're the ones that need them, not the other way round.
The reviews themselves can be a bone of contention for some writers. They may get a poor review and be up in arms about it. It's okay to be disappointed if you get negative feedback but it can be helpful when writing your next work. Few reviewers are spiteful, the majority offer constructive criticism which all writers wanting to improve their craft need. Of course, some reviewers can be deliberately vindictive. I've had bad reviews from a couple of people who haven't even finished my novel but in those instances (one only read 3 pages!) I merely shrug and move on. It's important to remember no novel can possibly escape a bad review so when they come applaud yourself. You've just joined the ranks of the likes of Austen, Tolstoy, Dickens and, yes, Shakespeare.
Some writers respond very badly to reviews and feel the need to raise them with the reviewer, justifying why their book deserves better. I don't agree with this. Whatever the review says, if the points made seem reasonable and complement the rating, then the writer's best approach is a brief few words such as, 'Thank you for the review and the feedback. I really appreciate the time you have taken to read my work.' Bloggers will prefer writers that respond in this manner and guess what? They may be more than happy to read your next book. They say no publicity is bad publicity but writers that are polite and gracious are always going to be made more welcome by bloggers in future.
I'm not a perfect writer by any means but over the last year I have learned a lot about how to apply myself. While our writing says a lot about us and how good we are, it is our behaviour as individuals that also plays a part as well. Be gracious to every reader, regardless of the feedback. Be willing to interact and help your fellow indie authors and they will do the same for you. Writing a novel is a great achievement that not all of us will accomplish but it doesn't give us the right to be arrogant towards others. I believe in being humble but proud of my work. If it means I sell 1,000 copies, while being rude, arrogant and self-serving somehow shifts a million, I still wouldn't change the writer I am.
About David
David Brown could be considered a fantasy fanatic, especially since he has spent the last 10 years developing a 47,000-year history for his fictional world of Elenchera. When converting his obsession into literary form, David commits himself to a rigorous writing and editing process before his work can meet his approval. Combined with the critical eye of his wife and a BA Honors in History and English, David's dedication leads him to his goal of inspiring readers through heartfelt stories and characters.
Although David is inspired primarily by fantasy fiction, he also finds his muse in the form of anime, world cinema, history, and biographies. His own books, Fezariu's Epiphany and the in-progress A World Apart, combine aspects from worlds both old and new into compelling tales of a world not soon forgotten., David himself certainly does not lack a spirit of adventure; in fact, he left his job in 2007 in order to spend a month traveling. Second only to meeting and marrying his wife, David counts this as one of the most amazing experiences of his life.
About Fezariu's Epiphany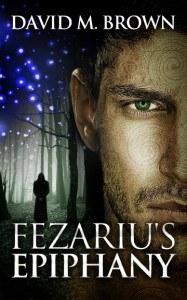 12-year-old Fezariu thought his mother died when he was little, but when his beloved stepfather dies the boy discovers she is alive and well – and working at the most famous brothel in all of Elenchera. When she cruelly rejects him it's more than he can bear, and he runs away to join a band of ruthless soldiers for hire. The Merelax Mercenaries will fight for anyone who can pay them, no matter the justice of the cause.
Fezariu grows up among the soldiers and becomes one of them. He thinks his time with the mercenaries has hardened him. But a campaign in his old home town pushes him too far, and he discovers what really happened to his mother. Maybe there are some things money shouldn't buy… and maybe it's time Fezariu took his revenge.