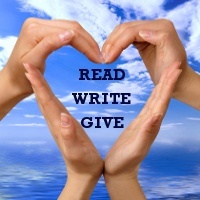 Each week I'll be donating $50 to the charity of a blogger's choice as part of the "Read, Write, Give" drive. If you'd like to get involved, you can nominate a blogger using the form at the end of the post and also be entered into the competition to win a $200 Amazon gift card.
This week, Kriss from Cabin Goddess has chosen the Interior AIDS Association as her charity. You can read more about them after her interview.
I've often said that book bloggers are the "Fairy Godmothers and Godfathers" of the literary world – and I really believe it. Therefore, I'm thrilled to have the opportunity to interview some of these wonderful bloggers and shed a little light on why they undertake this epic labors of love!
This week's interview is with Kriss Morton, who runs Cabin Goddess, a haven for those who love books, food, zombies and Alaska – what a winning combination! Kriss previously took part in the For the Love of Love event with a passionate piece about food.
Interview with Kriss Morton: Cabin Goddess
Kriss, thank you so much for joining me once again! Could you please tell us about yourself?
I am a conundrum to even myself. I have a lot of hidden talents and skills and it tends to make my life a bit crazy at times. I studied Medieval Literature, Film, New Media Journalism and Photography at the University. I have been a reader and lover of books for as long as I can remember. My parents used to bribe me with all the books I could read by having me read classics, if they only knew how much I loved those too. Growing up I struggled with a lot of things and therefore I tended to lose myself in the fantasy and world of the book.
I live in Alaska, ended up here as a military wife and now I am here because I am trapped by its beauty and its borders. I have a love hate relationship for the Interior. I also live in a one room, two story (so one room stacked on top of the other attached with stairs) log cabin which is water free, as in outhouse, no running water and I am forced to shower at the laundromat. Some folks call it the great Alaskan Dream, I call them in need of Thorazine but I make it work and even love it at times.
I write my blog, my book, my poetry. I am working on a cookbook and doing all the photography for it as well as writing tales about each piece or each chapter. One of these years I will finish it. I average about 5K in words a day throughout them all which is why you all see me here all the time.
I am disorganized, in dire need of minions but basically I trudge on through and make it work day to day.
Oh I love bacon, chocolate and take bribes in either.
Could you please tell us why you started the site and how you've built your following?
I started my blog as an experiment. I had another that was used while I was in class working on my BA in New Media. We had no internet up here in the hills so I had to walk down a ways till my 3G picked up and I would blog via my iPhone. It was a way to share my writing and photography and pontifications about Alaska Living.
I did not work on much building to be honest. I joined twitter in 2009, again it was because of New Media studies. I have had a Facebook account and been part of the online world for years so I know how to network. Plus being a former military wife, I knew what needed to be done and just did it. I stay engaged as best I can and so far I am just growing daily and daily at an alarmingly scary and exciting level.
Now my site is focused on my book reviewing, but I was dreaming of being a foodie blog . I love to cook, I am a very good cook in the sense that I can whip out a pretty good dinner on the fly without a recipe, the chemistry and all excites me. To comprise I decided to start writing recipes with my reviews and though I do not do it for EVERY book I do try and share one as often as I can depending on the book an the engagement of the author.
What do you enjoy most about reviewing books?
I get to share my opinions without being interrupted (I grew up in one of THOSE families). Honestly I just love to talk about what I see in them. To share my excitement. To perhaps share what I think no one else caught. To share my voice with others and to share the voice of the author and their world to everyone that comes to read my blog. I like to make an author happy he or she chose me to review their book.
What do you enjoy most about blogging? Least?
Writing and making it look beautiful too. I love the interaction, the attention (I can admit it), the excitement that surrounds a release or book tour. I love how it has helped me become a better writer. Most of my writing for school was research and analytical, this is a chance for me to release my inner dragon of creativity!
Least? How it is hard to balance the blogging with the love of reading. Sometimes you get so overwhelmed with all the work (I spend at least 10 hours daily writing etc and designing for the blog and for my tour companies). I forget I am suppose to be having fun still!
You must get hundreds, of review requests every month. How do you handle all the requests?
My biggest pet peeve. I do not get hundreds, at least since I marked that reviews were closed through July. But I do get at least one a day. Sometimes I miss them because even WITH directions on how to request a review, and instead of using my link, they just write and pray I will be able to read their book and review it in the next week. I handle most requests with a simple yes and no and what I would be willing to do based on their own responses to my questions, especially if they have not bothered to read my policy on reviews.
You also host a BlogTalkRadio show. How did you get into that? Is talking about books a very different experience to writing about them?
I was dragged kicking and screaming out of bed before 8 AM by my fellow admins over at the Book Bloggers' Collaborative. I have been known to drop the F bomb, ok ONCE, ramble on and derail conversations, create color and festiveness for all. Talking about them flows well, I can do both. I tend to get my point across better in writing because I can edit myself. But since I have taught and been a student of literature I love being able to dig in deep and discuss genre, pop-culture behind the writing and trending topics etc.
You're obviously a real food lover. Can you tell us a little more about that?
It was a challenge growing up, as in I had a lot of amazing cooks in the family. Some simple fare, some more fancy. But we were an 'eat at the table every night' family. So when I was able to start cooking I read, I watched and I absolutely fell in love with the science of food. When I grew up and became a mother I made everything to save money so I learned how to make a great many fancy looking dishes or adapt the recipes to fit my ingredients. This is a bit too small of a space, because I can go on and on and on and on. I experiment, collect cook books and try to learn how to eat healthy but still make it seem like there are TONS of calories and things that are not good for you. Food is comfort for many and you can have your cake and eat it too without becoming too big to leave your house, it is all about loving not only the food but the wonderful feelings that are evoked within. Food is a memory trigger also. So scents of cooking pies will evoke a memory from the holidays or the taste of a good steak can bring on a memory of a summer evening in Washington state, where I grew up.
You mentioned you sometimes pair your articles/reviews with recipes. How did you come up with that idea? How do you find the time?
Basically I had a desire to be a killer foodie blog. When I started doing reviews, a lot of my followers told me they missed all my cooking and recipes. I thought, what the heck and ended up posting a recipe that went along with the story. Such as Angel Food cake with AngelKillers, or a Strawberry Sauce with a vampire book. Even an author interview, they get excited and send me a recipe, it is fun. Plus food plays a huge part in many stories so it is pretty easy. I need to work on doing ONE a week, but I am so swamped all the time I forget! Time? *Laughing manically again* please send bacon and minions! Oh I gave up doing serious gaming in order to write the blog.
You also run a weekly event called Sunday Shorts (#sundayshorts). What's that all about? How can people get involved?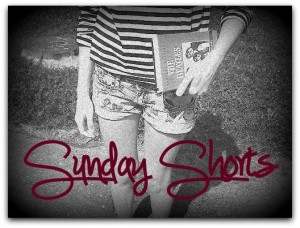 Sunday Shorts came about because I had been collecting all these great short stories for free or 99 cents. One of my friends said she hated reviewing shorts, and I thought to myself, but why not share them? My father initially gave me the seed that got the idea growing. He called them his weekend reads. Being a corporate lawyer even now at almost 70 he works over 60 hour weeks, he loves to read but he reads slow so my mother has always found books with solid chapters that can stand alone and be put aside for a week or two. Also collections of short stories. I love shorts and novella's are fun to read and I read very fast. But there was no outlet.
If you are interested you can find past Sunday Shorts posts here. I also have a Goodreads group set up where you can find more info at and also a shelf that has ideas. The whole idea is easy, a short story, an anthology of short stories, a novella, or a quick weekend read that is also short on your wallet! Visit our Goodreads Group and see whats on our shelf! This is a brand new Meme that I hope will grow! If you do not have a blog, you can leave it in the comment section, add it to the group list, share it with your friends on Twitter, just use #sundayshorts when you share! Just remember to have fun!
For indie authors in particular, getting reviewed is one of the biggest challenges. Do you have any advice?
Be engaging. Be polite. Do not expect, be accommodating, take the time to have the file converted to appropriate formats, do not send a beta read unless you are asking for a beta reader. We may not be paid for our time, but it is time. If I were to get paid for what I do I would not be living in a cabin without running water. Go and see if the reviewer has a review policy and follow it. Remember we are not professionals, so if we do not follow protocols you think we should be following many of us are just readers, simple readers and you want to make us happy. I know many of us do not like to post reviews that are 1 and 2 stars because we want to be fair. Many authors are totally fine as long as it is an honest review. But I always let them know why I reviewed it. Just remember we work just as hard as you do and many of us are also authors.
You're part of the Book Bloggers' Collaborative. How did that come about? Is it good to have a network behind you?
I was asked to be part of the Win With eBooks contest, to host authors, write reviews etc. And that was my gateway drug. How I became part of the collaborative was my brilliant use of design in the creation of our secret identity uniforms, the hand crafting of our decoder rings and my ability to keep the dragon wrangled by a special elite group of troglodytes. Hey, it is a Ninja Pirate Secret Blogging group. We pool our plentitude of skills to support each other, the authors and the indie world in general.
Tell us about your favorite charities.
Reading, anything to do with reading and getting books to kids just so they can read and learn to find a world within. Reading gives you hope, it lets you escape. I do not have a specific favorite, however I support Banned Books, I hand out books to kids for Halloween (created by Neil Gaiman).
Interior AIDS Association – specifically educational material and awareness programs as well as the food drive. I am heavily involved with the LGBT programs wherever I live. With a son and so many friends who are gay and with a family that raised me to not see black or white but people, I pride myself with being someone I consider culturally aware. In my opinion, there is no excuse to spread the hate, you do not have to accept who I am or what color my skin is or who I choose to love. But if you practice a religion and a life style that is suppose to involve love, you should be at least living a life of tolerance.
About Kriss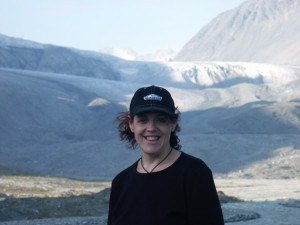 Kriss lives with her fiance Geoff and their cat Asrielle in a cabin in Alaska, with beautiful views and an internet connection, but no running water!
Kriss says: "For now we are content with our way of life. Mainly because we are cheap, and living here is cheap. We like our toys, or games and our game systems. I like my cameras and my computer and my TV DVD collection. Plus lets face it, after six years we are dug into this place!  So do not ask me if I would prefer a place with running water, I would. It is just not a reality at almost triple the cost of living here. I do miss my bubble-baths, but I can still dream!"
Kriss nominated the Interior AIDS Association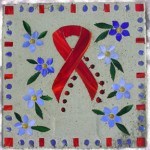 IAA'S mission is to reduce the spread of HIV by providing meaningful and effective education and prevention services to individuals and groups who may be at increased risk; and to improve the quality of life for people living with HIV/AIDS by providing early intervention, case management, and other support services.
Founded in 1988 by a group of concerned Fairbanksans, the Interior AIDS Association, is the only community-based, nonprofit organization in interior Alaska that focuses solely on HIV related prevention, case management, and other support services.
Donate to the Interior AIDS Association
a Rafflecopter giveaway