I'm thrilled to host my lovely friend Molly Greene today. Molly and I met last year on Twitter; since then, we've collaborated on numerous projects and we "talk" online nearly every day. Molly is a gracious woman and friend, a fab blogger, and a tremendously talented writer. She just released a wonderful new mystery, Mark of the Loon. I hope you enjoy this interview!
First, please tell us something about yourself. Tell us a secret.
I don't share much about myself in the real world. The truth is, I haven't told my parents I wrote a book! I was shy to blog about my life when I started in 2011. But after the first couple posts, I figured no one was reading them anyway, so I let 'er rip. When I finally gained an audience I was over myself. The truth is, Twitter and blogging have made me a different person, but even today, my readers know more about me than my friends, family and neighbors (unless they're reading my blog). FYI, I'll tell Mom & Dad the good news if I ever get a royalty check over $100.
How long have you been writing? What inspires you?
I love stories, in both books and movies, and I've always been a reader. I wrote a really bad novel in the late 1990s, and I've written an enormous amount of nonfiction as part of the responsibilities of my day job. I started Mark of the Loon several years ago, and here we are! How I feel about life experiences inspires me to write about them. It's great fun to incorporate memories, feelings, and situations into a fictional plot, because you don't have to stick to the truth or describe events in real time. And you can steal great tidbits from your friends' lives. Oops, I just told another secret.
What are you passionate about? What keeps you awake at night?
Over-thinking keeps me awake at night. What makes me jump out of bed in the morning is excitement over creative projects. I'm my best person when I don't have a lot on my plate, which allows me to enjoy the things I love to do – gardening, decorating, writing, my daily walk. Even moving furniture. I haven't had much time for anything but writing (in my spare time) for a while now.
If a magic carpet would take you anyplace in the world, where would you go? Why?
First, the Pacific Northwest. I miss the moist air and deep green of lush countryside. I want to meet my tribe of Twitter friends who live there, and I want to see the Orcas in LummiBay. Next, the East Coast to meet you, Terri, and Christine Nolfi. I'd love to see Pat Conroy country and the islands off South Carolina, and experience Christine's famous Grey Goose martini. Then to Ireland, where my grandmothers were born.
If you could change one thing in your life, what would it be? Why?
Complete and utter financial independence would be lovely. Then I could write full time and buy really expensive furniture. And travel!
Mark of the Loon
Mark of the Loon is, in many ways, character driven. But there is also a fascinating secret that keeps this story moving. This is a very difficult balance to strike. How did you accomplish this? Did you ever find yourself pulled in one direction or the other?
It sounds hokey, but I found the writing process so compelling I never had to force anything. Turns out I'm a dedicated 'pantser.' My characters told me what was going to happen every step of the way, and I figured they should know, right? I used my daily walk to formulate ideas about what might happen. By the time I wrote it all down on the weekends, I knew how to move the plot forward, and it became a matter of 'how fast can I type"?
Tell us about Madison. Who is she? How did you shape her character?
Every one of my characters exists in me or my close friends. (Except for maybe Velasco, I wouldn't actually own up to being like him.) Humans are so complex. Like actors, there's not an emotion we haven't felt (or that we haven't watched someone experience) that we can't conjure up and write about. Not one. I didn't have to work to create characters, I just plumbed the depths of my own personality – and people I know.
I have to work very hard to create place detail. Your novel – this place, this house – are beautifully developed, very real. How important was place for you? For the story?
I spent some time a dozen years ago getting a handle on what I valued, and what is most important to me. Things like autonomy, independence. As I worked through that exercise, I recognized that where I live – my surroundings – is right up there in the Top Ten. A house doesn't have to be big, but a great ambience is important. Most of my descriptions are either 1) rooms and land I've seen 2) places I've lived, or 3) properties I'd like to own in the future. I'll chalk it up to moving around a lot, working as a real estate agent long ago, and having a great memory.
Place is critical to the story because it shows what's important to Madison, what she feels she's good at, how she expresses herself, and what she wants.
I just love Gen. I believe she's the star of your next book? Would you please tell us about her? Will we see that wonderfully horrid little creep Velasco again?
Gen is a compilation of a woman with the guts and sense of humor I wish I had, combined with a couple of my smart, hilarious, tough-as-nuts friends. As for Velasco, he's doing time, so I don't think he'll be around for the next story. Gen will have to tell me about some other malicious ne'er-do-well. Oh, wait, she already has.
WRITING & PUBLISHING
How long did it take you to write Mark of the Loon? To revise?
I started the original draft in June 2009, and wrote 'The End' in March 2010. At the time, I had a full time day job and was also remodeling a house. I worked through the first round of edits on my own through the rest of 2010, then put the mss aside and began to query agents. That went nowhere, and I simply decided I was not cut out for the process, so chose to go indie. I began to build a social media platform early in 2011. I worked with traditionally published author Deryn Collier ('Confined Space') during the Fall of 2011 to further develop plot. I edited until the day I published the ebook on Amazon. Gah!
What did you most and least enjoy about the process?
I LOVED working on plot development, and 'getting' the intuitive flashes of what was going to happen next. I did not love the extensive editing process. I'd changed as a writer so much during the years I've worked on the book that I could barely stand to read some of my original writing. I changed huge blocks of the original manuscript. Last fall, Deryn Collier gave me some wonderful ideas about balancing the plot, and that was great fun. After that, trusted beta-readers pointed out errors and what didn't work. I edited until I thought I was going to be dragged off to the loony bin.
Do you have a marketing plan for MOTL? If so, would you be willing to share details?
My initial plan was simply to get the book published, a huge project in itself. I priced the ebook at 99 cents so it would be easy for interested blog and Twitter followers to purchase. I'm hoping initial sales will spark positive word of mouth. Since then, I've joined the IBC's 99 Cent Network. I also joined the IAN. Once I have ten reviews, I'll purchase promotional spots on a few e-book sites. As always, my plan is to observe others, to eavesdrop on Twitter to see what's working, and to beg my indie friends to share their secrets. It's worked out well so far!
As you know, we first met on Twitter. In the year or so since we've met, you've developed an amazing, multi-faceted platform. I've very impressed! Would you be willing to share this process with our readers?
I wish I could say that I knew what I was doing. Twitter and I just clicked. I loved it, spent a lot of time on the site, and continue to express my appreciation to those who support me there. I started a blog because I read that I was supposed to. Blogging took a little longer to get into, but I'd say it took off when I began to share openly with others what I'd done on social media, and how I did it.
FUN FACTS
Lefty or righty? Righty!
Introvert or extrovert? Introverted extrovert. I love to be alone, but my flight attendant girlfriends taught me long ago the power of connection in unexpected places. I can – and do – talk to anyone, anywhere.
Plane, train or automobile? Automobile, hands down. As long as I'm not driving. And the driver is very, very quiet.
Beer or wine? Beer in the summer, red wine in winter (although I'm on an alcohol hiatus, other than a bi-weekly snort of bourbon for medicinal purposes).
Water: ice or no ice? Ice in the summer, of course!
Light or dark? It can get pretty dark inside my head, which is why I love people who make me laugh.
Winter or summer? Ahhh. Fall. When the nights are crisp, but we still feel the sun once in a while.
Walking or running? Walk, walk, walk. Walking is my meditation.
Sit on a beach or sit by a fire? I grew up by the beach in San Diego. When I was a kid, we parked almost on the sand and had the place to ourselves. Now So Cal beachgoers have to fight enormous crowds, so I'll choose a warm fire, thank you very much.
Book or audiotape? Book, book, book!
Read or write? Not fair, won't choose.
Draft or revise? Draft, hands down.
Writer's group or editor? Editor. Trust me, a writer's group would get sick and tired of the whining.
FINAL THOUGHTS
If you were to give one tip to aspiring writers, what would it be?
Read books. Learn your craft from successful authors. Listen to the world and conversations around you, and fold what you hear into your own characters. As Anne Lamott says, it doesn't get better than real life.
What are you working on now?
Blog posts! But very soon I'll be back to Rapunzel, the second in my 'Genevieve Delacourt' series.
How can your fans connect with you? Social Media Links:
Twitter: https://twitter.com/#!/mollygreene
Facebook: http://www.facebook.com/molly.greene.7?ref=tn_tnmn
Goodreads: http://www.goodreads.com/author/show/5561802.Molly_Greene
Independent Author Network (IAN) member page: http://www.independentauthornetwork.com/molly-greene.html
Website/blog: http://www.molly-greene.com
About Molly Greene:
Although my day job since 1993 has been Marketing Manager for several high-profile national mortgage companies, I moonlight as a freelance writer, blogger, and author. I've been published by the National Association of Realtors® Magazine, the San Diego Association of Realtors® Magazine, Scotsman Guide, and Reader's Digest. Previous nonfiction works include the consumer booklet, For Sale By Owner, and the thoughtful self-awareness guide, Someone Worth Becoming. My fiction debut, Mark of the Loon, is available on Amazon, and I'm at work on a sequel, Rapunzel, which features attorney-turned-detective Genevieve Delacourt, who appears prominently in Loon.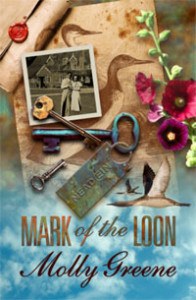 About Mark of the Loon
What happens when a single workaholic falls in love with an old stone cottage in Northern California? In Mark of the Loon, Madison renovates and sells property in addition to her busy real estate sales career. Her work-centric lifestyle leaves little time for anything beyond business and her three wise, hilarious friends. When Madison buys the Blackburne's former house, a series of mysterious events both endanger her and lead her to love – and a permanent home.