I'm delighted to be hosting #BlogFlash2012 – 30 Days, 30 Prompts 30 Posts.
If you'd like to jump on board, it's not too late! 
Don't forget to leave your "Day Four – Busy" post link in the comments below so I can stop by![
#BlogFlash2012: Day Four – Busy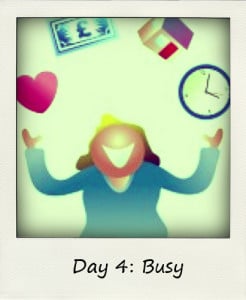 If our condition were truly happy, we would not need diversion from thinking of it in order to make ourselves happy. – Blaise Pascal
Everyone is busy these days-from babies, who ought to be busy, mastering their universe, to overcommitted teens. High-achieving college students prepare busily for graduate school, their slacker counterparts busily partying, making up for lost time. Adults stay busy working demanding jobs, raising children, making ends meet. TV, radio, video games-all of these keep us busy, as we fiddle busily with our devices-iPads, iPods, cellphones, laptops, video games.
We're hurtling downhill, distracted, preoccupied by the frenzied busyness of our world. Who's driving this train? I wonder. What will happen when it reaches the edge of the cliff?
Word count: 99
Please do share your #BlogFlash2012 thoughts (and post links) in comments!