I'm delighted to be hosting #BlogFlash2012 – 30 Days, 30 Prompts 30 Posts.
If you'd like to jump on board, it's not too late!
Don't forget to leave your "Day Nine – Journey" post link in the comments below so I can stop by!
#BlogFlash2012: Day Nine – Journey
I hope you'll forgive my child-centric posts this week. I'm spending two weeks with my eldest daughter Jen, her hubby, Dave, and their family-Sammy, 5, Matthew, 4, Lulu, aka Alexandra Grace, 17 months, and Emily Rose, 2 days. On August 14, we leave; in the meantime, as I'm fully immersed, it's hard to think of anything other than kids. (Thank you for your patience!)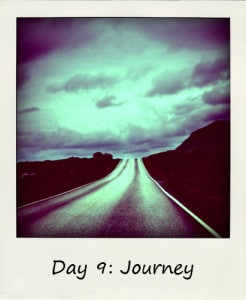 This week, on my journey into childhood, I've been a fireman, a horse, and a plane. I've dug for worms in the yard, hunted for a ('real') triceratops, and watched two little boys climb a mountain made of mulch.
Childhood innocence is precious-their assumptions, the questions they ask.  But it's the wonder that moves and inspires me. In an age where religion is mocked and contempt often passes as intelligence, it's easy to grow cynical. Seeing the world through the eyes of a child we realize how small we really are. We see, if for only a moment, the magic, and realize that this crazy old world truly is a wondrous place!
Word count: 113
Another classic Matthew (4):
'TT? Pelicans eat fish, right?'
'Yes, sweetie. Pelicans eat fish.'
'And they dive for the fish, right?'
'They do.'
'But they don't live in the water, right? They live on top of the water.'
'That's right, Matthew.'
'So'-thinks for a few seconds-' if they have to hold their nose when they go under water, how come they don't get boogers?'
Easy Bake Project (ages 4+)
Richest, Yummiest Chocolate Cake Ever
Chocolate cake mix
½ large bag semisweet chocolate chips
Large box (5.9 ounces) instant chocolate pudding
½ cup confectioner's sugar
2 cups whole milk
1)  Mix cake according to instructions on package;
2)  Before pouring into prepared pan, stir in chocolate chips
3)  Bake according to instructions.
4)  Remove from oven. While still hot, using the handle of a small spoon or some other (safe) round object-we used wooden skewers-poke holes in the cake;
5)  Mix pudding, confectioner's sugar, and milk just until smooth. Do not over mix – the pudding should be thin.
6)  Pour ½ pudding mix over cake, swirling so that the pudding seeps into the cake;
7)  When pudding thickens, spread over top of cake (this will be your frosting);
8)  Decorate with colorful nonpareils or other cake decorations, if desired.
We used a gluten-free cake mix and a 9″ round pan. The chocolate chips gave the cake a rich brownie-like texture – positively scrumptious with the pudding filling and frosting. This project was easy to make and a snap to clean up. From start to finish, it took about 90 minutes and the kids had a ball.
Enjoy!!
Please do share your #BlogFlash2012 thoughts (and post links) in comments!