I'm delighted to be hosting #BlogFlash2012 – 30 Days, 30 Prompts 30 Posts.
If you'd like to jump on board, it's not too late! 
Don't forget to leave your "Day Sixteen – A Different World" post link in the comments below so I can stop by!
#BlogFlash2012: Day Sixteen – A Different World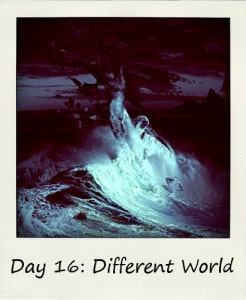 Dave and I are currently in Venice, California. Cambridge, MA, which prides itself on diversity, pales in comparison to the craziness here. Yet, if you look past the strange tattoos, outlandish clothes, and oddly colored hair, you see only a beach town-a hip place, sure, a safe gathering spot for the homeless and gang populations-yet, in that we share basic ideology, Venice is not so different from the rest of our country.
It seems this is true of all the world. Yet we focus on difference-we allow fear to outweigh common sense, we fight. Are we not all one species? We love home and family, value justice. Why are connections not enough? Why must we always fight?
Word count: 120
Please do share your #BlogFlash2012 thoughts (and post links) in comments!