I'm delighted to be hosting #BlogFlash2012 – 30 Days, 30 Prompts 30 Posts.
If you'd like to jump on board, it's not too late! 
Don't forget to leave your "Day Ten – Success" post link in the comments below so I can stop by!
#BlogFlash2012: Day Ten – Success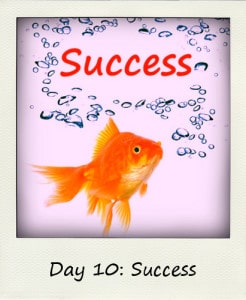 As a culture, we measure success quantitatively, as if – to bastardize a line from the great football coach Vince Lombardi – money isn't everything, it's the only thing. Resentment notwithstanding, we revere the rich-never mind the blood on their hands.
When Dave and I were young, on the drive to Pennsylvania to visit family we lost our muffler. We were devastated; repairs would break us. The next morning, while we slept, my uncle drove our car to a garage and had it fixed. A laborer, my uncle never had much money, but to me he was a tremendous success.
Word count: 100
Please do share your #BlogFlash2012 thoughts (and post links) in comments!