I'm delighted to be hosting #BlogFlash2012 – 30 Days, 30 Prompts 30 Posts.
If you'd like to jump on board, it's not too late!
Don't forget to leave your "Day Twelve – Celebration" post link in the comments below so I can stop by!
#BlogFlash2012: Day Twelve – Celebration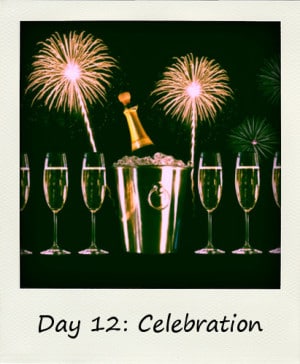 'Life has meaning only in the struggle. Triumph or defeat is in the hands of the Gods. So let us celebrate the struggle!'  – Stevie Wonder
My daughter's firstborn was a difficult baby, colicky and demanding. Watching him, I remembered long, sleepless nights with my own kids. We parents believe we love our children despite our troubles, I told her. In fact, we love them because of our struggles.
Each time the baby cries or the child falls or the teenager challenges us-subconsciously, perhaps begrudgingly-we choose to love her, to give of ourselves. We can grit our teeth, praying for the best, berating ourselves whenever they falter, or we can celebrate the journey-a beautiful, heart-wrenching, sometimes painful story of heartache and love.
Word count: 99
Please do share your #BlogFlash2012 thoughts (and post links) in comments!