I'm delighted to be hosting #BlogFlash2012 – 30 Days, 30 Prompts 30 Posts.
If you'd like to jump on board, it's not too late!
Don't forget to leave your "Day Twenty Five" post link in the comments below so I can stop by!
#BlogFlash2012: Day Twenty Five – Blue
Sounds of Blue
Videos may take a few seconds to load
Today's #BlogFlash2012 post is something of a musical celebration of "Blue" – with something for everyone!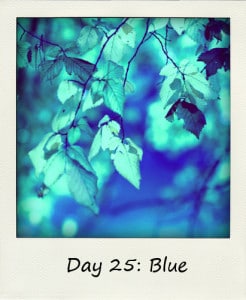 "Roadhouse Blues," The Doors • "Blue Red and Gray," Pearl Jam • "Tangled Up In Blue," Bob Dylan • "Blue Bayou," Roy Orbison • "Blue on Black," Kenny Wayne Shepherd • "Chase the Blues Away," Tim Buckley • "It's All Over Now Baby Blue," Joan Baez • "Behind Blue Eyes," The Who • "Blue Suede Shoes," Elvis Presley • "Bluebird," Paul McCartney and the Wings • "Blue," Joni Mitchell • "Almost Blue," Elvis Costello • "Blue Eyes," Elton John • "Blue Valentines," Tom Waites • "Blue Jean," David Bowie • "Blue Sky," Allman Brothers • "Blue Skies," Ella Fitzgerald • "Blueberry Hill," Fats Domino • "Out of the Blue," The Band • "Blue in Green," Miles Davis, From Kind of Blue
Please do share your #BlogFlash2012 thoughts (and post links) in comments!