I'm delighted to be hosting #BlogFlash2012 – 30 Days, 30 Prompts 30 Posts.
If you'd like to jump on board, it's not too late! 
Don't forget to leave your "Day Twenty One – Night" post link in the comments below so I can stop by!
#BlogFlash2012: Day Twenty One – Night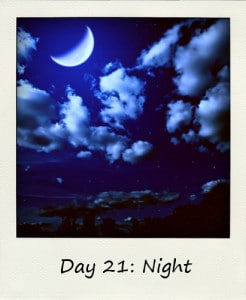 Night Watch
When our daughters were babies, Dave woke up with them at night. With four little ones under the age of six, I was exhausted. By relieving me through the night, allowing me to sleep, he helped me manage my days. Now, when I have nightmares and cry out, he reaches over, lays a warm hand on my shoulder.
At night, when the house is quiet, the imagination jerks into overdrive, goblins disrupt the peaceful silence and problems-scaled to realistic proportion in daylight-magnify and grow monstrous. After dark, when I am my smallest and most vulnerable, he comforts me. This is what love is really about.
Word count: 109
Please do share your #BlogFlash2012 thoughts (and post links) in comments!