I'm delighted to be hosting #BlogFlash2012 – 30 Days, 30 Prompts 30 Posts.
If you'd like to jump on board, it's not too late! 
Don't forget to leave your "Day Twenty Six" post link in the comments below so I can stop by!
#BlogFlash2012: Day Twenty Six- Seeing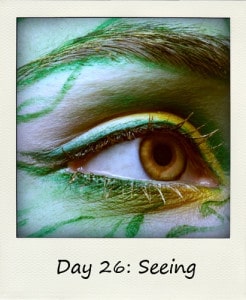 "It is dire poverty indeed when a man is so malnourished and fatigued that he won't stoop to pick up a penny. But if you cultivate a healthy poverty and simplicity, so that finding a penny will literally make your day, then, since the world is in fact planted in pennies, you have with your poverty bought a lifetime of days. It is that simple. What you see is what you get."
– Annie Dillard, "Seeing," From Pilgrim at Tinker Creek
Annie Dillard's gorgeous essay "Seeing" is among my favorites, linguistically, structurally, and aesthetically. Enjoy!
Word count: 95
Please do share your #BlogFlash2012 thoughts (and post links) in comments!