I'm delighted to be hosting #BlogFlash2012 – 30 Days, 30 Prompts 30 Posts.
If you'd like to jump on board, it's not too late! 
Don't forget to leave your "Day Twenty Three – Cooking" post link in the comments below so I can stop by!
#BlogFlash2012: Day Twenty Three – Cooking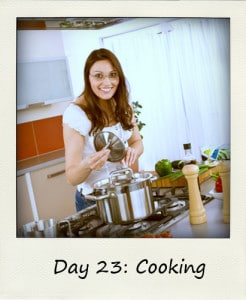 I'll admit it: I'm addicted to Chopped. It's not the mild entertaining drama that interests me; it's the creativity. A hobbyist chef, I love the challenge of a fixing a meal from odds and ends. It's fun to create an imaginary dish with the often strange ingredients in the Chopped hamper-blue foot chicken?- see what the contestants conjure up, and listen to the commentary from the panel of professional chefs.
Dave recently met a snarky restaurateur who informed him that, eh-hem, the show is staged. As if anyone watches reality TV for its 'reality.' We watch for the creativity, the mind-numbing fun, to laugh or, yes, to learn more about cooking. Or maybe it's that delicious Ted Allen look, just before he lifts the lid from the dish voted chopped. We do not-repeat do not-watch because we think reality TV is real.
Word count: 145
Vegetable Soup
Here's a recipe for vegetable soup, the ultimate–admittedly non-creative–throw-together-from-whatever-happens-to-be-on-hand, yet tasty, down-to-earth dish. 
Vegetable Soup
Served with crusty French bread or corn muffins, this healthy vegetable soup makes for a hearty and delicious fall dinner. It's also quick and easy to make.
2 TBSP olive oil
4 cloves garlic, crushed
1 large yellow or Vidalia onion, diced
2 TBSP crushed red pepper
4 largeYukongold potatoes, peeled and chopped
1 lb carrots, peeled and chopped
2 large heads Chinese cabbage, chopped
1 lb. green beans or haricot verts, sliced
2 lb. zucchini, chopped (do not peel)
1 lb. bag frozen corn
2 large cans kidney beans
2 quarts vegetable stock (for non-vegetarian version, substitute beef stock)
1 28 oz. can crushed tomatoes
2 large bay leaves
½ lb elbow macaroni (more noodles will make a thicker soup, but too many will absorb too much broth)
Heat oil in large pot. Add garlic, onion and crushed red pepper. Saute until onion turns translucent. Add potatoes, carrots and chopped cabbage. Stir until cabbage turns soft. Add the rest of the vegetables. Saute for 1-2 minutes. Add kidney beans, stock, tomatoes and bay leaves. Cook for about 45 minutes or until vegetables are soft. About 10 minutes before you're ready to serve, add noodles. Cook until noodles are done to taste. The longer the noodles are cooked, the softer they will become. If desired, sprinkle with crushed red pepper and parmesan cheese.
Please do share your #BlogFlash2012 thoughts (and post links) in comments!