I'm delighted to be hosting #BlogFlash2012 – 30 Days, 30 Prompts 30 Posts.
If you'd like to jump on board, it's not too late! 
Don't forget to leave your "Day Twenty Two" post link in the comments below so I can stop by!
#BlogFlash2012: Day Twenty Two – On Holiday
Be Where You Are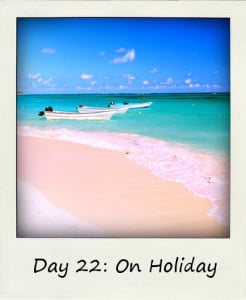 In the past, it would not have occurred to me to bring my smartphone on vacation. I wasn't on Twitter; I used Facebook to research a new course. My laptop home on my desk, I would not have checked e-mail.
The holiday would have been an intimate experience, shared with those accompanying me.
I would have been present.
Now, I'm constantly checking. While I bite my nails, heart thumping, wondering anxiously what I'm missing, I'm missing the moments that matter, the people who matter, the people I love, those I'm with.
Vacation-a break from technology? Maybe it should be.
Word count: 104
Please do share your #BlogFlash2012 thoughts (and post links) in comments!