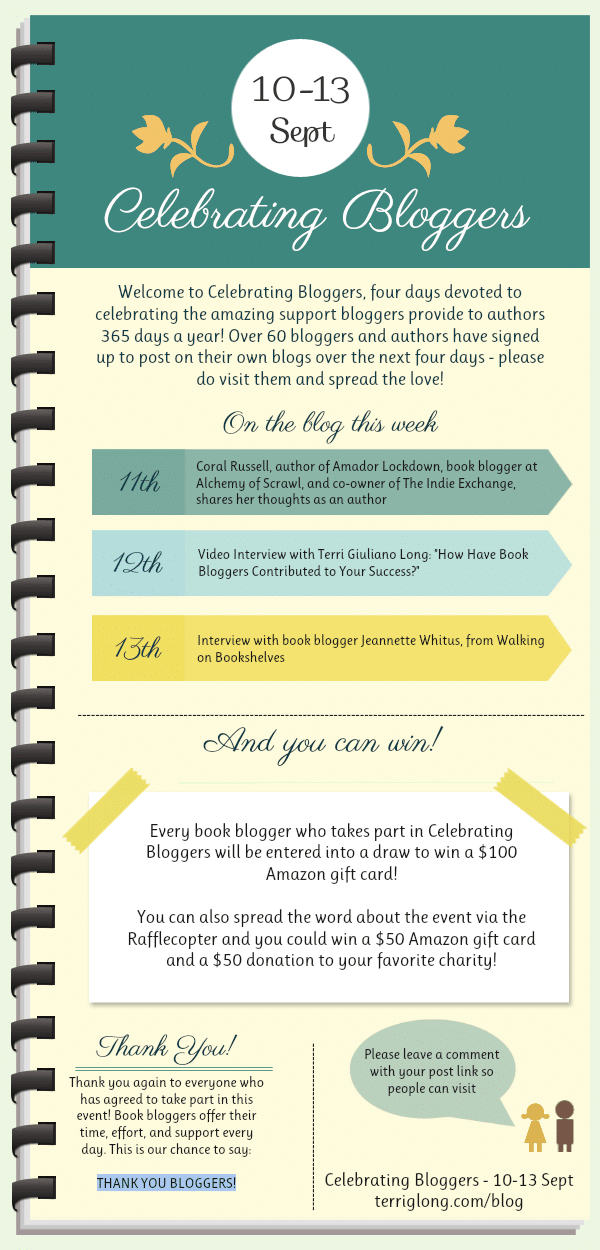 I'm so excited to celebrate the launch of 'Celebrating Bloggers,' a four day blog hop dedicated to thanking bloggers for the amazing work they do to support authors every day. Over the last 18 months I've encountered hundreds of bloggers via blogs, Twitter, Facebook, Google + and earlier this year I began interviewing book bloggers as part of my Read, Write, Give feature. The dedication, time, and effort put in astounded me. I realized it isn't uncommon for bloggers to put 30-40 hours into maintaining a blog, despite having full-time jobs, children to care for, college or study commitments. If there is anything more humbling for an author than finding out a blogger routinely stays up until midnight to work on their posts once the kids have gone to bed, and then gets up at 6 a.m. to get some reading time in before work, I'm not sure what it is.
So, this week is all about saying thank you. I've invited bloggers to share why they blog and review and have invited authors to share how book bloggers have helped them. Posts can be put up for the event at any time over 10th-13th September so please do check back daily if you'd like to see the links to the new posts.
Share the post, enter the giveaway!
Taking part? Please leave your comment and post link below!