I'm excited to be joining in with The Indie Exchange's #FlashFiveFriday event. The premise is very simple: five minutes flash blogging or flash fiction based on a prompt set by The Indie Exchange each week. This week the prompt is Backbone.
The Guidelines
#FlashFiveFriday is a weekly flash fiction/flash blogging prompt.
The rules are very simple if you'd like to take part:
1) Write for no longer than five minutes
2) No upper or lower word limits
3) You must write something new
4) You can prepare your post ahead of time but the 5 minute limit still applies
5) If you add your blog post to the weekly linky (found at The Indie Exchange) you must visit five other blogs that week too to show your support
#FlashFiveFriday: Backbone and the Spaghetti Spine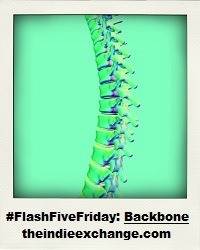 The late Eppie Lederer, in her advice column 'Ask Ann Landers,' was famous for telling people to replace the spaghetti in their spine with a backbone. I've always loved that expression because it's so visual-and so true! It's easy to walk around with a spaghetti spine, to be a doormat, to go along to get along. And yet going along just to get along is rarely the right thing to do. If we go along it ought be for the right reason. To me, knowing the difference-and acting upon it!-is what backbone is all about.
These days, the expression 'have some backbone' really means, give her hell, Annie. Nothing wrong with sticking up for yourself!-but having the chutzpah to speak up or talk back is only part of what backbone is really about. Having backbone means doing the right thing; it means understanding the good, the proper, the just, and acting upon it. Yes, even when it's hard (often, it is). Doing the right thing when, as sometimes happens, it means taking a backseat or being patient or kind, watching someone else get ahead, swallowing your pride. It means keeping your mouth shut, when opening it would hurt someone else, and it means keeping your hands to yourself (or away from the keyboard).
Yep, it's hard to have backbone, but the results are as indelible as the bone itself.