I'm so pleased to welcome Frederick Lee Brooke to the blog today. Frederick is a friend, a fellow author, and a blogger and has been an immense support to me and to many others. I was fascinated by Fred's post when he sent it through, and I hope you will be too!
Writing in English, Dreaming in German
by Frederick Lee Brooke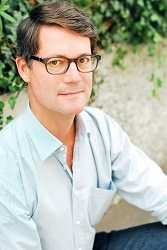 When I was five years old, my mom enrolled my sister and me in a French course. She thought it would be a good skill for us in the future. There were four little kids in this class, and beyond a few childish dialogs, we mostly spent the time running around in the teacher's yard and jumping over the hedges.
Who knows? Maybe it gave me an ear for languages, after all. Like a lot of college kids, I spent my junior year abroad, in my case Germany. Five years after graduating from college I returned to Europe, and I've been here ever since. I lived for one year in France, another year in southern Germany, then a couple of years in Zurich, Switzerland. For the last 19 years I've lived in Basel, Switzerland.
I've often wondered how living over here, and being surrounded by foreign languages, might be affecting my writing.
You may be aware that Switzerland is a country with four official languages: German (yellow area), French (violet), Italian (green), and a strange language spoken by only 60'000 people in the mountains called Rhaeto Romanisch (pink). All four languages are printed on the money. See the different variations on the 20 Swiss Franc note below. There are TV stations with programs in each of these languages. Newspapers left on the train will often be in the wrong language, because the person who left it there got on in a different part of the country.

This creates a lot of interesting and chaotic situations, not only for tourists but also for the Swiss. All Swiss people have to learn two foreign languages in school. In the German-speaking part of the country, they have to learn French, while in the French-speaking part of the country they have to learn German. With the result that many of them learn these languages badly. In the business world, when a German-Swiss does business with a French-Swiss, they therefore often settle on English so that neither one has the advantage.
My wife is Swiss, but her native language is Italian. She comes from the Italian-speaking part of the country. So she has always spoken Italian with our kids, while I always speak English with them. Their school language was mostly German. So we have the same three-ring language circus at home that exists everywhere in Switzerland.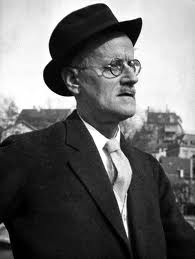 When I came to Europe, I was an English teacher. I taught English for a total of seven years, before becoming the manager of a language school. Many famous writers have been English teachers, including James Joyce and JK Rowling. As an English teacher, you immerse yourself in the grammar, vocabulary, and the expressions of our great language. Between the time spent preparing your lessons, teaching, and correcting homework, every moment of the day is an English language moment.
As manager of the language school, all that changed. I was responsible for selling courses to customers, most of whom were local, German-speaking people who wanted to learn English, or another language, like French. I had to speak German to them. I had to write letters and emails and offers in German. I had to deal with local suppliers, organize insurance, talk to bookkeepers and carpet cleaners and fire inspectors, all in German. As school manager 90% of my work was in German.
When you learn a language, you cross a language border. This can be very enriching, giving insight into words and their meanings, leading to ideas and images. It can also be a frustrating experience, as you are forced to accept that different languages handle communication chores in different ways. Gaps in understanding occur frequently. I have a lot of experience with gaps in understanding!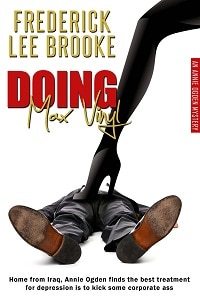 In my books I like to explore what happens when people misunderstand each other, using words. Husbands and wives … people who work together. Words are a tool we use to communicate meaning, but the meanings are slippery, sometimes intentionally. Max Vinyl, the recycling king, is very adept at charming his environmentalist girlfriend, Tris, until the day she discovers he's actually dumping computer waste in Lake Michigan. In my second book, Zombie Candy, Larry Roach is an example of a zombified cheating husband – his brain is on auto-pilot, and it's driving his wife, Candace, right up the wall.
Living abroad sometimes leaves me feeling out of touch with true American language, the way people really speak. You can't get this from newspapers or TV shows. So when I am back in Chicago I am an incorrigible eavesdropper on the commuter train, at Starbucks, in line at Wal-Mart. Our books live or die on the trueness of the dialogue. Somehow it's enough for me.
Writing in English, even as people are speaking Italian or German or some other language in the background, has never been a problem. And when I'm working on a scene that is set where I grew up near Chicago, I'm there in my mind and all my soul. It's a way of escaping there, returning to where I come from, almost like taking a little trip back to my childhood.
Have you ever learned another language, or lived in another country? How did it affect the way you use English?
About Frederick Lee Brooke
Born and raised in the Chicago area, Frederick Lee Brooke graduated from Amherst College and studied writing at the University of Montana. He has worked as an English teacher, language school manager and small business owner. Having lived in Germany, France and Switzerland, he has also travelled extensively in Tuscany, the setting of part of Zombie Candy. The first book in the Annie Ogden series, Doing Max Vinyl, appeared in 2011 to wide acclaim.
Frederick Lee Brooke has worked as an English teacher, language school manager and small business owner and has travelled extensively in Italy, the setting of part of Zombie Candy.
About Doing Max Vinyl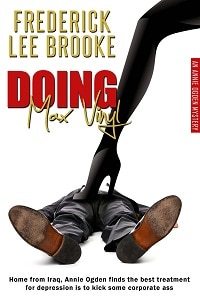 Earth first. Okay, maybe second. Third? She'll KILL you!
Max Vinyl's type of success story can only happen in America. Rising from humble beginnings, he has reached the height of the computer recycling racket. Problem is, he's using Lake Michigan as his own personal profit center. Even that wouldn't have been a problem if his environmentalist girlfriend Tris hadn't found out his dirty secret. And while Max is devastated by his love crashing down around him, he's about to learn that the rage of a woman scorned packs far more firepower and potential for destruction than he had ever imagined.
Iraq War veteran Annie Ogden has spent three tormented months living in a cabin alone trying to re-discover her purpose in life. When two of Max's thugs threaten Annie's sister, she is dragged into his corrupt world in an unwitting alliance with the environmentalist, Tris. Which is really lousy news for Max. Will he hold up under the coordinated attacks of two furious women? As things spin completely out of control and complications mount, it's all Max can do to stay one step ahead until it's all he can do to stay alive!
A farce full of hysterics and chicanery, Frederick Lee Brooke's first installment of the Annie Ogden mysteries is an incisive examination of corporate lunacy, greed and modern disconnection. Having received multiple four and five-star reviews on Amazon and Goodreads.com, Doing Max Vinyl: An Annie Ogden Mystery is loaded with razor-sharp dialogue, ingenious plotting and so much fun it should be illegal!
About Zombie Candy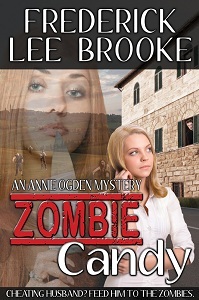 You know early on, from the color of the inappropriate bra in the opening scene, that Zombie Candy is going to be a black comedy. Most people could sympathize with the male obsession for sex and zombie movies, but who would put up with a husband who doused every dish with cilantro?
Frederick Lee Brooke serves up another literary treat with this bizarre and comical tale of love and betrayal. Candace Roach enlists her best friend Annie Ogden (our favorite sleuth from Doing Max Vinyl) to find out what her husband is really up to on his weekly business trips – but their home-cooked aversion therapy gets out of hand and hurtles along an astonishing highway of the undead.
Home from Iraq but unsure about her future, Annie Ogden isn't your typical woman sleuth. Her best friend, Candace Roach – gourmet cooking instructor, owner of a house in Tuscany – isn't your typical wronged woman either. Candace teaches gourmet cooking, and loves nothing more than orchestrating a four-course meal full of flavorful surprises and artistic touches. A selection of her recipes is found in an appendix to the book.
But with each shocking discovery in the investigation of her husband, the friendship between Candace and Annie is further put to the test. Candace ultimately takes matters into her own hands and, in an elaborate ruse, stages a nightmarish zombie drama in which her husband plays the starring role.
Weaving elements of mystery, horror and romance in a story that starts in Chicago and ends in a quaint medieval town in sun-drenched Tuscany, Zombie Candy transcends any single genre. Embark on a journey that will tickle your taste buds and wake up your funny bone. What are you waiting for?