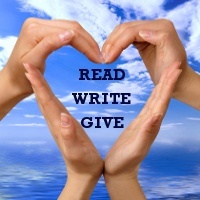 Each week I'll be donating $50 to the charity of a blogger's choice as part of the "Read, Write, Give" drive. 
This week, Kristin from Better Read Than Dead is supporting Kidd's Kids. You can read more about them after her interview.
I've often said that book bloggers are the "Fairy Godmothers and Godfathers" of the literary world – and I really believe it. Therefore, I'm thrilled to have the opportunity to interview some of these wonderful bloggers and shed a little light on why they undertake this epic labors of love!
This week's interview is with Kristin from Better Read Than Dead. Kristin is a former ICU nurse, living in the Texan Panhandle with her husband and two daughters. She describes herself as a mom/book-geek.
Interview with Kristin: Better Read Than Dead
Could you please tell us about yourself?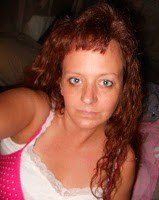 Oh, what to say about me? I suppose I'm your basic mom/book-geek. I have two beautiful daughters, one is in college (I'm too young to be saying that) and the other is in the 6th grade. We live in the dreads of Texas, AKA the Texas Panhandle. Outside of running the youngest to volleyball and orchestra functions, I cook, clean, and spoil my puppy.
Could you describe a typical day?
My typical day begins around 6 AM when I beg and plead with the youngest to get the heck out of bed and get ready for school. An hour and a half later we're headed out the door to school. Back home to get my 17 year old up and on her way to college (did I mention she graduated a year early from high school, with honors?). She hates getting up worse than her sister, but it's later in the morning, so it evens out. Finally, once everyone is gone, I manage to throw in a load of laundry and sit down to, wait for it: write. Yep, I said write. If the hubby's around, this ritual gets interrupted a lot. He's a man, after all. Then it's off to get the little one, home to cook supper, depending on the night, an hour or two of TV, help with the homework, and eventually off to bed where I read until the wee hours of the morning. (I have some major insomnia) Somewhere during the day, I find a minute or two to blog about something, whether it's a review or a weekly meme, but something.
Your passion for books and blogging began when you chose to stay home to take care of your two daughters. Did you pursue other interests first or were you always drawn towards books?
Honestly, I was an ICU nurse up until 2009. My oldest was going through a tough spot and I opted to stay home with her until we could get her on her feet. Now, I just want to write and read. Even when I was nursing, I read every night, just to get out of my head for a bit.
You prefer to review paranormal and contemporary romance, urban fantasy and dystopian books. What is it about these genres that you prefer to others?
Ah: anything with romance draws me in. Sometimes I believe it's the happily ever after endings or the perfectly broken and flawed guys. Sometimes it's wishing life were more of a fairy tale.
Urban fantasies are fun because of the different worlds I can escape into.
And dystopians: well, I tend to be really picky about them. I loved the Hunger Games and devoured the first two books in the Divergent Series by Veronica Roth. With dystopians, I think it's the political storylines that pull me in. I'm not overtly political in my real life – meaning I don't spam Facebook and shove politics down my friends' throats – but I'm educated about the issues. Dystopians pull from the real world to create fictional, but often believable scenarios. I feel they're very educational in nature, but because of the volatility I have to be careful because I suffer from depression and dystopians often give me way too much to think about: often truly depressing things.
When reviewing, do you often find real gems? What, for you, says a book is a gem?
Oh yes! I've found many gems in the piles of reviews I've done. I'm a giant advocate of self-published and independently published authors, and while some of what I receive is not my taste, I seldom come across something horrifying. HeHe.
I'm a fan of character driven plots. A strong lead character is a must. Snarky, quick-witted humor goes a long way with me. And, as mentioned previously, flawed and broken boys with charm are the way to my heart. I love edgy and raw emotions in contemporary romances.
You must get hundreds, if not thousands, of review requests every month. How do you handle all the requests?
I do get tons of review requests monthly and it can be overwhelming. There have been times I've stopped accepting reviews until I could get caught up, but most recently, I've added a blogging partner. Kelly has been my savior and it works out quite well, because while we enjoy the same genres, we have different tastes in actual books. Other than those two things, I have a calendar where I jot down a tentative schedule AND I always try to squeeze in authors I've worked with before. I've had the pleasure of meeting some people I would consider friends by doing reviews.
What, for you, is the most important quality in a book?
Characters – Absolutely!
Do you find a difference in the quality of traditionally and self-published books? If so, what are the major differences?
Gosh, the answer has to be yes but probably not in the way most people think. (I'll talk about negatives in question 9)
Self-published authors have so much freedom to sculpt and create honest stories. Stories that aren't censored by huge publishing houses and what they think people want to read. The edginess and rawness I mentioned before, well, self-published authors can embrace it and let it flow.
I also believe there's a movement happening between self-published and traditional publishing houses. The big 6 are starting to sign on some of these self-published authors, getting their stories in print and in the bookstores. They're also realizing what type of books are selling, so maybe the tides will turn and minds will open.
Do you feel there is a stigma against self-published writers? If so, do you feel it's deserved? Why or why not?
There is certainly a stigma against self-published authors and it's unfair to lump everybody into a group. Sure there are self-published authors who might should rethink their strategy, hire a professional editor or switch genres. I'd venture to say a few should rethink writing, but I've also given single star reviews to traditionally published books and wondered: how in the world did that get published?
The thing about self-publishing is it has to be a career that you approach professionally. Always show your best work. If you can't afford an editor, hunt down several (not just one) beta-readers. You will never find all the mistakes in your own work, you're just too close to it. After all, my children are perfect, aren't yours? You've probably spent long hours staring at your first and second and third and: drafts. You have the story all figured out in your head, but did you get it onto the paper correctly? Will your readers get your story?
Editors don't only look at grammar and punctuation either. They look at the consistency of the story, they look for plot holes, and they look at pacing: all of which are very important to readers. If the book is too slow, readers will drift off. Too many errors, the story gets lost under the mistakes.
For indie authors in particular, getting reviewed is one of the biggest challenges. Do you have any advice?
Go to Goodreads or Amazon, look at books similar to your own, find bloggers who have reviewed those books and visit their blog. Get a sense of their likes and dislikes, READ THEIR REVIEW POLICY. This is very important, because it's a waste of YOUR time to send a request to a blog who doesn't accept self-published titles. Or ebooks. Plan to send out many more requests than you'll actually get.
Another thing, some blogs who won't review self-published titles will post a book spotlight, a giveaway, or a guest post. These are ways to get your book seen, even if it isn't reviewed.
And, as of recently events, never publically call out a reviewer for a bad review. It will get any book you write black listed. Most self-published authors have no publicist and I get that bad reviews sting, I do. Like I said, my children are perfect: but even bad reviews draw attention. But, making death threats to reviewers, especially when some of these girls are minors, is completely incomprehensible.
Could you please tell us which charity you nominated to receive the Read, Write, Give donation and why you chose them?
I'd like to nominate Kidd's Kids, a charity founded by Kidd Kraddick of Dallas, Texas. My son, who passed away in 2003) had cerebral palsy, since then I've always had a soft spot for children with disabilities.
I'm so so sorry to hear that, Kristin. Thank you for raising awareness about this wonderful charity!
About Kristin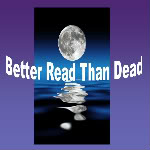 "My name is Kristin and I am the keeper of the gates. I was a nurse for several years before making a very wise choice to stay home and take care of my two daughters. I am blessed that I am able to do this. However, with any choice there are both good and bad consequences. The bad of this choice is…I was bored to tears. So, I started reading books and then I started reading blogs. What's the next step you ask? Why, I started blogging, of course.
I love to read anything I can get my hands on and probably spend entirely too much time doing it, but what can I say. My love for reading has inspired me to begin writing again. Who knew it was so much work? LOL."
Find her on Facebook and Google+
Kristin's post is in support of Kidd's Kids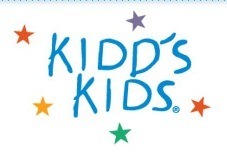 At Kidd's Kids, our primary goal is to provide chronically ill and/or physically challenged children (ages 5 to 12) with an unforgettable adventure! Throughout the year, we work hard to raise the funds necessary to send these special kids on an all-expenses paid, fun-filled, vacation to Walt Disney World ® in Florida. Most of our funding comes from donations made by listeners to the Kidd Kraddick In The Morning radio show, corporate sponsors, and various fundraising events.
Each year, we sponsor approximately 50 children and their families (including siblings between the ages of 5 and 16) for the trip, or as many as the Kidd's Kids Board may deem appropriate under the circumstances. The Board will work with such sources as it deems appropriate to select children based upon the nature and severity of their illnesses, their ages, and the status of their financial needs.
All aspects of the trip are coordinated by Kidd's Kids. All funds raised go directly to cover the cost of sending the children and their families to Walt Disney World ®, administrative expenses of Kidd's Kids, and to sustain an endowment fund for the purpose of providing long-term growth and stability for the charitable programs of the Kraddick Foundation. The Kraddick Foundation is a 501 (c)(3) organization, founded by nationally syndicated morning show personality Kidd Kraddick. The Kidd's Kids program is based on the premise of making a difference in the lives of children with special medical needs.
Donate to Kidd's Kids