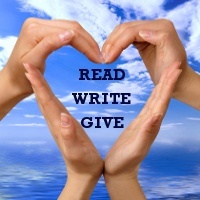 Each week I'll be donating $50 to the charity of a blogger's choice as part of the "Read, Write, Give" drive.
This week, Sharon from Beck Valley Books is supporting the Stroke Association. You can read more about them after her interview.
I've often said that book bloggers are the "Fairy Godmothers and Godfathers" of the literary world – and I really believe it. Therefore, I'm thrilled to have the opportunity to interview some of these wonderful bloggers and shed a little light on why they undertake this epic labors of love!
This week's interview is with Sharon from Beck Valley Books, a family run online bookstore. Beck Valley Books offers thousands of used, rare and out of print books. Sharon lives in the UK and is married with two children.
Interview with Sharon: Beck Valley Books
Could you please tell us about yourself?
I'm a married mom of two, based in the UK. We started blogging as a sideline to our online bookstore, now the bookstore seems to be the sideline of the blog! We started the bookstore due to our passion for books and our dream of owning a physical bookstore one day.
As you mentioned, you're the owner of a family run online bookstore in Billingham, Cleveland, UK – Beck Valley Books. How many books do you have on average in stock? How do you find room for them all?
We have around 5000 books stored in our home, one of our bedrooms is now classed as the 'library' although we still have books all over the home.
You're clearly passionate about old books and have many available for sale through your store. What is it about old books that you love so much? 
I just love old books, the look, the feel, the smell of the old books, but especially the thought that each old book has its own unique history. Some of the designs old books have are absolutely beautiful.
What's the most memorable old book you have had in your store?
My favourite was called The Fairyland of Science, purely for the cover design of gilded fairies in a wood. I almost cried this year when I sold it.
What do you enjoy most about reviewing books?
Getting to read books I would never normally have found to read myself by upcoming authors.
When reviewing, do you often find real gems? What, for you, says a book is a gem?
Oh yes!! I have been lucky enough since reviewing to find a few books that I have really connected and still treasure. Books that you are expecting to be average that turn into one of the best books you have read is an amazing feeling.
How do you decide which books to review?
I know you should never judge a book by its cover but that is one of my reasons, it has to be a book of interest to either myself or my husband, as we both review, otherwise we wouldn't have the passion in the first place to read it.
Do you review self-published books? Why or why not?
Self published books are absolutely fine, it's what's inside the book that matters.
Are there things authors do that make you say, wait, don't do that? OR maybe that turn you off altogether?
When the story jumps around needlessly making it really difficult and really annoying to read.
You've nominated the Stroke Association. Please could you tell us why?
My mother died suddenly at the aged of 50 from a Stroke, a couple of months after my first child was born and it was devastating.
I'm so sorry, Sharon. What a wonderful charity to support!
Do you have anything you'd like to add?
From this year we have tipped our toe in the book tours pool, enjoying yet another new experience of working with the authors.
About Beck Valley Books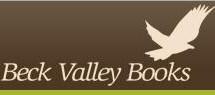 "We are a family run online bookstore, based in Billingham, Cleveland,UK, located near the picturesque nature reserve of Billingham Beck Valley. 
Our passion for books started many years ago, we love books and constantly went to as many locations as we could to find more books for our ever expanding collection. From many visits to the beautiful Northumberland, filled with lovely old bookshops, our dream started of owning our own bookshop. Sharing this passion to other book readers seemed the next best possible step and the Beck Valley Books website became a reality."
Read more at Beck Valley Books
Sharon's post is in support of the Stroke Association
We provide high quality, up-to-date stroke information for stroke patients, their families and carers.
Every year an estimated 150,000 people in the UK have a stroke. That's one person every five minutes. Most people affected are over 65, but anyone can have a stroke, including children and even babies.
Donate to the Stroke Association