Today children's author Karen Pokras Toz joins me on the blog. Karen is the author of several highly rated children's books, including Nate Rocks the Boat (winner of several awards including Grand Prize Overall in the 2012 Purple Dragonfly Book Awards), and Millicent Marie Is Not My Name.
Writing Is a Journey of the Unexpected
by Karen Pokras Toz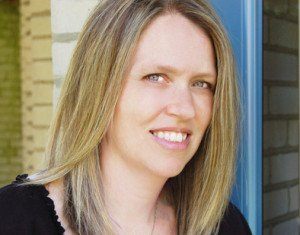 I am not one of those people who always knew they wanted to be a writer. In fact, growing up, I probably wanted to be everything but a writer. I was a numbers person (still am, really). While others were taking writing classes in college, I was taking advanced math classes – as my elective – for fun . . . and they were.
I had always believed that you were either a numbers person or a writing/creative person. Clearly I loved numbers, so I deducted (mathematically and statistically speaking, of course) that writing or any other form of creativity, was not to be.
But something happened on this crazy journey of life. A story suddenly popped into my head. It happened fifteen years ago. I tried to ignore it, but it just wouldn't go away. Then, I tried to write it. Each time, I never got through more than a paragraph or two. Each time, I told myself it was because I had no business trying to write. Each time I would remind myself of my affinity with numbers, and would promptly put my notebook back on its shelf.
Maybe, I could tell my story to someone, and they could write it for me? I thought about it. In my heart, however, I felt as if I would be missing out on something huge if I did that. The trouble was, I didn't know what that something huge was – or even how to attempt to find out. So about five years ago, I decided to give it just one more try.
I wrote – and I wrote – and I wrote. I couldn't stop. I had suddenly become the Forrest Gump of literature. Of course, I thought what I had written was just pure brilliance. I would become the next JK Rowling.
At a neighborhood party, I met a woman, who was a "writing coach." She mostly worked with high school students on their college application essays, but she offered to give my book a read. The results were worse than dismal. Apparently my masterpiece was not quite the best seller I had imagined. Not even a tiny bit close.
There was one redeeming factor, however. Buried within her many, many, comments, was a compliment about a flashback scene I wrote where my main character was just a child.
She told me that she loved my voice in this scene and asked whether or not I had ever considered writing for this age group. I hadn't. This was the one and only story that had been mulling around in my head for years. I thought this writing thing was more of a one and done type of deal. I would write my story and then go back to my numbers (all while becoming an international best seller, of course). It never occurred to me that I might be able to write more stories, and it definitely never occurred to me to write for children.
I didn't immediately begin writing for children. I'll admit, I still felt the manuscript I was working on was the way to go. To be honest, I was a bit taken aback by her advice (and slightly insulted – was she saying that my mind worked like a child's?). Besides, that was just one opinion.
As the months went on, and the rejection letters from agents poured in, I noticed that my two older children who were nine and twelve at the time, were getting less and less interested in reading anything outside of their assigned schoolwork. How could this be? I loved to read! (Yes – even us number-centric people love a good novel!) I read to them everyday as babies and beyond. Now they were telling me they'd rather do anything other than read in their free time? They both complained there was nothing fun to read outside of *gasp* Captain Underpants. Almost as if on cue – I heard my ex-writing coach's words: "Have you ever considered writing for middle grade readers?"
It was at that moment that I knew I would be a children's writer. I haven't looked back since (and for those wondering, I have thanked my neighbor/ex-writing coach for her fabulous advice.) Oh – and I do still love those numbers!
About Karen Pokras Toz
Karen Pokras Toz is a writer, wife and mom. Karen grew up in Connecticut and currently lives outside of Philadelphia with her husband and three children. In June 2011, Karen published her first middle grade children's novel for 7-12 year olds called Nate Rocks the World, which won First Place for Children's Chapter Books and the Grand Prize Overall in the 2012 Purple Dragonfly Book Awards, as well as placing first for a Global E-Book Award for Pre-Teen Literature. In 2012, Karen published the second in the Nate Rocks series, Nate Rocks the Boat, followed by middle grade novel, Millicent Marie Is Not My Name. Karen is a member of the Society of Children's Book Writers & Illustrators (SCBWI).
Website ~~ Twitter ~~ Facebook
About Millicent Marie Is Not My Name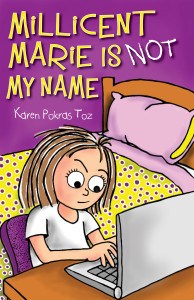 Twelve-year-old Millicent Marie does not like her name. After all, she was named for a woman who died more than fifty years ago and was not the most loveable member of the Harris family. Her friends call her Millie, but when she writes in her diary she refers to herself as Amanda – the name she always wished she had.
When Millie's younger brother finds her diary on her computer, he decides to publish it as a blog for the entire world to see, including the boy Millie has a crush on. In the midst of all the mayhem, Millie/Amanda discovers she is suddenly Springside Elementary's most sought after sixth-grade mystery gossip and advice columnist.
But not all is fun and games, as Millie quickly learns, once she realizes feelings are at stake. Nobody, least of all Millie, expects things to turn out as they do in this tale of friendship and respect.