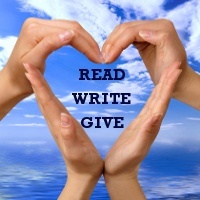 Each week I'll be donating $50 to the charity of a blogger's choice as part of the "Read, Write, Give" drive.
This week, Ella from A World of Words is supporting Autism Speaks. You can read more about them after her interview.
I've often said that book bloggers are the "Fairy Godmothers and Godfathers" of the literary world – and I really believe it. Therefore, I'm thrilled to have the opportunity to interview some of these wonderful bloggers and shed a little light on why they undertake this epic labors of love!
This week's interview is with Ella from A World of Words.
Interview with Ella: A World of Words
Could you please tell us about yourself?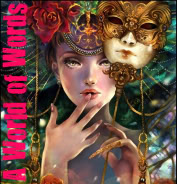 Well, my name is Ella. I'm a full time college student. I recently discovered a little over a year ago, the wonderful world of book blogging and I got back to reading books as well. That's when I discovered the beauty of books again and how you can escape into reality even if it's for a little while. Even though I am majoring in psychology, I still want to have a career in the writing world, hopefully one day as a famous author or maybe an editor. I enjoy making new friends, especially if we have something in common such as the same books that we've read. I'm very friendly, when I want to be. My imagination is my most precious 'item.' It's what leads me to be able to imagine the world that book provides. A famous quote that I love that pertains to that is 'Reading books would be boring without imagination.'
I love the masquerade theme on your blog and the rating system with fairies. How did you come to choose these?
Honestly? By random mainly. I absolutely love masquerade masks and most of my friends knew this and one day one of my friends showed me this background picture of masquerade masks and I absolutely fell in love with it, so I put it as my background for my blog! I do plan on changing it up a bit soon, maybe with a different theme. And with the fairies, I was in my fairy phase, I had recently read The Iron Fey series and fairies just became my favorite supernatural creature.
You clearly love the escapism that books have to offer. Have you always enjoyed books? 
I honestly don't remember, if you're referring to when I was a child, but I recently did get back into reading books because of the escapism it offered as you just mentioned. I got back into reading at least a year ago, so I'm pretty new to the book world. Most likely if you ask me if I've read this book or that then the answer is most likely no. I'm always finding new books to read thanks to my book friends. So much to read, but so little time.
What do you enjoy most about blogging? Least?
The thing I enjoy most about blogging is sharing my opinion about a book I've read and how my opinion actually means something to someone. When it makes someone actually want to pick up the book and read it, that's when I know I've done my job as a blogger. I also enjoy meeting new people, I've made so many new friends since I started blogging and they're like my second family. And lastly, I enjoy giving away books. It just fills me with happiness when I know that I'm giving a book away that's almost impossible to get in some places.
The thing I least enjoy about blogging is sometimes I don't really feel like blogging and I would rather just be a reader instead. There are just some of those days where I don't feel like blogging, I'm pretty sure we all have those days sometimes. I also don't like the drama that occurs sometimes in the book blogging world. I'm honestly oblivious to the drama, but when I hear about it, it kind of worries me a little bit. I don't like drama in general, and the internet is a powerful place. If you cross the wrong people, then you might be in big trouble.
How do you decide which books to review?
I mostly review the books I just finished reading and of course the ones I get for review, as well as books for blog tours. I don't always review every book I read, sometimes I don't review a book because I couldn't find any words to say about it, not that I didn't enjoy the book, it's just I didn't know how to put my review into words. I think it's one of those 'you have to read the book in order to understand how I'm feeling' sort of thing.
What, for you, is the most important quality in a book?
It definitely has to have romance. I'm a sucker for romance and I don't think there's been a book where I've read that doesn't have some sort of romance in it. And it definitely has to have a good plot, with some action at least. I'm also an action type of girl. The details in the book, such as describing the setting, is really important as well. It helps the reader imagine what kind of world they're stepping into. Oh and the most important quality in a book is that it must have a hero that I can fall in love with. I usually fall in love with every hero in every book I've read, so that's not a big problem.
Do you review self-published books? Why or why not?
I'm still new to the book world, so I'm not positive on whether a book is self published or not unless I'm told it is. I review any book as long as the synopsis captures my attention. I'm not too picky.
For indie authors in particular, getting reviewed is one of the biggest challenges. Do you have any advice?
I think my advice would be to advertise your book as much as possible. Email book bloggers and ask them if they're interested in reviewing your book. Social media is your best friend in this type of situation. Facebook, twitter, tumblr, whatever else is out there that can reach a wide enough audience.
Do you have anything you'd like to add?
Just pick up a book and read. Even if you have some downtime, reading a few pages a day will definitely relax your mind and it'll be worth it in the end. It's really sad how not many people read for pleasure anymore. I say this because my friends in my hometown, not many of them read for pleasure anymore, it's either for school or they don't read what I read, so I can't fangirl with them. If you have friends that don't read near you, head on over to facebook and like a few book pages, you'll be sure to find a new book friend! For those of you that don't read, you don't know what you're missing.
Finally, could you please tell us which charity you nominated to receive the Read, Write, Give donation and why you chose them?
I nominate Autism Speaks. I chose this charity because my brother has autism so I know how it feels to everyone else out there that knows what it's like to know someone that has autism.
I've always wondered what it would be like if I had a brother or sister that was 'normal.' But then I realized, normal is kind of boring. Being weird isn't that bad, in a good way.
Ella's post is in support of Autism Speaks

Autism Speaks was founded in February 2005 by Bob and Suzanne Wright, grandparents of a child with autism. Their longtime friend Bernie Marcus donated $25 million to help financially launch the organization. Since then, Autism Speaks has grown into the world's leading autism science and advocacy organization, dedicated to funding research into the causes, prevention, treatments and a cure for autism; increasing awareness of autism spectrum disorders; and advocating for the needs of individuals with autism and their families. We are proud of what we've been able to accomplish and look forward to continued successes in the years ahead.
Donate to Autism Speaks