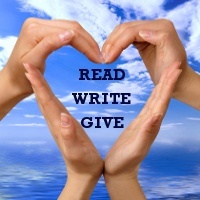 Each week I'll be donating $50 to the charity of a blogger's choice as part of the "Read, Write, Give" drive.
This week, Kerry-Ann from Reading A Little Bit Of Everything is supporting the Red Cross. You can read more about them after her interview.
I've often said that book bloggers are the "Fairy Godmothers and Godfathers" of the literary world – and I really believe it. Therefore, I'm thrilled to have the opportunity to interview some of these wonderful bloggers and shed a little light on why they undertake this epic labors of love!
This week's interview is with Kerry-Ann from Reading A Little Bit Of Everything. 
Interview with Kerry-Ann: Reading A Little Bit of Everything
Could you please tell us about yourself? 
My name's Kerry-Ann, I'm 19 years old, I live in Northern Ireland and am currently studying Business Administration at tech.
Could you please tell us why you started the site and how you've built your following? What other projects your working on?
Reading lets me escape my actual life, I needed something where for 5 minutes a day I could forget about what was actually happening in my life, I also get attached to books quite easily and I wanted to start discovering about the person behind the novel I was reading and their inspiration. I started reviewing books on Facebook then I thought about a blog. I've built my following from talking to people about books. A book recommendation, twitter, Facebook and goodreads allows you to meet new people with the same interests as you.
You're studying Business administration, but your dream job would be reading books for a living. Have you ever thought about writing your own books?
Ah yes! I can't seem to find a job opportunity for it anywhere though … LOL I love writing. I've wrote short stories and also a full length novel…. But I don't let anyone read them. I'm scared to see what people think of them so if there's a certain story I want to read I'll write my own. I recently entered a competition so *fingers crossed*.
You read many genres and even have a second blog – A Redheads Guilty Reads – for more adult books. If you had to choose, what would you say is your favorite genre and why?
I guess it's written all over the decision I made yesterday to join my two blogs together. So I only have one now which is Reading A Little Bit of Everything where I will now review everything.
My favourite genre has to be Erotic Romance! I LOVE IT!!! The love…. The happy endings….. Sometimes marriage then the baby carriage! I'm a hopeless romantic! <3
What do you enjoy most about reviewing books?
That I can gabble everyday about my favourite thing in the world but it's called reviewing…. Lol. Also to connect with others who have read the book and get their views on it.
You must get hundreds, if not thousands, of review requests every month. How do you handle all the requests?
If I really love the sound of a book I'll accept it if I know I'll have it reviewed by the agreed date. But if I don't like the sound of it or I have too many books to read (which is all the time) I'll ask the author if they'd like to feature the novel on my blog with an interview, guest post or even book promo. What isn't my kind of book may be someone's book everything!
Do you review self-published books? Why or why not?
YES it's still a book to be read. Some of my favourite books have been self-published. I don't really see a difference between being self-published and published….
Do you feel there is a stigma against self-published writers? If so, do you feel it's deserved?
Yes there are some reviewers so against self-published authors it fascinates me why! I don't think its deserved. Self – published authors have worked just as hard as other authors. I think some reviewers can be so critical that if a novel is self published they automatically think it's not good. Which is not true!
For indie authors in particular, getting reviewed is one of the biggest challenges. Do you have any advice?
Yes contact bloggers like me who will review near enough anything. Or who will feature your book on their blog.
Could you please tell us which charity you nominated to receive the Read, Write, Give donation and why you chose them?
I nominate the British Red Cross, for their hurricane Sandy appeal. There are people out there who have lost their homes, their personal belongings, and even family or friends. They need to feel hope, if even a tiny bit! This is why no matter where in the world you are you can help and give them some hope.
About Kerry-Ann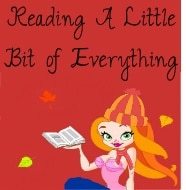 "I'm Kerry-Ann, I'm currently studying Business Administration at tech although I'm waiting for the perfect job where I can get paid to read all day! If you see it anywhere can you email me please??
I have a complete mad obsession with these following authors and their novels, Paige Toon, C.A Kunz, Jana Oliver, Lucy Felthouse, Natalie Anderson, Samantha Hunter, Portia Da Costa, Janelle Denison & KD Grace! They are fabulous and they all quite know I'm attached as they hear it on a regular basis ….. (Just to remind them – LOL)
I'm a chocoholic! Literally can't go a day without eating it! It's good for you apparently!! I read it on google…. Ohh that's another thing I'm quite attached to! Answers nearly every question I have! :)"
[Read more at Reading A Little Bit Of Everything…]
Find her on Twitter and Facebook
Kerry-Ann's post is in support of British Red Cross Hurricane Sandy Appeal

Hurricane Sandy has caused extensive flooding, damaged buildings and infrastructure and left thousands of people homeless in the Caribbean and United States.
In Cuba, over 343,000 people were evacuated, and around 150,000 homes were damaged. In Haiti, around 17,000 people were evacuated, including people still living in camps after the 2010 earthquake.
Between 40 and 60 per cent of houses in the most affected areas of Jamaica have roof damage, and crops have been severely damaged. The Dominican Republic saw over 17,500 people displaced, with more than 3,500 houses flooded.
Fierce winds and flooding along America's coastline shut down transportation, forced people to evacuate and left 7.5 million people without power.
Across all these countries, the Red Cross is providing people with essentials such as food, water, healthcare and shelter. We are calling for funds to help countries that have been significantly affected by the storm. Money raised will be used to address the greatest unmet need.
Donate to the British Red Cross