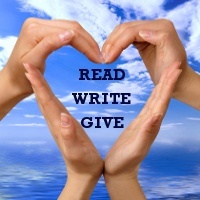 Each week I'll be donating $50 to the charity of a blogger's choice as part of the "Read, Write, Give" drive.
This week, Kim from Wistfulskimmie's Book Reviews is supporting the ASPCA. You can read more about them after her interview.
I've often said that book bloggers are the "Fairy Godmothers and Godfathers" of the literary world – and I really believe it. Therefore, I'm thrilled to have the opportunity to interview some of these wonderful bloggers and shed a little light on why they undertake this epic labors of love!
This week's interview is with Kim from Wistfulskimmie's Book Reviews.
Interview with Kim: Wistfulskimmie's Book Reviews
Could you please tell us about yourself?
I am a mum to 2 wonderful boys, I have just recently married my long term partner and I am one to one help with a wonderful child with down's syndrome at my boys' primary school.
Could you please describe a typical day?
I get up after my husband makes a cup of tea, see the boys off to school, do any reviews that need posting then mid morning I am off to school for work. Back about half one and my husband has made lunch for me. Then I will probably watch a bit of tv before picking the boys up, then dinner, reading with the boys, bed for them. Then more reading for reviewing for me!
How did you get into blogging and reviewing?
I belong to a group on Facebook called Book Junkies and a friend of mine on there suggest I start reviewing, then my husband suggest I start a blog and he helped me set it up. I love it, it's just spiralled and spiralled!
What do you enjoy most about blogging? Least?
I enjoy reading so it's a no brainer really, it was a natural progression. The thing I like least is sometimes I have to do it when I am not necessarily in the mood, but I have a commitment to my authors. That doesn't happen often though.
How do you decide which books to review?
That's a really difficult question! I think I just 'stick a pin in it'. I look at the list and do what tickles my fancy at the time, unless an author has specifically asked if I can do theirs to a time schedule.
What, for you, is the most important quality in a book?
The most important quality for me is 'readability'. If I am not hooked by the end of the first chapter (or second if its a shortie) then it's not going to happen for me. That being said I do TRY and read ALL of every book I am asked to review.
Do you review self-published books? Why or why not?
I review mostly self-published books because I think that they need more of a 'leg up' the rating than established authors. I also review for 3 or 4 small publishing houses for the same reason.
Do you find a difference in the quality of traditionally and self-published books? If so, what are the major differences?
I find actually that a lot of self pubbed books are far better quality! Sometimes trad published authors get 'sloppy' and churn out the same thing because they think people will keep on buying it. Some self pubbed books however can be shockingly bad!
For indie authors in particular, getting reviewed is one of the biggest challenges. Do you have any advice?
I think just keep on asking bloggers, facebookers, tweeters etc if they can help. Be proactive, become friends with your readers. Thats how I get most of my books to review, by becoming friends with the authors.
Could you please tell us which charity you nominated to receive the Read, Write, Give donation and why you chose them?
The ASPCA because I have 5 cats and I think all animals should be given a chance and not treated cruelly. The RSPCA here in the UK does a wonderful job of that and I am sure the US arm is the same.
Kim's post is in support of the ASPCA

Founded in 1866, the ASPCA was the first humane organization in the Western Hemisphere. Our mission, as stated by founder Henry Bergh, is \'to provide effective means for the prevention of cruelty to animals throughout the United States." The ASPCA works to rescue animals from abuse, pass humane laws and share resources with shelters nationwide.
Donate to the ASPCA