In advance of the Classic Reads 2013 event Christine Nolfi, Molly Greene and Rachel Thompson will all be sharing their views about what makes a classic read on their own blogs, and I'll be posting here in a few weeks.
Christine Nolfi, author of The Tree of Everlasting Knowledge, Treasure Me and Second Chance Grill started the series of posts beautifully with her piece last week:
I'm a novelist, which narrows my purpose if not my interest. How do I take the silver-threaded gossamer of classic and apply it to my art?

I strive to create characters inside stories that stir your deepest emotions and portray the similarities hidden behind humanity's alleged differences. Think of the fast-paced dialogue as a magician's sleight of hand employed to encourage you to laugh before a secret is revealed and the narrative pace slows with a deepening characterization that compels you to tears. Do you wonder about a character's name? So do I, which is why I can spend weeks agonizing before making the perfect choice, the definitive choice sure to depict the story arc.
Read Christine's full piece here.
What Makes a Classic?
We'd love to know what you think makes a 'classic' read and what you see as the 'new classics.' Old, new, controversial, heartwarming – what are the things that catapult a book from a great read to a must read? Join us on any date from 3-7 January to take part in the Classic Reads blog hop.
Why take part?
This is a great opportunity to share your favorite reads, and find some more! Everyone taking part will be entered into a draw to win a $200 Amazon/B&N gift card, plus there will be a 'Spread the word' contests with two $50 Amazon/B&N gift card prizes on offer.
How to take part
Submit your details via the linky
A few days before the event you will receive an email with all the information you'll need, including graphics and the final linky code
Schedule your post to go live at 12:01 EST on any date between 3rd-7th January and respond to our email with your direct post URL (we will add this to the new linky upon receipt and this will also validate your Rafflecopter entry)
If you're willing to promote one or more of the sponsoring hosts' books at the bottom of your post (cover & synopsis), you'll receive extra entries. All information will be sent to you by 24th December.
***After signing up scroll down for the badge and to enter the giveaways (one for participants and one to spread the word)***
Grab the Badge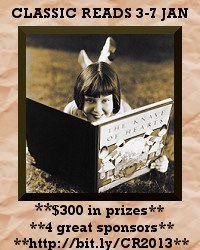 'Hoppers' Prize Draw
'Spread the Word' Prize Draw