Bella Andre wanted to be a rock star. After graduating from Stanford, this emerging singer-songwriter pursued her dream, eventually releasing four folk-pop albums and opening for famous musicians like Chicago and Jewel. Like her mother, Bella loved reading romance novels, and her love of romance spilled into her music, in the songs she wrote and sang.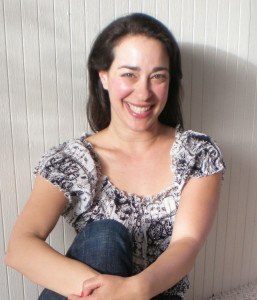 Eventually, Bella turned to writing and published two books of nonfiction. One fortuitous day, Jami Alden, Bella's best friend and college roommate, mentioned Romance Writers of America. Jami planned to attend a seminar and invited Bella to join her. Intrigued by the opportunity to meet other romance writers and learn more about the craft, Bella accepted the invitation.
There, they met another college friend, Monica McCarty. After the RWA seminar, the three aspiring romance writers formed a critique group; they met at least once a month, read one another's work, and offered each other support. Within one year, astoundingly, all three women sold their first romance to a traditional publisher. For several years, the friends published, one after another. 'We used to joke about whose turn was next,' Bella says.
Bella went on to publish ten books with various NYC publishers, including Hachette, Random House, and Simon and Schuster. When Simon and Schuster turned down her novel Love Me, a sequel to her earlier novel Take Me, Bella decided to take the leap and publish it on her own.
With no self-publishing experience, she went largely on instinct. Amazon's Kindle Direct Platform (KDP) made it easy to publish her e-book. Having come from the music world, she also wanted books she could hold: 'As a musician, I always had cartons of CDs and I carried them with me.' With Createspace, it takes no time at all to upload and publish a book, she says. And the books look fantastic. Using the Createspace Print-on-Demand (POD) platform, she can print books to keep on hand and provide paperbacks for readers who want them.
For five years, readers had been asking Bella to write a sequel to Take Me. Bella had kept all her mail. Before the launch, she spent a week contacting every person who'd ever emailed, sending individual notes, letting her fans know the book was about to come out. The personal touch paid off-Love Me did extraordinarily well, hitting the top 200 on the Amazon charts.
Meanwhile, Bella was still under contract with her NYC publisher, with a new book awaiting release. The publishing world was changing and her publisher was unsure about which books they wanted to release first. Frustrated by the delay, buoyed by the remarkable-and enduring-success of Love Me, her first self-published book, she decided to self-publish again.
In December of 2010, Bella self-published Game for Love, Book 3 in her Bad Boys of Football series-and she's never looked back.
Despite her enormous success, Bella is amazingly down-to-earth and unfailingly generous. Once a month, she and nine author-friends meet in the San Francisco Bay area for a business lunch and brainstorming session. 'We ask who needs help,' she says, 'and we give it.'
Until recently, Bella communicated directly with readers, announcing each book personally. Although she no longer has time to respond to every message individually, she keeps in touch with fans through a regular newsletter, and she's active on Facebook and Twitter.
While fans love hearing from her, they want books, she says. Bella releases a new book every three months-breakneck speed for most authors. Still, for fans eager for the next book, three months is a long time. 'Right now, fans are clamoring for books. As long as they want them, I want to put them out.'
To stay focused, she frequently goes into 'lockdown mode.' She answers mail in the morning; in the evening, she deals with business matters. Anything non-urgent waits. 'I used to get email and feel I had to respond immediately. I don't do that anymore,' she says. 'If I catch myself worrying or thinking about what's going on in the industry, I pull myself back.'
'It's about knowing your priorities,' Bella wisely points out. 'Great things are distracting. You want to call your friends, celebrate. But it's all about the books.' Each book, she feels, must be at least as good, or better, than the last. This is an author who genuinely cares about her fans. So, yes, for Bella Andre, it is all about the books.
Today Bella is listed among the elite authors on the Romance Writers of American Honor Roll. She credits the organization for helping her get her start and introducing her to other authors. 'I've met my closest friends through RWA,' she says. 'They're incredibly smart, enthusiastic writers.'
Bella's books consistently hit the New York Times and USA Today bestseller lists. The Look of Love, the first book in her bestselling Sullivan Series, recently hit #18 on the Brazilian bestseller list. In September 2013, Harlequin MIRA plans a major global print paperback launch of the first eight books in her Sullivan family series-a deal worth millions.
Bella Andre wanted to be a rock star. This super-talented author has accomplished her goal!
Interview with Bella Andre
If I sound like a fan, well, that's because I am. I've met Bella only once, by phone, for this interview. Intrigued by her story, awed by her generous responses, I asked more questions and took more of her time than I had intended. She never once lost patience. At the end of the interview, she took the time to ask about my work. I'm sharing this detail because, in my mind, it speaks to who Bella is-a lovely, generous author who genuinely cares about people.
Here are responses to questions I'd asked before she and I spoke:
On your website, you mention songwriting. Could you please tell me a little more about that? What sort of songs did you write? For whom? Do you still write songs?
I was a performing singer-songwriter for ten years. I wrote and released four folk-pop albums, and my music has been licensed for network TV and films. I've also opened for Jewel, Santana and Chicago and performed live on stage, singing and playing acoustic guitar and piano. Eventually, I needed to decide between writing books and writing songs – and books won! 
Why did you decide to transition to novel writing? Why romance?
There's a fine line between songwriting and novel writing – it's all storytelling, and I've always had a love story inside me. Writing romance is natural for me, as I've always been a voracious romance reader who reads up to a book a day when I can! When a friend of mine, who is also a romance writer, told me about RWA – an organization for romance writers – my plans to write romance as a career fell into place. 
Why did you decide to self-publish? What problems did you encounter? How did you overcome them?
I started self-publishing in mid-2010 because the current NY publisher I was with at the time didn't pick up the option to publish my next novel – but my fans were clamoring for it. It was challenging because self-publishing was new, and I had to learn how to create my own books, my own covers and how to distribute with retailers. A lot of overcoming these obstacles was just digging in and making it happen, but now there are so many resources to help authors realize their publishing dreams. Thank goodness for the Createspace and KDP teams. They have been so helpful.
You're tremendously successful! To what-besides great books-do you attribute your success?
Thank you! I absolutely attribute my success to my readers – 100%. I've always had a great relationship with my fans – and I'm grateful to social media sites that have given me new ways to connect with my readers.
What advice do you have for writers just starting out?
Write the book you want to write. And pay attention to what's happening in the publishing business. Thanks to self-publishing, you can reach so many readers. Sometimes there's pressure to write a book with the right hook or that seems like it could be the next big thing, but when you self-publish, you can take risks with the material you love.
What's up next for you?
The next book in my Sullivan series! COME A LITTLE BIT CLOSER (Smith Sullivan's story, Book 7) is coming Winter 2012.
About Let Me Be the One-Sullivan Family Series Book 6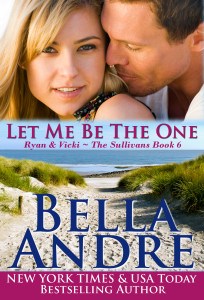 In LET ME BE THE ONE, the brand-new book in Bella Andre's New York Times and USA Today bestselling series about the Sullivan family, an unexpected friends-to-lovers romance might not only turn out to be so much hotter than anything bad boy pro baseball player Ryan Sullivan has ever known…but much, much sweeter, too.
When Vicki Bennett saved Ryan Sullivan's life as a teenager, it was the beginning of a close friendship that never wavered despite her failed marriage to someone else and Ryan's well-earned reputation as a ladies man. So when she suddenly needs a pretend boyfriend to protect herself and her career from a powerful man's advances, he is the only person she can imagine asking.
Ryan will do anything to protect Vicki from harm, but when their 'fake' kisses and caresses lead to an incredibly sensual night that neither of them can resist, will he have made the biggest mistake of all by irreparably jeopardizing their friendship? Or is it possible that what they've both been looking for has been right there the whole time: and the perfect combination of wicked and sweet, friendship and love, is finally within reach?