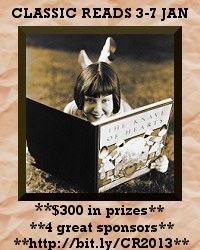 The Classic Reads: What Makes a Classic? hop starts on 3rd January (it isn't too late to sign up!). Over 80 people have signed up to share their take on 'What makes a classic?' and talk about the books they love.
There are many things that can make a book a classic and preferences can vary considerably from person to person, as the last #NewClassicReads TweetChat showed. There are no right or wrong answers to this question! Here are some of the elements that have been discussed. Which of these make a book more likely to be a classic for you? If we missed something, feel free to select 'Other' and let us know your thoughts in comments, or Tweet with the tag #NewClassicReads.
What makes a book a classic?
A book you want to read again and again (19%, 3 Votes)
Timeless (13%, 2 Votes)
Changes your perspective (13%, 2 Votes)
Makes you think about your life (13%, 2 Votes)
Gets people talking (13%, 2 Votes)
Has a great plot or storyline (6%, 1 Votes)
Other (6%, 1 Votes)
Has inspiring characters (6%, 1 Votes)
Teaches you something (6%, 1 Votes)
Transcendental (6%, 1 Votes)
Has to be fiction (0%, 0 Votes)
Accessible to everyone (0%, 0 Votes)
Pushes boundaries (0%, 0 Votes)
Total Voters: 6

Loading ...
If this gets you thinking, we hope you'll share your thoughts more fully and sign up to be a stop on the hop! This hop is all about what a classic means to YOU. Plus, you could meet some great bloggers, and there are prizes adding up to $300! Join us and share the books you love!