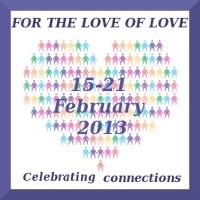 I'm so blessed to have many friends who are talented writers and are willing to share their work. This week and next, I've asked several to join me in the For the Love of Love event. They will be sharing both thoughts on love and a sample of their work. I'm so thrilled to have this opportunity to showcase them and hope you will enjoy getting to know them all a little better!
Today, Bette Lee Crosby joins me. Bette is the author of multiple much-loved novels, including Spare Change, Cupid's Christmas, and The Twelfth Child
Bette's Post
Bette Lee Crosby
Cupid's Christmas excerpt
Cupid's Christmas
Romance: it can start with the flutter of a lash or a whisper of words, and it can sometimes burst onto the page with a passion that causes beads of perspiration to rise on your brow. The beauty of romance is that it doesn't belong only to the young and beautiful, it's also there for the dreamers, those who are weary of heart and downtrodden. Those romances-the ones that are unexpected, the ones that fly in the face of reality like some miraculous gift-are often the most rewarding of all.
For centuries authors have written words about the dance of love, but the stories that touch our hearts are the ones who accept that the dance is forever evolving. When the first chord is struck, lovers come together in a blinding blaze of passion. Her eyes glisten, his arms encircle. There is no time beyond the moment and no world other than the tiny sphere of their love.
As days turn into weeks and weeks into years, time doesn't diminish that love, but it changes the dance. What began as a wild and passionate tango evolves into a waltz with two bodies bending and moving together, whirling across the potholed landscape of life. After years of trial and error that waltz becomes a slow fox trot with smaller evenly matched steps and when one partner grows weary, they lean on their mate knowing they will be carried. This last dance may not be as exciting as the first, but look beneath the surface and you'll find there's true beauty in every step.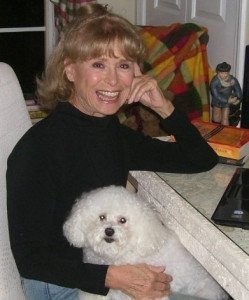 Award-winning novelist Bette Lee Crosby brings the wit and wisdom of her Southern Mama to works of fiction-the result is a delightful blend of humor, mystery and romance along with a cast of quirky charters who will steal your heart away. Born in Detroit and raised in a plethora of states scattered across the South and Northeast, Crosby originally studied art and began her career as a packaging designer. When asked to write a few lines of copy for the back of a pantyhose package, she discovered a love for words that was irrepressible. After years of writing for business, she turned to works of fiction and never looked back. 'Storytelling is in my blood,' Crosby laughingly admits, 'My mom was not a writer, but she was a captivating storyteller, so I find myself using bits and pieces of her voice in most everything I write.' Crosby's work was first recognized in 2006 when she received The National League of American Pen Women Award for a then unpublished manuscript. Since that, she has gone on to win several more awards, including another NLAPW award, three Royal Palm Literary Awards, the FPA President's Book Award Gold Medal and most recently the 2011 Reviewer's Choice Award and Reader's View Southeast Fiction Literary Award. Her published works to date are: Cracks in the Sidewalk (2009), Spare Change (2011), The Twelfth Child (2012), and Life in the Land of IS (2012). Life in the Land of IS is a memoir written for Lani Deauville, a woman the Guinness Book of Records lists as the world's longest living quadriplegic. Crosby newest novel What Matters Most will be released in early 2013.
In the words of Cupid:
Love makes believers of us all-yes, even me. With all the tragic love affairs I've witnessed you might think I would by now be disenchanted, but no-I'm the biggest believer of all.
Love makes anything believable. One zap from me and the impossible becomes possible. Women feel their heart start to flutter and wise men begin to act foolish. Up until today Matthew has registered a zero on the gullibility scale, but now that he's looked into Lindsay's eyes, he's ready to be a believer. I can tell you what is going to happen, but I won't because it would only spoil the fun. Instead I'll give you this small bit of wisdom-every human should have a dog because somewhere behind the bark and the wag of a tail is a heart that's bigger than your own and the truth of what love is all about.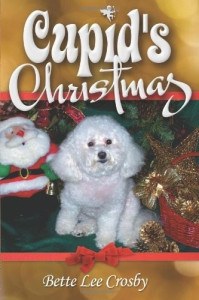 From the Bestselling Author of Spare Change, comes a fun Christmas Romance, Cupid, the narrator of the story, is charged with making certain an older couple gets the love they've been waiting for and a young woman who's far too attracted to handsome men with sexy eyes finds her perfect match. And, he has to make it happen by Christmas.
In a spot somewhere between Heaven and Earth, Cupid tries to maneuver around the complications that threaten to wreck this romance as he struggles to overcome the forces of lust, jealousy and the events brought on by his nemeses–Life Management. He matched John and Eleanor some thirty years ago, but Life Management stepped in and fouled things up. Now they're both single and back together again. But before Cupid can give them the happiness they deserve, he's got to come up with some magic, a few miracles and a dog for John's daughter.
Holly Robinson, author of Sleeping Tigers, joins us later today!