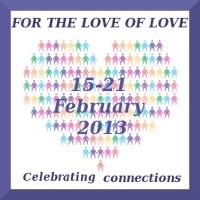 I'm so blessed to have many friends who are talented writers and are willing to share their work. This week and next, I've asked several to join me in the For the Love of Love event. They will be sharing both thoughts on love and a sample of their work. I'm so thrilled to have this opportunity to showcase them and hope you will enjoy getting to know them all a little better!
Today, Susan Salluce joins me to share a wonderful excerpt from her beautifully written novel, Out of Breath. Susan's piece is a stunning reminder that love comes in many different – but equally powerful – forms.
Susan's Post
Susan Salluce
Out of Breath
The following is a modified scene from Out of Breath:
I throw off the blanket that has failed to take away the chill. I stand in silence and watch my husband. He's in the early stages of crafting a custom surfboard. Sweat is pearled across his nose and along his creased forehead.
Seth is beyond good-looking to me-he's breathtaking. His defined, muscular arms work back and forth in an angry, sexual way. He's completely involved in his work as though nothing else in the world matters. There's a quiet, brooding storm, ready to erupt, contained in his movements and stares.
He doesn't hear my footsteps over the angry lyrics of Kurt Cobain. I slip my hands around his waist. Seth startles. He reaches over and lowers the music, takes a drag off his cigarette, and blows smoke off to the side. 'I thought you were pissed.'
'I am,' I reply. I stroke his arms and trace his tight abdominal muscles.
Seth stubs out his cigarette and he squints the way he does when he's furious or turned on. He leans in and kisses me deeply on the mouth. I fall into his dirt, sweat, and the mess between us. I breathe in familiarity, exhaling forgiveness.
'Remember how I used to visit you at your shop when we were first together?' I undo the top two buttons of his Levis. His hipbones are prominent over the lip of his waistband pointing to his sculpted abs.
'Yeah,' he says.
Seth yanks off my shirt and pushes me down to the sofa. He kisses me all along my back, down to the word 'dream' that I had tattooed this year for my 30th birthday. I grab his mound of brown curls and pull him into me. I taste the sweeter, simpler times when it was just the two of us. My ache is temporarily soothed.
'I miss this. I miss you. Where have you been?' I say, hoping he won't pull away.
Seth is split wide open, the way he was when I first met him and we'd make love until one of us would drop from exhaustion.
Later, I stand and bring him into an embrace. 'We'll figure it out, Seth. We always do.'
Staring intensely into my eyes, he replies, 'I'm going to turn this around. I promise. After tonight, no more getting loaded and bein' away from you and the girls-swear.'
I gently take his face in my hands just like I do when I comfort my children from a bad dream, offering the same words of comfort, 'It's going to be all right.'
'You believe me?' he asks.
'I believe you.'
I chose this scene because many see Out of Breath as strictly a grief novel, and yet, it is filled with passion. What many people fail to understand is that parents who are ripped apart by addiction and grief are multi-dimensional: they can have needs, dreams, and connection. I hope that this speaks to you during this season of love, and particularly for those of you who struggle with loss during this time.
Susan Salluce, MA, CT, holds a Master's Degree in Counseling Psychology and is a Certified Thanatologist-a death, dying, and bereavement specialist. With a passion for writing, impacting the bereaved, and having experienced her own sense of compassion fatigue, she wrote Out of Breath which is available on all E-readers and in traditional book form on her website in December of 2011 and in a variety of local book stores.
Susan continues to contribute to the field of bereavement through her writing, consultant work, and her work with Friends for Survival, a non-profit dedicated to those affected by a suicide death. She is currently at work on a parenting book based on her blog and a chic-lit book.
When Susan is not working on her novels, you can find her either in the foothills of the Sierra Nevada's or on the beaches of Aptos, Ca. What she truly calls home is anywhere she is with her amazing, loyal, and fun children, Kellen and Marina, and with her best friend/husband of twenty-three years, John.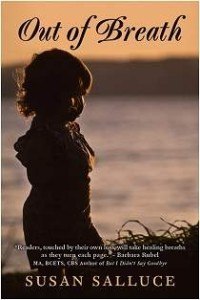 On a drizzly October night in the coastal town of Santa Cruz, California, seventeen-month-old Nevaeh drowns. Her mother, Alyssa Buchanan, is wild with rage and regret for placing her trust in her husband Seth, a former pro surfer who has a drug problem. Seth is adamant that he was clean the night of Nevaeh's death, yet a dirty drug test contradicts his story. His parental rights ripped and criminal charges looming, he battles to prove his innocence, love, and family devotion. Adding to the couple's grief, their five-year-old daughter Daisy hasn't uttered a word since her sister's death. Alyssa turns to childhood friends and local police officer, Greg Wallace, for comfort and support. Although Greg portrays heroic devotion and justice, inwardly he swims with loss, narcissism, and explosive rage. He has long despised Seth and is more than willing to meet Alyssa's needs that reach far beyond friendship. Into this fragile scene steps therapist Katherine Middlebrook. Her practice consumes nearly all her time-time that is even more precious now that her mother's cancer has returned. She hesitantly accepts three new clients-Greg Wallace, and Seth & Alyssa Buchanan, unaware of their intertwined history. Buried deep in Katherine's past is the loss of her own child. She's sure she can keep the boundaries of her past and her clients' lives clear until their intersecting tragedies awaken old demons.
An award winner in the South West Writer's Contest for literary and mainstream novel, Out of Breath is an exploration of parental grief, addiction, compassion fatigue, and suicide; it's the prodigal story of grace undeserved. Salluce's expertise as a psychotherapist and grief specialist enables her to create dynamic characters that will leave you breathless as you jeer their shadow sides and cheer their heroic journeys.
Amazon ~~ B&N ~~ Sony ~~ iBookstore ~~ Kobo
Join me tomorrow for pieces from Coral Russell and Pandora Poikilos!