Welcome to the second BlogFlash event! The first (#BlogFlash2012) was so well received that we decided to run it twice yearly. It's a great opportunity to get creative, meet other bloggers and get a new audience. Whether you join us for the full month or just a few days, the main aim is to have fun and be inspired. Anything else is a bonus. Worried about word count? Don't be! It's a guideline so the month doesn't feel overwhelming but if you feel inspired to write more, feel free. Good luck!
#BlogFlash2013: Day Fourteen – House: Spring Cleaning (Tech Style)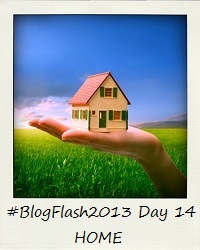 Every spring my mother tore our house apart, cleaning every nook and cranny. Throughout the year, a fastidious housekeeper, she cleaned a room or section of the house each day. Beds were always made, dust bunnies vanquished. Floors were vacuumed and washed; kitchen and baths sparkled. In the spring, she went to town, cleaning windows, organizing closets, cleaning upholstery, and rearranging furniture.
If I were as meticulous with technology as my mother with our house, my life would (I imagine) be a lot less stressful.
No, when it comes to my technological life, I could be featured on Hoarders: Buried Alive.
I definitely need to get my spring cleaning head on. Where should I start? What's on your spring cleaning list?
Next prompt: Friendship (21st March)
Taking part? Please leave your post link in comments!