Welcome to the second BlogFlash event! The first (#BlogFlash2012) was so well received that we decided to run it twice yearly. It's a great opportunity to get creative, meet other bloggers and get a new audience. Whether you join us for the full month or just a few days, the main aim is to have fun and be inspired. Anything else is a bonus. Worried about word count? Don't be! It's a guideline so the month doesn't feel overwhelming but if you feel inspired to write more, feel free. Good luck!
#BlogFlash2013: Day Nine – Spring
"If winter comes, can spring be far behind?" Percy Bysshe Shelley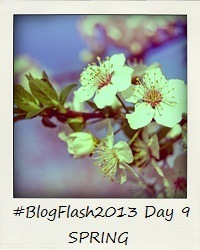 Spring is my favorite time of year, a time of renewal, resurrection, rebirth. After a long, bitter New England winter, the trees bud and flowers poke out of the newly thawed earth. In spring we see the world with fresh eyes, our hearts full of hope.
For most of my life, I hated the winter, the cold and the snow. As I've grown older, I've begun to see the value in winter, the long dark days-dark when you wake, dark when you leave work and drag yourself home, resigned and exhausted. Yet it's that very resignation, the fatigue that goes all the way to your toes that makes way for such fullness and hope in the spring. Death, the religious believe, brings new life, resurrection. After the pain and dismal isolation of winter, when troubles melt, our failure recedes, our heartache gradually lifts, we see ourselves with fresh eyes. A baby is born, a seed grow, flowers bloom-and the cycle of life begins all over again.
Next prompt: Time (14th March)
Taking part? Please leave your post link in comments!