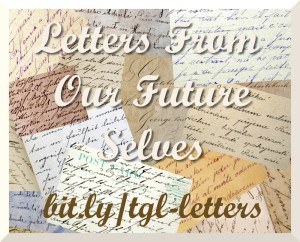 This week sees the start of a new column on the blog: Letters From Our Future Selves. I'm inviting authors and bloggers to share the advice they think their twenty years older self would give them, giving each writer an opportunity to reflect on what they hope to learn and achieve during the next two decades.
I'm delighted that my wonderful friend Susan Salluce has agreed to provide the first column! Susan is immensely talented, gracious, and caring, and is the author of Out of Breath.
Will I still write? Will I still thrive? When I'm Sixty-five?
by Susan Salluce
Terri Giuliano Long, my author friend who is quickly growing into another "close-friend-whom-I've-never-met", invited me to have a conversation with my sixty-five-year old self, offering advice, guidance, and a sense of where I will be.
In doing so, my sixty-five-year-old self will have full knowledge of the achievements, disappointments, hardships, and tenacious moments that grew me into this woman who is nearing her last twenty, perhaps, thirty years (if I'm lucky) on this magical, adventurous Earth.
The timing of this invitation is so serendipitous, as I wish I had a crystal ball to jump to the future, look back, and have a wise woman assure me that the complexities of my current life are going to sort out nicely, neatly, and look like the calm, glassy sea that is my view today (not an awful place to be in the midst of my own personal storm.)
But, given what I know about human relationships, pain, adjustment to change, ego, "my stuff", "other people's stuff", "our stuff" getting tossed together like necklaces that tangle in a jewelry box, there will be nothing nice, neat, nor calm about transition and personal growth. In a word, sometimes it: SUCKS (this is a clinical term that most counselors hold back on using, only to use it at critical times for punch).
Here's what I think my sixty-five-year old self, dressed in white linen slacks, with a blue batik blouse, covering her sensitive skin from the sun as she looks for yet another treasure along the shore's edge, will say as she encounters me—forty-five-year old Susan—eyes slightly red from fresh tears, her hair still freshly highlighted, limbs strong from hour-long walks on the sand, searching for answers to unanswerable questions, and the look of recognition in her eyes as she meets her wiser, gentler self:
​"Hello. Finally. Welcome to a gentler time. It's nice to be here, isn't it? I waited a long time for you to relax into yourself…to be okay with yourself…stop doubting your every decision…to love yourself…to like yourself.

​"That was a really difficult year, huh? That was the year you learned to listen to your voice; the voice that you'd pushed down, down, down, and drowned out with television, busy-ness, pleasing everyone but yourself, and the excessive need for approval.

​"It was the year that people didn't say, 'Good job.' It was the year you lost "so called friends", and found true ones. It was the year that you sought your own sense of recognition, rather than looking around and reactively bouncing off of others.

​"I listened to your tears. I was there with you…mothering you…because your mother was gone. I had gone ahead of you, made a path in the rocky soil, cutting down the reeds, and smoothing the way. But, you had to trudge down that path alone to find me at the other end. No one could carry you there but you.

​"You found your solace in writing again. Finally. And no person, no man, no woman, no child, could or can give you the peace that sitting with yourself and reflecting, then writing from your heart, can. This is the rhythm of your soul.

​"I was with you when your second book was released—your fictionalized memoir—and held your hand when you pushed the "publish" button with a mixture of joy, fear, trepidation, and power. Ultimately, you had to let go of the outcome, didn't you? You knew it would touch people deeply, offend some, and ostracize others. But, Susan, for the first time in your fifty years, you spoke truth wrapped in fiction. You finally liberated yourself. You were free.

​"I wish you had stopped to breathe more. Laughed a little louder. Feared less. Trusted the process. But, given your intensity, how can you make a stone become a stream,or a flower give birth to tides? Perhaps this is what this decade is for: breathing, laughing, and letting go of fear.

​"You read and re-read Elizabeth Gilbert's words, chastising herself for giving herself completely over to another—losing her identity, becoming swallowed up in another. It was tempting to ride that wave, and I watched you navigate yourself as you succeeded in charting your own course while companioning another. Perhaps this was your greatest achievement: keeping yourself rather than getting sucked up and spit out by another. Isn't it great? And here we are: together still, joyful, interdependent, but not fused. Every day is different. The ordinary is extraordinary.

​"I know you sometimes lapse back into your old brain—the primal, fearful, reptilian brain—the brain that says: What if? What's next? What if I end up alone? Then you're alone. You know how to do that, Susan, because you did it before. Everything you did that year was practice—training—strengthening your spirit, to create the woman you are today. Ultimately, all you have is yourself.

"Welcome home. Welcome to sixty-five. It's glorious. Now, go back to you life, and breathe, laugh, and start walking the rocky path. I'll be here waiting…"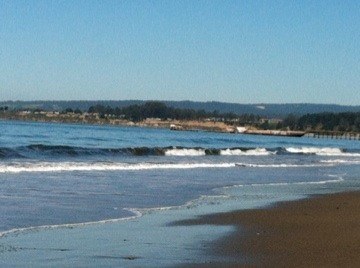 About Susan Salluce
Susan Salluce, MA, CT, holds a Master's Degree in Counseling Psychology and is a Certified Thanatologist-a death, dying, and bereavement specialist. With a passion for writing, impacting the bereaved, and having experienced her own sense of compassion fatigue, she wrote Out of Breath which is available on all E-readers and in traditional book form on her website in December of 2011 and in a variety of local book stores.
Susan continues to contribute to the field of bereavement through her writing, consultant work, and her work with Friends for Survival, a non-profit dedicated to those affected by a suicide death. She is currently at work on a parenting book based on her blog and a chic-lit book.
Website ~~ Blog ~~ Facebook ~~ Twitter ~~ Goodreads
Out of Breath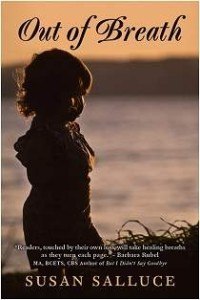 On a drizzly October night in the coastal town of Santa Cruz, California, seventeen-month-old Nevaeh drowns. Her mother, Alyssa Buchanan, is wild with rage and regret for placing her trust in her husband Seth, a former pro surfer who has a drug problem. Seth is adamant that he was clean the night of Nevaeh's death, yet a dirty drug test contradicts his story. His parental rights ripped and criminal charges looming, he battles to prove his innocence, love, and family devotion. Adding to the couple's grief, their five-year-old daughter Daisy hasn't uttered a word since her sister's death. Alyssa turns to childhood friends and local police officer, Greg Wallace, for comfort and support. Although Greg portrays heroic devotion and justice, inwardly he swims with loss, narcissism, and explosive rage. He has long despised Seth and is more than willing to meet Alyssa's needs that reach far beyond friendship. Into this fragile scene steps therapist Katherine Middlebrook. Her practice consumes nearly all her time-time that is even more precious now that her mother's cancer has returned. She hesitantly accepts three new clients-Greg Wallace, and Seth & Alyssa Buchanan, unaware of their intertwined history. Buried deep in Katherine's past is the loss of her own child. She's sure she can keep the boundaries of her past and her clients' lives clear until their intersecting tragedies awaken old demons.
An award winner in the South West Writer's Contest for literary and mainstream novel, Out of Breath is an exploration of parental grief, addiction, compassion fatigue, and suicide; it's the prodigal story of grace undeserved. Salluce's expertise as a psychotherapist and grief specialist enables her to create dynamic characters that will leave you breathless as you jeer their shadow sides and cheer their heroic journeys.
Amazon ~~ B&N ~~ Sony ~~ iBookstore ~~ Kobo