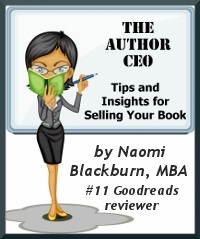 Naomi is founder of the Goodreads group Sisterhood of the Traveling Books, as well as the Nordic Noir group, dedicated to discussing Scandinavian mysteries. Last year, Goodreads ranked her at #11 on their top reviewer list, in both the U.S. and in the world (based on 2011 rankings).
Don't miss Naomi's new tie-in column: Critique Clinic.
The Author CEO: Quid Pro Quo
by Naomi Blackburn
Someone who knows I write The Author CEO column recently sent me a post from Goodreads. This post was written by an author soliciting other authors for reviews of her work. Her post partially stated:
I want to try his technique that he suggests in this book (which you can buy for XXX at XXXXX (I'm not getting a kick-back for this – just like the guy and want to try out his method.)

Anyway, his suggestion is to actually spend a bit of money on some of the bigger sites (in his book) in order to get the buyers pouring in, but the key is that you have to have at least 30 reviews on KDP Amazon before you can submit to the big guns that are going to help you make money.

Thanks in advance. Let's spread the good karma and make some money together while having some good clean/dirty fun, shall we?!
The author went on to say she would gift the book through the Amazon gift program; that way, the reviewer need not disclose that the review was written in exchange for a gift of the book. This is clearly not only dishonest and unethical, but a violation of FTC guidelines.
On her website, the author in question states that she'd posted this query on at least five Goodreads boards. The moderator of the group mentioned above immediately removed the post, but the damage was done: it was seen by numerous reader members. And how many other groups left the post up?
Unfortunately, this type of behavior isn't unusual. I have seen author solicitations on numerous boards.
This incident came on the back of my hearing numerous stories of authors being solicited for quid pro quo reviews and/or being bullied for refusing to get involved in the "author-to-author review process."
Ethical arguments notwithstanding, exchanging reviews with other authors is a bad business practice, rife with negative consequences. Here are a few to consider:
1) Review agreements can damage your brand. Part of being an indie author is that you are responsible for developing your brand. In the Internet age, with most information a mere click away, it can be difficult if not impossible to undo damage to your brand. For this reason, I tend to be overly protective of the brand I designed for my image/product. As in any kind of business, your brand can either be ethical or unethical or, as I like to say…skeezy or unskeezy. You want the ethical and unskeezy! You don't even have to participate in exchanges yourself to be tarred as unethical. I am reminded of what my mother use to say: you are who you hang out with. If you hang out with authors who participate in this type of behavior, people associate you with it.
2) Your reviews will not be taken seriously. Wondering whose back is being scratched naturally leads to skepticism. Again, we go to branding. Once your brand is tarnished, readers will assume you hand out 5-star reviews to anyone who will give you 5 stars and thus consider you unethical and your reviews untrustworthy. Readers will also question the faith you have in your own book: authors who believe in their book/s don't resort to engaging in unscrupulous behavior to garner high reviews. They trust book reviewers and the review process to judge their book fairly.
3) You risk alienating legitimate reviewers. The number of quid pro quo reviews you can get is limited to the number of authors in your posse. You'll still need to develop relationships with book reviewers. Most reviewers have worked hard to develop their own brand and don't want to muddy it by reviewing a book associated with negativity or one whose author is considered unethical.
I am not saying authors can't or shouldn't review books. Some authors choose to review; some don't.
If you want to review books without being considered unethical or skeezy, here's what you can do:
1) Review only books whose authors have not already reviewed or agreed to review your work(s).
2) Be VERY SPECIFIC in what you like/dislike about a book. Give detailed explanations to support your feelings and conclusions. Not sure how to write a book review? Please refer to my post on writing a book review.
3) Instead of reviewing on Goodreads, offer to write a post for the author's website. Want to go a step further? Interview the author for your website. Let me give an example: due to friendships and/or business partnerships, there are several authors whose work I can no longer review. This doesn't stop me from talking about their books on my blog, A Book and A Review, but I write a book summary as opposed to a review. I also do fun posts called A Drink and A Book. These posts consist of a drink I have concocted specifically for the author, such as "The Racheltini" for Rachel Thompson or "Bette's Breeze" for Betty Lee Crosby. A Drink and A Book is a fun way to get the word out on new books by some of my favorite people, without being unethical by posting a biased review.
4) As with any review, per FTC guidelines, note that you have received the book from the author for review.
5) Don't bully or bash authors who choose not to review books. Figure out how to work with them. These authors may have a nice following or be part of larger groups, either of which could help or hinder you. As with all small business, the indie world is about networking. Get a reputation for not playing well in the sandbox and people won't want to play with you. I am reminded of advice Jon Tapper from the TV show Bar Rescue gave to a bar owner who had isolated himself from his competition and was a downright jerk to his competitors. Jon said to him point blank:
THERE IS MORE THAN ENOUGH BUSINESS TO GO AROUND…BE A JERK AND YOUR PEERS WILL RELISH IN YOUR FALL!
Just food for thought…
Next time: managing your reviewer database.