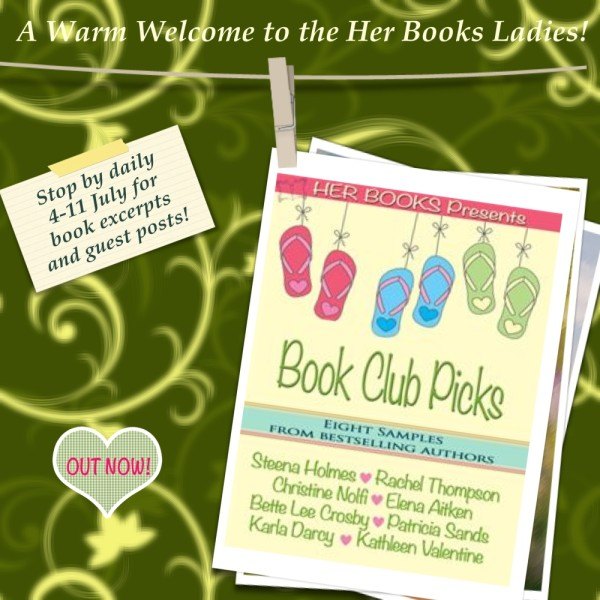 I'm delighted to welcome 8 authors to the blog over 4-11 July in order to celebrate the release of Her Books Presents: Book Club Picks. Each author is sharing a guest post and excerpt from their book. So stop back every day for a chance to meet Steena Holmes, Rachel Thompson, Christine Nolfi, Elena Aitken, Bette Lee Crosby, Patricia Sands, Karla Darcy, and Kathleen Valentine.
Her Books Presents: Elena Aitken – Letter to My 20 Year Old Self
Hey there.

I know at twenty, you think you have things figured out and I won't try to tell you differently. The biggest gift I can give you is to keep quiet, so I'm not going to tell you how things turn out for you in the next fifteen years because that would take all the fun out of it. But… you know me, I can't get away without giving you a few hints.

Those University degrees you're busting your ass to earn right now? You're pretty sure that you're going to turn those degrees into a corporate career where you make important decisions and climb the ladder to success. Well, you won't use those degrees the way you think you're going to, but it doesn't make them any less valuable. Keep working. All the struggle you're going through, is worth it and will teach you a lot about deadlines, hard work and dedication.Please start writing again! Don't wait another six years to pick up the pen again. Someone close to you told you writing wouldn't pay off. Don't listen to him. His heart was in the right place, but what he didn't understand is that when you have the passion, drive and creative energy that you possess, it will pay off in ways you can't even begin to imagine right now. Writing is part of you, stop denying it! When you can be true to yourself, you will be your best self and I promise that you will never regret the day when you once again sit down and let your stories out. Do not wait!

Believe in yourself. You've always been too hard on yourself, and I'm sorry to tell you that won't change. I know it's hard, and there are times when you'll question every decision you make. But I promise you, as soon as you believe, I mean really believe, you will accomplish amazing things both professionally and personally. Stop setting limits for the things you can do. You are stronger than you believe.

Right now you're only twenty, and I know you're not sure if that guy you're dating right now is your forever. You'll figure out pretty quick that he is, but it's not always going to be easy. There will be fights and challenges that will make you want to quit. Don't. He gets you. Like, really gets you and you'll grow together. Plus you will never have a bigger support in him. Don't take it for granted. Oh, and remember that family that you said you'd never have? Well, you're certainly in for one hell of a surprise. Embrace it; you're going to be an amazing mother.

Okay, that's enough hints. But the thing I want to leave you with is this: trust yourself and enjoy the ride. Don't be in a hurry to get where you're going, just enjoy every minute of the journey because it's been one hell of a ride, and we're far from done.
About Elena
About Composing Myself
Composing Myself (Excerpt)
I have a lot of stories in my head and some of those find their way into books.
I write books that appeal to women. The type of book you'd recommend to a friend, your sister, your mother. And hopefully the type of book that you can curl up with and totally forget about your day. Because we all need a little escape sometimes.
Residing in the Alberta Foothills with my husband and twins, I escape to the mountains as often as possible and can often be found with my feet in the water plotting my next story.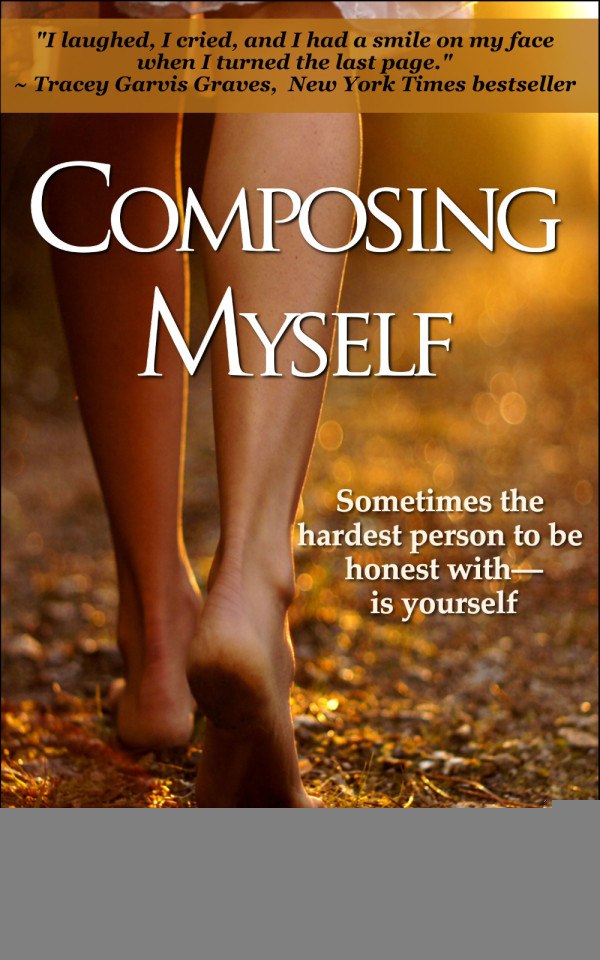 "Composing Myself is a heartwarming story of forgiving the people you love, and finding the strength to stand up and be proud of where you came from. I laughed, I cried, and I had a smile on my face when I turned the last page."
~ Tracey Garvis Graves, author of the New York Times bestseller On the Island
Whitney Monroe's not ashamed of the way her mother can work a brass pole, not really. It's just that some things are better left unsaid; especially when your mother's a stripper and you're trying to get a job at a prestigious private school that definitely won't appreciate her talents.
Raised by her grandma, Whitney's always managed to keep her two worlds separate, even if it meant lying to everyone. And when Reid Phillips–a charming, sexy songwriter–becomes her not-entirely-welcome roommate, Whitney has no intention of telling him the truth either. But she wasn't excepting Reid to see right through her and challenge her compartmentalized life. With Grams seriously ill, her mother's life in turmoil and her dream job on the line, it's more important than ever for Whitney to keep everything together. But that will mean being honest with everyone, starting with herself.
Amazon ~~ B&N ~~ Kobo ~~ iBookstore
This excerpt is from Chapter Four—Whitney's first night with Reid as a roommate. A roommate she definitely didn't want to have. And one that will put a kink into her well structured plan for her life.
I had everything under control. The steaks were seasoned and ready to go, the asparagus was steaming and the prawns were in the skillet. Everything was going perfectly. All I needed to do was mix up the hollandaise sauce and I'd be ready. Who said I couldn't cook? I was holding my own in the kitchen pretty well. Even with all the distractions, and there were a lot of distractions.
For the last twenty minutes, Reid made what seemed like countless trips through the kitchen with boxes. I told him it would be easier if he parked at the front of the house, instead of coming in the back door, but either he hadn't heard me or he'd ignored me. Regardless, it had been challenging trying to stay focused with him clattering through the room every few minutes.
I turned to survey the counter and all my ingredients for the hollandaise. Eggs. Check. Butter. Check. I'd never made it myself, but Grams used to make Eggs Benedict for us on Sundays. It didn't look too hard, but—
The simultaneous smell of smoke and the shrieking from the over-sensitive smoke detector assaulted my senses.
"Shit!"
I turned around to see the prawns, or what used to be prawns, smoking in a completely black frying pan. I moved to grab the pan, but fortunately stopped myself before I could touch it with my bare hand. Where was the potholder? I looked frantically around the mess I'd made, but the intense beeping of the alarm made it increasingly hard to think and I couldn't find it.
In a panic, I grabbed the tongs and started jabbing at the pan.
"What are you doing?" Reid's voice rang out over the alarm. He pushed past me, grabbed a tea towel, picked up the burning pan of black shrimp and dumped it fairly unceremoniously in the sink.
He turned the faucet on over the blackened mess and ran to open the door. I stood mute and dumb as the cool air washed over me. It took me a moment to realize the screeching of the smoke detector had stopped.
"Whitney." Reid waved his hand over my face, snapping me to attention. "Are you okay? What happened?"
"It was all going so well."
"Yes," he said, with a laugh. "I can see that."
I shot him a glare and went to assess the damage. Using a fork, I tried without much success to scrape a shrimp from the bottom of the pan.
"I hope you weren't too attached to that skillet," Reid said. He came up behind me and peered over my shoulder into the sink.
I whipped around faster then I intended to and had no idea he was standing so close. I inhaled sharply, catching a scent of him. A second later, I recovered. "This is all your fault." I jabbed my fork in his direction and he took a few steps back, his hands in front of him.