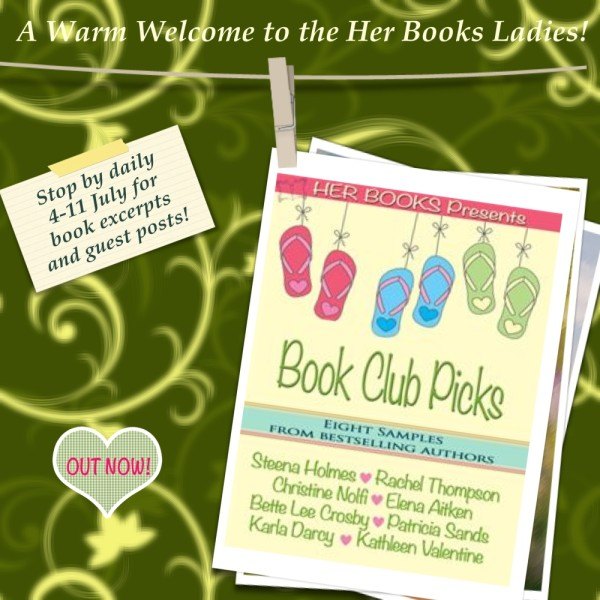 I'm delighted to welcome 8 authors to the blog over 4-11 July in order to celebrate the release of Her Books Presents: Book Club Picks. Each author is sharing a guest post and excerpt from their book. So stop back every day for a chance to meet Steena Holmes, Rachel Thompson, Christine Nolfi, Elena Aitken, Bette Lee Crosby, Patricia Sands, Karla Darcy, and Kathleen Valentine.
Her Books Presents: Karla Darcy – Letter to My Younger Self
Dear Karla,

Yesterday I found a diary that you wrote twenty years ago. It was like reading the prequel to a favorite book. You had so many questions then. So many things you wanted to know and do. And woven in among the worries was a solid thread of determination that I think is how I became the person I am today.

Yes, despite your worries that you weren't parenting as well as you might, the children have grown up to be honest, funny, caring and interesting adults. I wish you could have known you could have relaxed more and enjoyed them more. There really isn't any right way to parent. You go with your gut for the most part. And pray.

No, your brother never forgave you for throwing out his train set when you helped Mom and Dad move. However now that he has kids of his own he understands that toys are not more important than love.

Yes, you're still married to Bill. For a man who never wanted to marry he's done quite well. Your decision to reserve at least one day a week when you and Bill spent time together was very wise. It kept us close and helped us weather the bad times and rejoice in the good times. And when the kids left the nest, we were already long time friends who enjoyed being together.

No, I didn't get a facelift. I would have loved to have some of my chins gone but then I look in the mirror and I'm content seeing the lines and wrinkles life has given me.

Yes, you're still writing. You're right on the verge of getting your first book published. All those long, solitary nights are about to pay off. I remember so well the heartbreaking rejection letters and the tears shed as you put them in the file cabinet and started over. There's no question that over the years you will give up a lot to become a writer but the sacrifice will be worth it. I'd like to tell you that writing something is validation enough but I'd be lying. Seeing the printed manuscript or the digital manuscript is something so magical that it's hard to describe.

No, you're not being selfish when you leave Bill with the kids and go off to writers meetings and writing conferences and lunches with other writers. I doubt if I would have survived if I hadn't had other writers to network with. They were my mentors, cheerleaders, tear wipers, critiquers and constant encouragers. They shared the bond of writers both near and far. We've shared our deepest secrets and our greatest fears. They understood when non-writers couldn't. Hold them close and treasure them.

Yes, you'll be amazed at what you can accomplish. Never take your writing talent for granted. And remember to write the truth. Your truth. No one elses. And be happy.

Love,

Karla
About Karla
About The Scandalous Ward
The Scandalous Ward (Excerpt)
Karla Darcy discovered early on that Jane Austen was her kindred spirit, and what better time machine than writing Regency romance? Karla has a passion for Regency England; the fashion, the intrigue, the masked balls and witty conversations dripping with double entendres. Karla fuses her skills as a professional researcher with her passion for the period to create stories guaranteed to transport readers to past lives they didn't even know they missed. Karla is a member of RWA and discovered years ago that you don't have to be a bitch to write Regency, but it really helps.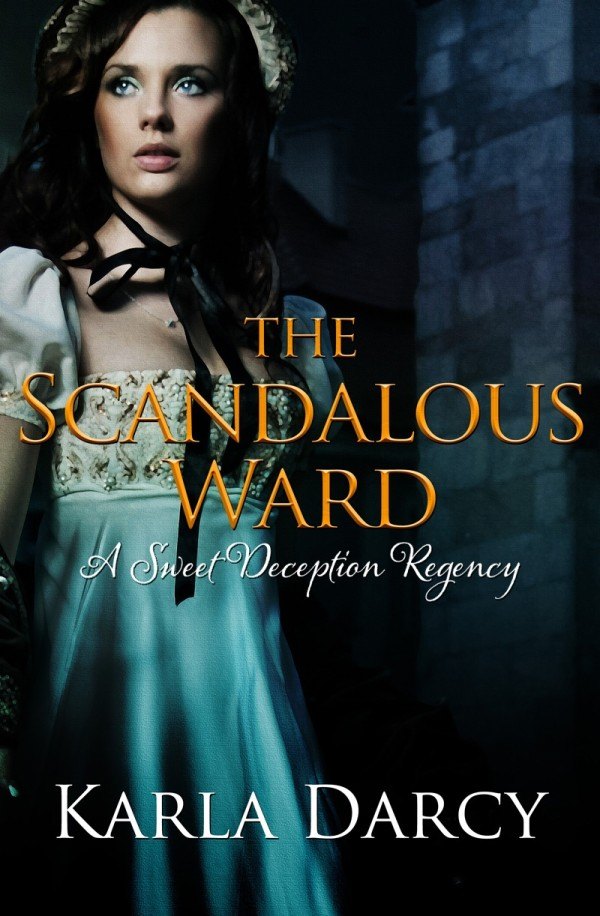 If you love Downton Abbey and Jane Austen you'll love The Scandalous Ward! This is book #4 of the Sweet Deception Regency series. Paxton Rutherford, Duke of Ruhaven, takes on the guardianship of Sir Leslie Lathrup, a young boy whose father has died in India. Five years later Pax is appalled to discover his young ward is really a girl and she is sufficiently compromised that only marriage will save both of their reputations. Can Leslie overcome his fury at her deception and win the love of her guardian?
Amazon ~~ Kobo ~~ B&N ~~ iBookstore
Reaching into the costume trunk, Leslie pulled out a red satin-tiered skirt, a mass of frilly petticoats and a wide collared peasant blouse. A gypsy! She tripped across to the mirror, draping herself in the blouse and holding the skirt and petticoats around her waist.
"How delightful, your Grace. Of course I'd love another pastry." Leslie twirled before the mirror. "Not another dance, milord. Oh I say, you're just too kind, your highness. What a charming evening."
Abruptly Leslie stood still, her eyes widening. Charming! A gypsy charmer. What a lark!
Since Leslie couldn't think of anyone else who might interest Pax, she would have to do it herself. She would go to the costume ball dressed as a gypsy. Once Pax saw her, he was bound to be intrigued, and then he would forget Cecily entirely.
"It won't work," Leslie said to her reflection. "Pax will recognize me the moment I open my mouth."
Perhaps she might get away with it, if Pax only saw her for a minute or two, in a darkly lit room. Leslie stared glumly at the gypsy in the mirror, reluctant to give up her plan.
"The gazebo," she whispered in a flash of inspiration.
The little wooden building stood on the edge of the lake far from the main house. It was sparsely furnished, but best of all there was a velvet covered wicker chaise lounge that would make a perfect prop for her magic play. She had read enough of those ladies novels to imagine exactly how it would be.
The gazebo would be lit by a single candle, and, far off in the distance, the orchestra music would sound a gentle accompaniment to the actors on the stage. She would be lying on the chaise as Pax entered. She closed her eyes, deep in the throes of her drama.
Pax would stand in the doorway, enthralled by the mysterious enchantress before him. His manly chest would heave with the power of his emotion. Then slowly he would cross the room, hurling himself on the floor at her feet.
"My beloved," Pax would say, voice hoarse with undying love. "I have searched the seven seas for a woman like you. I pledge my heart to you for all eternity."
"Non! Non! Oh ze sorrow of eet all." Leslie would raise her arm, covering her eyes with the back of her hand. "Ah mon amor, if only ve had known each other some other time, some other place."
"But, treasure of my life, I have you here now!" Pax would clasp his hands in supplication.
Like a queen rising from her throne, Leslie would stand, staring down into Pax's agonized face. Her voice would be pitying but firm. "Zis meeting will have to suffice for a lifetime of pleasure," she improvised.
Pax would grasp the hem of her skirt and touch it reverently to his forehead, his lips and his heart. Then before his dazzled eyes, Leslie would run through the door, escaping into the night. Pax would stumble to his feet, swearing he would never rest until he had claimed the gypsy for his bride.
Leslie opened her eyes, thoroughly satisfied with the scenario she had created. Now all she had to do was make it work.