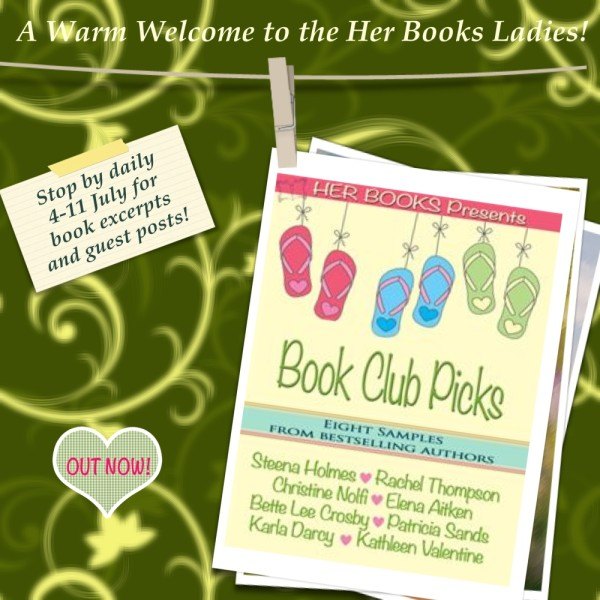 I'm delighted to welcome 8 authors to the blog over 4-11 July in order to celebrate the release of Her Books Presents: Book Club Picks. Each author is sharing a guest post and excerpt from their book. So stop back every day for a chance to meet Steena Holmes, Rachel Thompson, Christine Nolfi, Elena Aitken, Bette Lee Crosby, Patricia Sands, Karla Darcy, and Kathleen Valentine.
Her Books Presents: Patricia Sands – Letter to My Younger Self
Dear Patricia,

Let's time travel back to 1993. What a turning point you reached in your life that year. You might not recognize me at first glance, but look again … it's you twenty years later!

In the five years after you were widowed suddenly, I watched you struggle to cope with grief and discover inner strengths unknown to you previously. My heart still breaks at the memory of the loss of Peter and I know that will never change. You are realizing that time will never erase the pain but teaches you how to live with it.

Your sons are about to leave for university now. It's not going to be easy to let go of these young men who have been the focus of your life for 18 years and your complete responsibility for the past five of those. Even though you know they are ready to move forward, I want you to be assured you have raised them well.

Congratulations on returning to university and becoming a teacher! You are going to love being in the classroom with those young learners. You will learn and grow along with them, even if it is just for a few years before more change comes: happy change this time.

While you have opened your mind to this exciting new chapter in your life as you begin your teaching career, don't be afraid to open your heart as well. It's time.

Your friends and family have been supportive and loving and wish you a happy future. They hope you will meet someone wonderful and I know some of them are trying to discreetly play matchmaker. You know Peter wanted you to promise to be open to a new relationship at some point. He wished you happiness, love and security in your future without him. He knew you would never forget him.

Your life will change dramatically and your family will expand beyond your wildest expectations. No kidding! Your family will always be your top priority and your greatest source of pride. I'm not going to spoil the surprise here.

Travel in the next two decades will bring opportunities for wonderful memories and experiences so be sure to store those memories well. They will feed your future stories.

Stories? Yes, my dear, your lifelong storytelling through photography is going to blossom and transition into writing stories. Fiction. About strong women and the challenges they face as they move into their senior years.

The strong, independent woman you have become will help you deal with the changes you experience as you grow into an entirely new phase of life twenty years from now. Age will not deter you. Relax and enjoy it.

You have learned through tragedy and loss that every day is a gift. Share that message. Model it.

Onward!
About Patricia
About The Promise of Provence
The Promise of Provence (Excerpt)
Patricia Sands lives in Toronto, Canada, when she isn't somewhere else. An admitted travel fanatic, she can pack a bag in a flash and be ready to go anywhere … particularly the south of France. With a focus on women's issues and aging, her stories celebrate the feminine spirit and the power of friendship. Encouraging women of all ages to stare down the fear factor and embrace change, she has heard from readers ages 20 to 83.
Her award-winning debut novel The Bridge Club was published in 2010.
Her second novel, The Promise of Provence, has just been launched.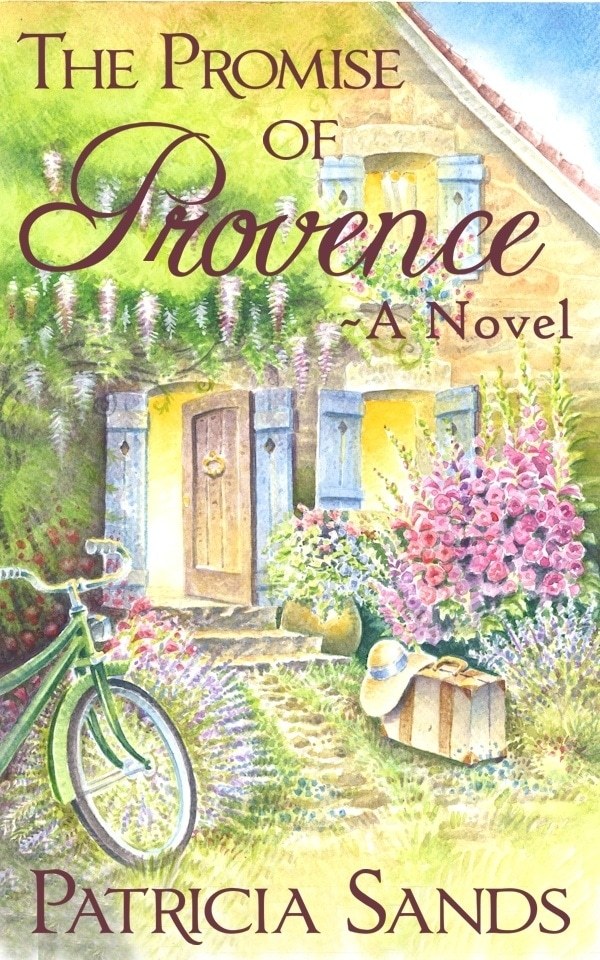 Award-winning novelist Patricia Sands takes you on an unforgettable journey to the south of France. Set in the spectacular beauty of the French countryside and the sun-kissed Mediterranean coast, The Promise of Provence explores challenges faced by a woman at a critical mid-life time when her world has seemingly fallen apart.
Katherine awoke alone. She had been carefully covered with a light sheet and lay with the sun streaming in, feeling fulfilled and confused.
What the hell have I done?
But she knew what she had done. What they had done. The question was what would they do with it now?
Stretching slowly, she closed her eyes and luxuriated in the lingering memory of their lovemaking. A light smile played across her face. It's still there. I'm not too old. That spark of excitement that ignited the fire … She felt her body move sensuously into the sheet as she recalled the bursts of pure pleasure that had surged right to her toes … time after time …
She thought about Andrea's words at the airport, about not having to go home.
Trust Andrea to see past what is holding me back. She's so calm and logical and willing to take risks. Everything she said is what I feel but can't give myself permission to accept.
Philippe appeared in the doorway with fresh croissants. She could see he had even gone to Choopy's to pick up her special café mocca.
Wearing a slightly abashed expression, he placed the tray on a side table and sat on the edge of the bed. Taking Katherine's hand, he kissed it lightly on the back and the palm. With the back of her other hand she softly rubbed the light stubble on his cheek before pulling him to her for a brief but tender kiss.
"It was a beautiful night," he murmured, his eyes and voice full of emotion. He spoke slowly, as if hearing the echo of each word and confirming his voice was expressing what his heart was feeling. "You are a most special woman, Katherine. I never thought I would meet someone like you."
She put her fingers to his lips, as if afraid of what he might say next, while, she responded in close to a whisper, "It was so beautiful. Oh yes, it was. And you are special to me too. We have so much to think about, so much to work through—in our hearts, in our heads."
Philippe nodded. "Oui, c'est vrai. It's true …"
"I don't want this to change the friendship we share. I'm leaving in just over two weeks—that's the reality here. Can we just keep going and see where this takes us?"
He brought her a robe that was hanging by the shower. "I'll take the tray to the rooftop and we can have a quick bite. Désolé, I must get back to work, but I will come back after we close up—if you like."
"Of course I would like that."
As she reached for the robe, their hands touched. It took only a second for Katherine to pull him to her, wordlessly stripping off his tee-shirt as he unzipped his jeans and kicked them aside. Their kisses were strong and fiery. Quickly he straddled her and felt her hips rise to meet him as they both groaned with pleasure. He hungrily kissed her neck, her hair. Katherine felt a hot streak course deep into her pelvis and she pushed him back, this time climbing on top of him.
All reserve was gone. She felt strong, sexy, desired, knowing what she wanted to give and to get.
Later, Philippe held her face for a long time as they lay together. Then he drew it to him. "You are beautiful," he whispered, covering her cheeks, her nose, and her forehead with small kisses. "You are such a gift."
Breakfast could wait.