Today, Luz Aguirre joins me to talk about non-profit organization Mexican Culture Without Borders and share an excerpt from her own work.
Mano a Mano
by Luz Aguirre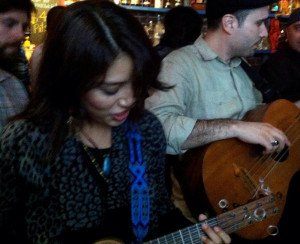 Mano a Mano: Mexican Culture Without Borders is a non-profit organization based in New York that educates about Mexican culture and Mexican identity. The Los Lunes writing workshop started in June 2008 as a collaboration with NY Writer's Coalition (NYWC), another non-profit in New York that provides free creative writing workshops throughout New York City. I am the Program Director of Mano a Mano, and administer and am a member of the Los Lunes workshop. One of the methodologies of the NYWC is that everyone who comes into the space where a workshop is being imparted must write. This is how I began to write.
We get together every Monday (hence the name Los Lunes which means Mondays in Spanish) from 6:30-8:30 pm. We write mostly in Spanish, Spanglish and/or English. We also salt pepper it with other languages such as Nahuatl (from Mexico) or Quiché (from Guatemala). Even though we must assume that everything written inside the workshop is fiction, we know that our souls are uncovered around that table. Esperanzas Desesperadas is the third anthology that has come out of the workshop. The first one was Voces con Eco: Writing from Mano a Mano (NY Writing Coalition press, 2010) and the second was A-Way (Medusa editorial, 2013).
For 5 years the workshop was a place where we sat down to write for two hours with prompts given by a facilitator from the NYWC. We would do 2 or 3 exercises for 15-20 minutes each and share and discuss, positively, what we liked and remembered of each piece. In June, 2013 Miguel Angel Andrade, a member of the workshop, offered to impart a literature workshop for a month. We were so happy with what we learned that we added that component to the workshop. Now each member of the workshop takes turns every week to bring their favorite piece of literature and share and discuss it with the group for the first hour. The second hour is conducted much in the same way it was before, but the member who shares the literature in the first hour is the one that suggests the prompt. Our new facilitator is Danae Sanchez, she keeps us on track, on topic and on time. We have 12 official members and others that drop by. Most of us are women, and the camaraderie formed within this space is something to behold. Los Lunes is one of my favorite spaces in New York, I am proud to be part of it.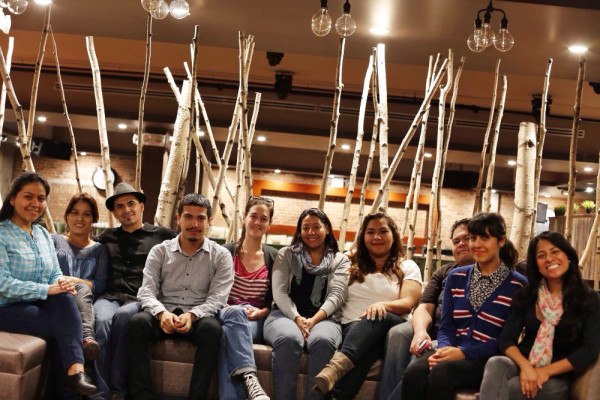 Esperanzas Desesperadas/Desperate Hopes (NY Writers Coalition press, 2013) excerpt: Encased in a Sepulcher
Sepulcher I declare this world which binds and torments me, in this body and mind that require self-sufficiency. Souls with fallen wings, doors and gates forgotten and rusted by disuse. A mausoleum of unlived memories, gelid, slopes of silences, thick and deafening. Everything is exaggerated, everything hurts, everything aches, everything is painful. Some are words, others only gestures erupting in misunderstandings, embedded as a severe cut on the chest to the left. This chest pleads for peace, requests a magician, or the alchemy of some pills for the miracle of oblivion. A piece of obsidian slips through my mind to clean the creases of brain mass. My way of thinking has overshadowed the flash. My skin, full of nerves before leaping with a mere breath, a touch, a glance, has fragmented. In its preservation of feminism has machinated ruthless wars, has exhausted, sentenced. I am the instrument of two centuries, a moment, an after, a before, a never. A Sepulcher.
About Luz Aguirre
Luz Aguirre is a MeXicana who has lived in New York since 1991. Born in Nezahualcoyotl, Mexico she has participated in the writing workshop Los Lunes since 2008 and was published in the book Voces con Eco: Writing from Mano a Mano (NY Writers Coalition press, 2010), Voices: The Journal of New York Folklore (Fall/Winter, 2010), A-Way (Medusa editorial, 2013) and Esperanzas Desesperadas (NY Writers Coalition press, 2013).
Personal blog: http://luzcoyotl.wordpress.com/
Contributor to the blog http://loslunes.wordpress.com/