Aerisia: Land Beyond the Sunset, book one of the Sunset Lands Beyond trilogy by Sarah Ashwood
Mapping the Book
About the Book
About Sarah Ashwood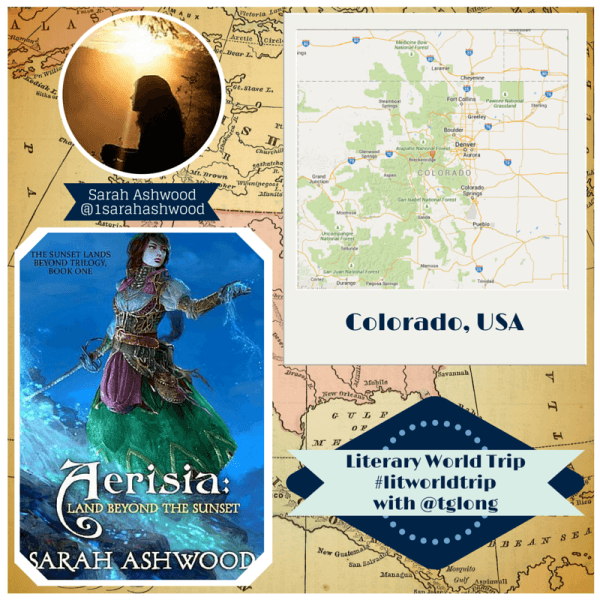 Book/Scene Location: Colorado, USA (In the book, the heroine lives in the fiction town of Westman, CO. However, her home is generally simply referred to as being in the state of Colorado.)
What happens there? The book starts off with our heroine, Hannah Winters, going for an evening walk near her country home in Colorado. During this walk, she encounters an elderly man in flowing, brown robes who informs her she is the long prophesied Artan in the parallel world of Aerisia. Despite her protests, Hannah is taken by the old man to Aerisia, where her journey of self-discovery begins.
Excerpt
Still, how could I have possibly known what was coming? No way could I have foreseen everything would happen, or even now guess what the future might bring.

During one of these inward journeys, I rose from my bed where I'd been curled up with my pillows and a wet hankie and moved to the window, resting my head against the casement. Gazing out at the distant mountains with their green tree lines and rugged dark cliffs brought to mind the high, rocky peaks of my native Colorado. My eyelids drifted closed, and I felt tears trickle down my cheeks.

Much as I hated coming to this point, maybe it was finally time to make my farewells to my family and friends, as well as to life on Earth. All those dreams of finishing college, one day taking over the paper from my dad, and someday getting married and starting my own family… Maybe they weren't meant to be. All that'd transpired told me it was time to let go and leave them behind—forever, I feared.
The mystery of other worlds is not one Hannah Winters ever thought she'd solve. However, the day she spots a brown-robed stranger with a magical staff in a neighbor's field is the day she also discovers Aerisia, a magical land beyond Earth's sunset.
Here in Aerisia, Hannah is believed to be the Artan, a legendary heroine prophesied to deliver Aerisia from the Dark Powers. Plenty of people, including the Simathe, a race of immortal warriors, and the Moonkind, people of the Moon, are willing to help her discover her true identity, but Hannah's just an ordinary girl from Earth. She doesn't have any latent magical abilities and she's not the Artan. However, her allies aren't seeing it that way. Neither are her enemies. In fact, Hannah's life is in jeopardy nearly from the moment she arrives in Aerisia. And becoming the Artan may be the only way to survive…
A genuine Okie from Muskogee, Sarah Ashwood grew up in the wooded hills outside the oldest town in Oklahoma. She is author of the Sunset Lands Beyond Trilogy, the poetry volume "A Minstrel's Musings," and the fantasy novella "Amana," along with numerous other published works. In her imagination, she soars effortlessly through historical and fantastical worlds. In real life, she lives (mostly) quietly at home with her husband and sons. Find Sarah on her Sarah Ashwood Facebook author page, on her Sarah Ashwood Goodreads page, on Twitter @1sarahashwood, or on Instagram where she goes by @runnerwritermom.
Owl Dance by David Lee Summers
Mapping the Book
About the Book
About David Lee Summers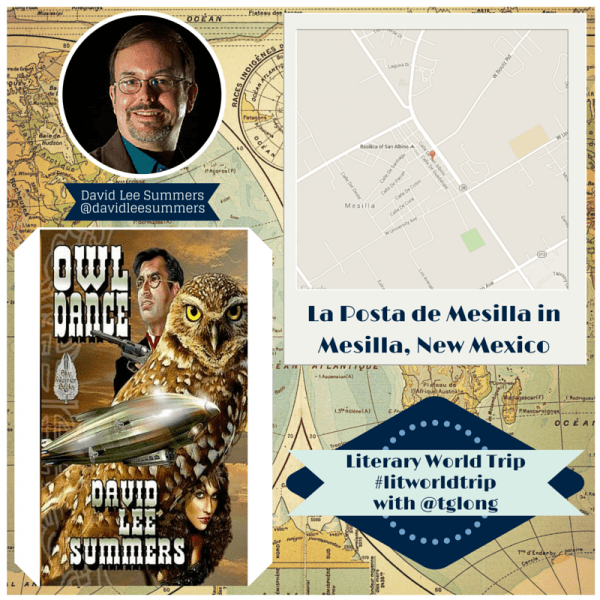 Book/Scene Location: La Posta de Mesilla in Mesilla, New Mexico, USA
What happens there? In the 1870s, La Posta, now a popular local restaurant, was the Corn Exchange Hotel, and stands near the home of Mercedes Rodriguez, a woman accused of being a vampire. Across the street is the courthouse where Ramon Morales, one of the few who stands up for her, was tried for fleeing his duties as Socorro County Sheriff.
Excerpt
"Mercedes Rodriguez consorts with the devil," said Candelaria.

"She must have been summoning demons when the reporter stumbled upon her. They've possessed him."

Duncan looked toward them. His eyes narrowed. "Ramon Morales: Subject of interest."

Ramon shook his head and wondered if he heard that correctly. Two people in the crowd knew Ramon and studied him with puzzled expressions. "I think we better get out of here." With that, he took Mercedes's hand. The two quickly pushed past Candelaria and ran toward the cemetery gate. Fatemeh and the men carrying Duncan moved toward a nearby house, in the opposite direction.

Ramon looked at Mercedes. "Where do you live?"

"On Calle de Guadalupe, near the Corn Exchange Hotel."

Ramon nodded and moved that direction. However, when they reached Calle de Santa Ana, he pushed her behind a shrubbery that lined an adobe wall. She gasped in surprise, but Ramon covered her mouth. He pointed as Candelaria and three other men walked past.

"Where'd they go?" asked one of the men. "I lost sight of them."

"They must be heading to the vampire's house," said the apothecary. "They can't be far ahead." They continued down the street.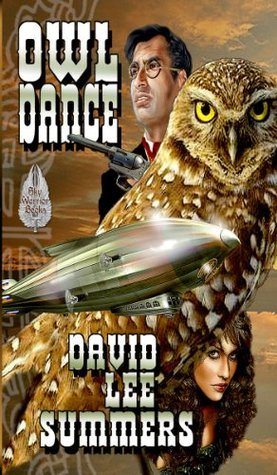 Owl Dance is a Weird Western steampunk novel. The year is 1876. Sheriff Ramon Morales of Socorro, New Mexico, meets a beguiling woman named Fatemeh Karimi, who is looking to make a new start after escaping the oppression of her homeland. When an ancient life form called Legion comes to Earth, they are pulled into a series of events that will change the history of the world as we know it. In their journeys, Ramon and Fatemeh encounter mad inventors, dangerous outlaws and pirates. Their resources are Ramon's fast draw and Fatemeh's uncanny ability to communicate with owls. The question is, will that be enough to save them when airships from Czarist Russia invade the United States?
David Lee Summers is the author of eight novels along with numerous short stories and poems. His writing spans a wide range of the imaginative from science fiction to fantasy to horror. David's novels include The Solar Sea, which was selected as a Flamingnet Young Adult Top Choice, Vampires of the Scarlet Order, which tells the story of a band of vampire mercenaries who fight evil, and Owl Dance, which is a wild west steampunk adventure. His short stories and poems have appeared in such magazines and anthologies as Realms of Fantasy, Cemetery Dance, and Apocalypse 13. In 2010, he was nominated for the Science Fiction Poetry Association's Rhysling Award. In addition to writing, David has edited three science fiction anthologies: A Kepler's Dozen, Space Pirates and Space Horrors. When not working with the written word, David operates telescopes at Kitt Peak National Observatory.



Have you enjoyed either of these books or any other titles set in Colorado, USA or New Mexico, USA? Let us know in comments!
Literary World Trip: Giveaway

Spread the word, submit your locations and keep stopping by each day to Tweet about the world trip – each of these will give you a chance to win.