Portrait of Woman in Ink by Kelly Hitchcock
Mapping the Book
About the Book
About Kelly Hitchcock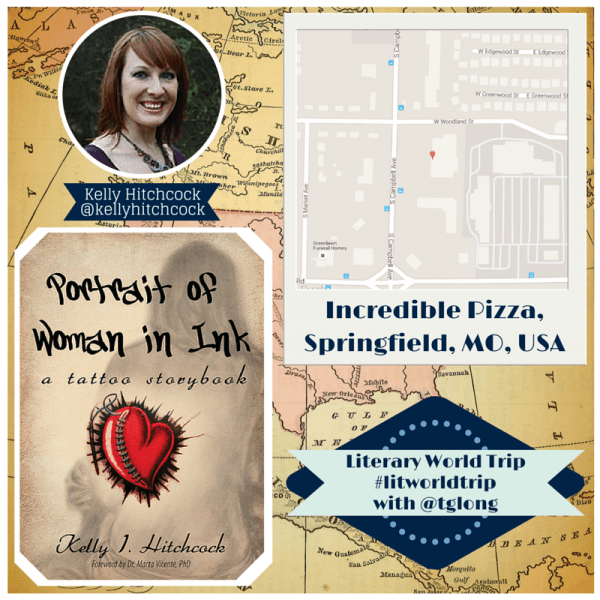 Book/Scene Location: Incredible Pizza, Springfield, Missouri, USA
What happens there? Beth celebrates 10 years of marriage to her husband with cystic fibrosis. When she got her tattoo the day they got married, she never would have thought she'd still be looking at it with him by her side 10 years later.
Excerpt
Their town was too small for a Chuck-E-Cheese, and too religious for a Dave and Buster's. Incredible Pizza was their compromise – a smaller Chuck-E-Cheese with the same types of arcade and parlor games, just as big a buffet, but without the sinful bar or laser tag of Dave and Buster's. Incredible Pizza was Christian-owned, a fact you could discern from the Ichthus painted below the glowing neon sign above the doors and the church bulletin discount they asked about at the front door. Beth's best friend, Lacey, called it Inedible Pizza: the Almighty buffet with all the crucifixins. Granted, it was a ridiculous place to have a tenth anniversary party, but most of their friends were beginning to start families of their own, and Beth and Charlie loved playing arcade games together. Maybe, she thought, it was just a lasting childlike feeling that came with getting married when you were barely adults in the first place. Childlike or no, Beth really wanted a drink.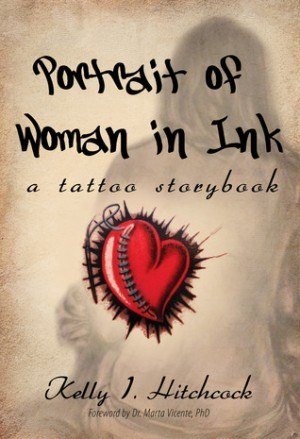 Twelve women, twelve tattoos, and a narrative thread that weaves them all together, Portrait of Woman in Ink: A Tattoo Storybook is a collection of stories that answers that lingering question in the back of your mind when you see an inked woman: what does your tattoo mean (or perhaps – what were you thinking)? From a parent's suicide to the birth of an unlikely child, the stories behind why women tattoo themselves are literally worn on (and sometimes under) their sleeves, and retold on these pages.
Complete with artwork from the original tattoo artists and a foreword by Dr. Marta Vicente, one of academia's foremost voices in Women's Studies, this series of literary vignettes celebrates real, everyday women and their tattoos that, while they may seem insignificant at the time, are a symbol of the larger struggles and triumphs that make them who they are. These stories explore the idea of tattoos bringing together women from different worlds, and teaching them how these worlds might not be as far apart as they think.
Kelly I. Hitchcock is an up-and-coming writer in the Austin, Texas area. She is author of various poems about the randomness of life, several short stories, random creative nonfiction works, and the coming-of-age novel The Redheaded Stepchild. She is world-renowned among a readership of five people and growing.
Raised by a single father in the small town of Buffalo, Missouri, Kelly has fond memories of cash-strapped life in the Ozarks that strongly influence her writing and way of life.
When she's not writing API documentation for money or writing poetry and fiction for unmoney, Kelly enjoys catering to the whims of a high maintenance rescue dog, frequenting Austin's many concert venues with her husband, and breaking things (in no particular order). She is an avid volunteer and fundraiser for the Cystic Fibrosis Foundation.
DayDreamer by Chrissy Moon
Mapping the Book
About the Book
About Chrissy Moon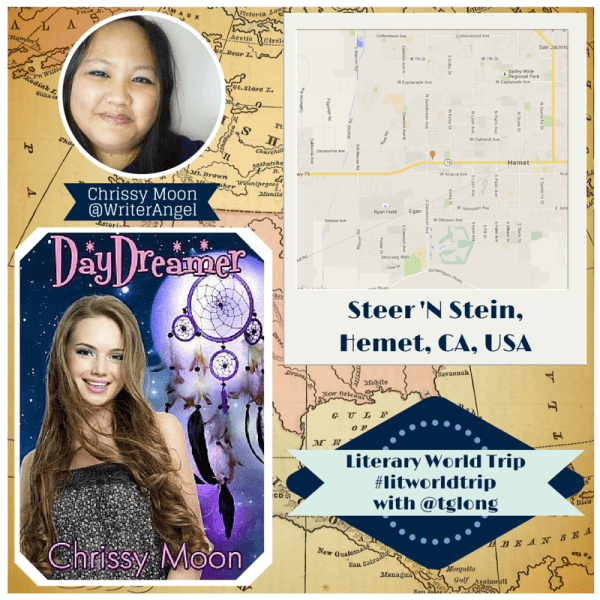 Book/Scene Location: Steer 'N Stein, Hemet, CA, USA
What happens there? Teenager Kayla Isbethrie goes on her first date with Hale Harkason!
Excerpt
"Congratulations on getting your Lyzicc medallions," he said out of nowhere.

I froze, my lips breaking contact – and therefore suction – of the straw, a little bit of lemonade falling out of my mouth and onto the table like so much strawberry-flavored drool. Simultaneously, I did an involuntary gasp which resulted in me choking on the lemonade of all things. Since my right hand was underneath Hale's, I used my left one to cover my still-full mouth.

As I did, I felt the cold splash of lemonade fall from my mouth onto my leg. While I coughed, I looked up to see the gorgeous Hale sitting in front of me, looking worried about me again like he did at school, asking me if I was okay over and over.

So much for keeping it cool for just one day.

Through my insane, endless coughing, I could only think about one thing. First, how did Hale know I got my Lyzicc medallions this morning? Second, did this mean that Hale was Lyzicc as well?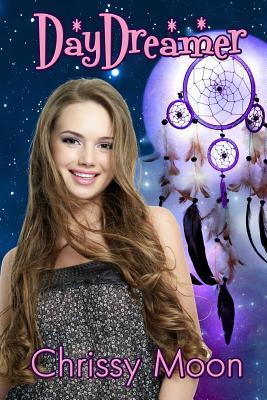 YOUNG ADULT (YA) — Kayla's sixteen and a half. And she's Lyzicc. That means her birth parents are ancient mythos creatures who've been hiding out on Earth. She has no idea who they are. All she knows is that she has a strange new power that shows her the daydreams of others. Two of the cutest guys in school are competing for her attention. Hale is Lyzicc and is pretty tight-lipped about his background. Collin comes from a family whose dark obsession with the Lyzicc Community keeps Kayla guessing about his true intentions. Join Kayla as she hunts for the truth about herself and tries to survive high school at the same time!
Chrissy Moon writes paranormal romances, horror shorts, and poetry.
When not writing or scribbling notes on a random piece of scrap paper, Chrissy can be seen grabbing an Iced Americano from Starbucks, cursing at bad drivers (without admitting that she herself is one), pretending to eat healthy but actually splurging on food, and spending time with her boys.
Her favorite novel of all time is The Good Earth by Pearl Buck, but she can usually be found curled up with one of her two Kindles reading a book by one of her author friends.
She loves to laugh, but would be an absolutely terrible comedienne. She's really just happiest being behind the scenes.
Some of Chrissy's passions in life are languages and history. Arithmetic continues to be her mortal enemy.



Have you enjoyed either of these books or any other titles set in Missouri, USA or California, USA? Let us know in comments!
Literary World Trip: Giveaway

Spread the word, submit your locations and keep stopping by each day to Tweet about the world trip – each of these will give you a chance to win.