One Night in Tehran: A Titus Ray Thriller by Luana Ehrlich
Mapping the Book
About the Book
About Luana Ehrlich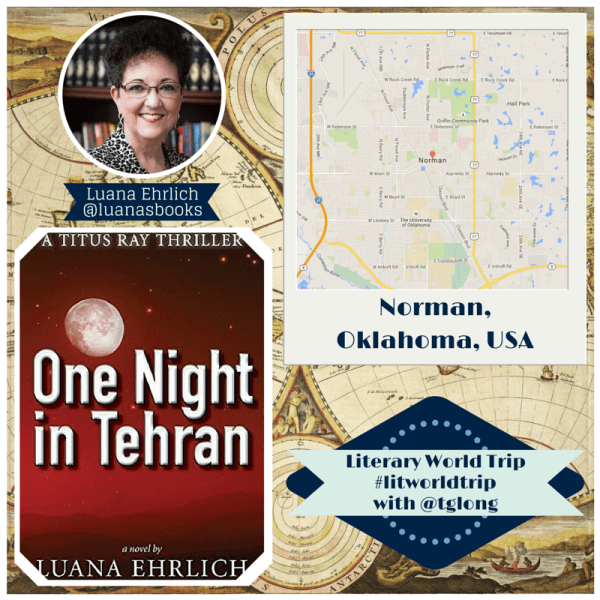 Book/Scene Location: Norman, Oklahoma, United States
What happens there? CIA intelligence officer, Titus Ray, shows up in Norman, Oklahoma, while being pursued by an assassin.When he encounters an Iranian couple at a local church, he must decide if they're connected to the killer who's after him.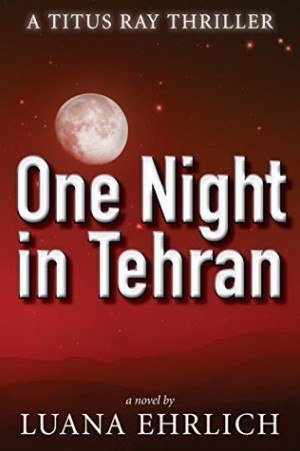 Trained in lies, a covert agent learns the truth
Veteran CIA officer, Titus Ray–on the run from the Iranian secret police–finds shelter with a group of Iranian Christians in Tehran. While urging Titus to become a believer in Jesus Christ, they manage to smuggle him out of Iran to freedom in Turkey.
Will it help him deal with his past?
Returning to the States, he discovers his Iranian mission failed because of political infighting within the Agency. In a hot-tempered outburst, he delivers a scathing indictment against the Deputy Director of Operations, and, as a result, the deputy forces Titus to take a year's medical leave in Oklahoma.
How will it change his future?
Before leaving Langley, Virginia, Titus learns he's been targeted by a Hezbollah assassin hired by the Iranians. Now, while trying to figure out what it means to be a follower of Christ, he must decide if the Iranian couple he meets in Norman, Oklahoma has ties to the man who's trying to kill him, and if Nikki Saxon, a local detective with an intriguing past, can be trusted with his secrets.
Luana picked up her first adult spy novel when she was eleven years old. Today, she continues to have a passion for the thriller/suspense genre of fiction. In addition to being an avid reader, she is also a news fanatic, following events around the world on a daily basis, particularly the Middle East.
Luana is a minister's wife and has lived in Norman, Oklahoma for the past two decades. Previously, she resided in several states in the South and Midwest. Along with her husband, she also served as a missionary in Costa Rica and Venezuela.
Occasionally, she reports on the experiences of newly converted Christians for Baptist Press, a national news service for Baptists. At one time, she wrote a weekly column for The Indiana Baptist, entitled "A Story To Tell," which told the stories of ordinary people who became followers of Christ. Luana is a member of the American Christian Fiction Writers.
…Saves Nine (Time Will Tell Book 2) by Les Lynam
Mapping the Book
About the Book
About Les Lynam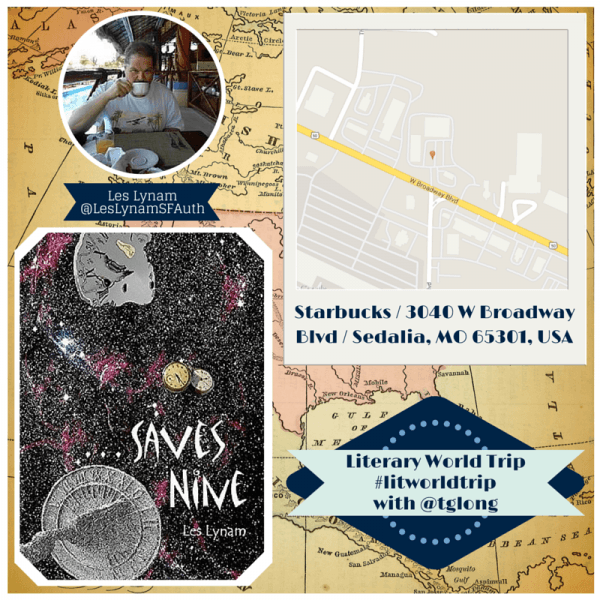 Book/Scene Location: Starbucks / 3040 W Broadway Blvd / Sedalia, MO 65301, USA
What happens there? Hovering above the closest Starbucks to (fictional) Grovers Corners, Missouri, LX taps into their WIFI from a cloaked Time-Machine to send a failsafe message.
Excerpt
The cloaked S.T.E. hovers above a beverage dispensing enterprise known as Starbucks. I traveled 20 years into the future from 1995 to find a more ubiquitous access to networked computing. This general era is when users begin to entrust the placement of nearly all of their data in random servers they call 'the cloud'. Security for cloud-computing is still in its infancy, making it simple to manipulate with 23rd Century technology. The year 2015 is also the first year that Chrono-Historians begin real-time data collection of any and all changes to the Internet.

My computer has encrypted my message by interlacing it with a video file that displays humorous actions of Felis Catus. Several exabytes of data are dedicated to this subject matter by 2015. The computer has devised an algorithm that will, for twenty-four hours, route my file through every server that exists on Earth. If I have not intercepted it within that time-frame, the file will be posted to Youtube using a login commandeered from one of the current patrons of Starbucks. Any 21st Century viewer will only be able to view the antics of the Felis Catus. When the file is transferred to the future for data analysis by Chrono-Historian computers, my message will become decrypted.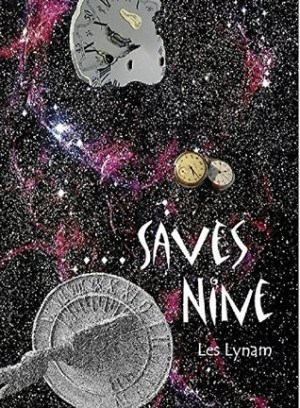 Sean Kelly and LX travel back one more generation to the year 1969. The question is: will either teen know how to 'make the scene' in the sixties? Can they blend in with the other teens in tiny Mercer, Iowa; including Sean's dad? When they return to 1995, both of them have regrets about the past.



Have you enjoyed either of these books or any other titles set in Oklahoma, USA or Missouri, USA? Let us know in comments!
Literary World Trip: Giveaway

Spread the word, submit your locations and keep stopping by each day to Tweet about the world trip – each of these will give you a chance to win.