Agency Rules – Never an Easy Day at the Office by Khalid Muhammad
Mapping the Book
About the Book
About Khalid Muhammad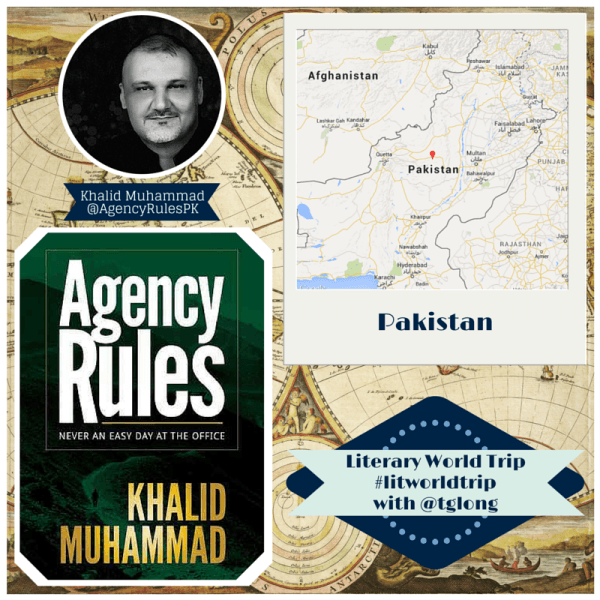 Book/Scene Location: Pakistan
What happens there? The entire book is set in Pakistan right after the Soviets pulled out of Afghanistan. The reader will visit Karachi, Islamabad, Peshawar, and Bajaur in the tracking and hunt for a terrorist organization.
Excerpt
Kamal had not slept comfortably the night before. Sohrab Goth was abuzz with activity as fire trucks came in and out of the area throughout the night. During breakfast before daybreak, Aftab gave both Kamal and Dawood a briefing into the activities observed during his watch. At some point during the night, the police had cordoned off the area, restricting access to official personnel and vehicles only. A few military convoys had come into the area, including the Corps Commander and Military Intelligence, to survey the situation and offer their assistance, but this was a police matter and the army wanted nothing to do with it.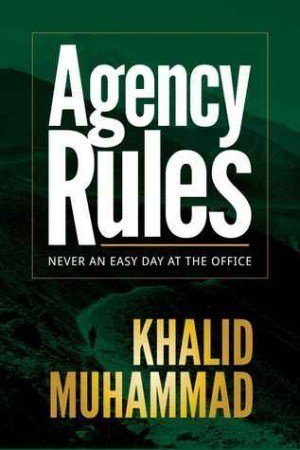 Celebrated as a ragtag force that defeated and broke the Soviet Union, no one predicted the Mujahideen would bring with them a plague that would spread like wildfire through Pakistan in the years to follow. When the battle-worn fighters returned with no enemy or war to fight, they turned their sights on the country that had been their creator and benefactor.
From the same battlegrounds that birthed the Mujahideen, a young Kamal Khan emerges as a different breed of warrior. Discarding his wealthy family comforts, Kamal becomes a precision sniper, an invincible commando and a clandestine operative bringing intimidation, dominance and death with him to the battlefield. Ending the plague is his prime directive.
Shrouded in political expediency, hampered by internal power struggles, international espionage and doublespeak that makes Washington's spin doctors proud, Kamal's mission is a nightmare of rampant militant fundamentalism that threatens to choke and take Pakistan hostage. For him, the fight is not just for freedom, but the survival of a nation.
Khalid Muhammad is an entrepreneur, published novelist, political strategist and defense analyst. He has extensive knowledge of terrorist groups operating in the Middle East and Indian sub-continent including recruitment tactics, funding, operational structures and methodologies. His debut espionage thriller, Agency Rules – Never an Easy Day at the Office, has been a breakthrough bestseller around the world.
The Map of Lost Memories, by Kim Fay
Mapping the Book
About the Book
About Kim Fay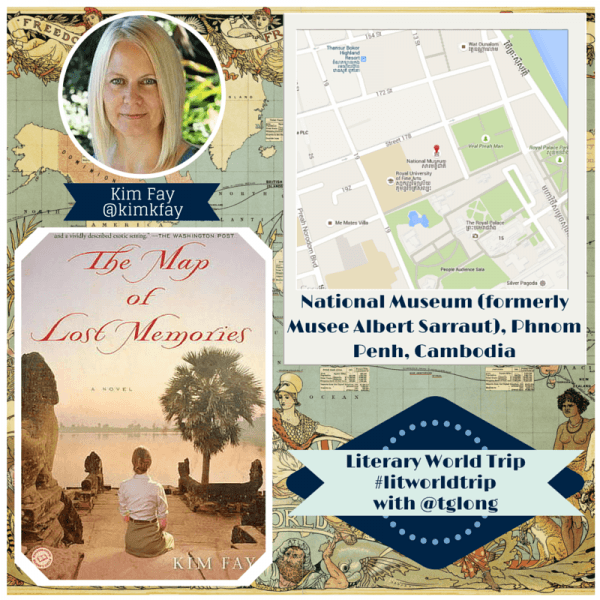 Book/Scene Location: National Museum (formerly Musee Albert Sarraut), Phnom Penh, Cambodia
What happens there? On a 1925 quest to find the history of the ancient Cambodian people, two women discover that their pasts are entwined in ways they could never have imagined.
Excerpt
"I have been very fortunate. I have had several incredible adventures," Mr. Simms assured Irene, his eyes focused on the diary. "May I give you some advice? The one thing to remember about an adventure is that if it turns out the way you expect it to, it has not been an adventure at all."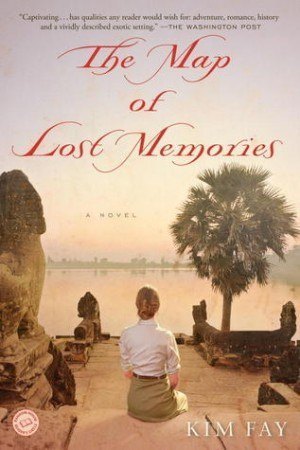 Edgar Award Finalist for Best First Novel by an American Author
"Captivating . . . has qualities any reader would wish for: adventure, romance, history and a vividly described exotic setting."—The Washington Post
In 1925 the international treasure-hunting scene is a man's world, and no one understands this better than Irene Blum, who is passed over for a coveted museum curatorship because she is a woman. Seeking to restore her reputation, she sets off from Seattle in search of a temple believed to house the lost history of Cambodia's ancient Khmer civilization. But her quest to make the greatest archaeological discovery of the century soon becomes a quest for her family's secrets. Embracing the colorful and corrupt world of colonial Asia in the early 1900s, The Map of Lost Memories takes readers into a forgotten era where nothing is as it seems. As Irene travels through Shanghai's lawless back streets and Saigon's opium-filled lanes, she joins forces with a Communist temple robber and an intriguing nightclub owner with a complicated past. What they bring to light deep within the humidity-soaked Cambodian jungle does more than change history. It ultimately solves the mysteries of their own lives.
Kim Fay is the author of the historical novel, The Map of Lost Memories, a 2013 Edgar Award finalist for Best First Novel by an American Author, and the food memoir, Communion: A Culinary Journey Through Vietnam. She is also the creator/​series editor of the To Asia With Love guidebooks. After college and five years as an independent bookseller at the Elliott Bay Book Company in Seattle, she moved to Vietnam in the mid-1990s. She fell in love with the country and lived in Saigon for four years, and she has been traveling regularly to Southeast Asia for more than twenty.
5 Centimeters Per Second by Makoto Shinkai
Submitted by David M. Brown
Mapping the Book
About the Book
About David M. Brown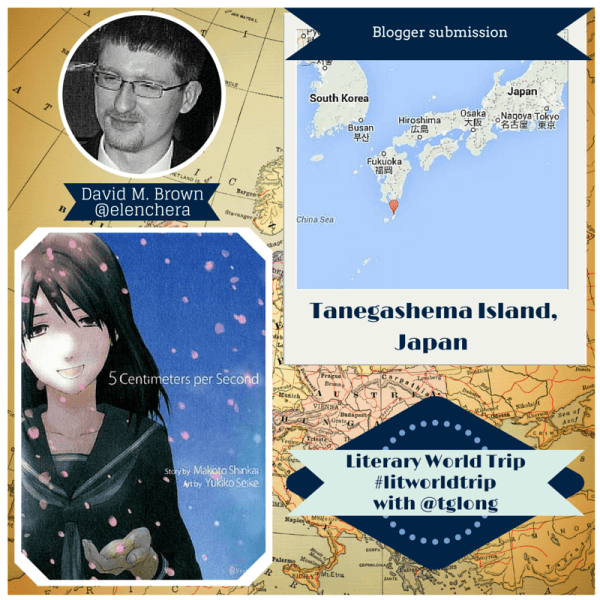 Book/Scene Location: Tanegashima Island, Kagoshima Prefecture, Japan
What happens there? Takaki, now living hundreds of miles from his best friend, Akari, is studying at high school on the beautiful island of Tanegashima. Frequently composing text messages and emails he never sends to Akari, Takaki is oblivious to the attentions of fellow student – Kanae – who has been in love with him since middle school but is too afraid to admit her feelings.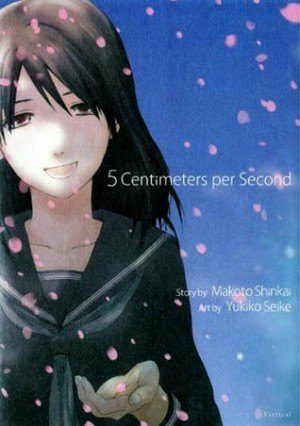 Love can move at the speed of terminal velocity, but as award-winning director Makoto Shinkai reveals in his latest comic, it can only be shared and embraced by those who refuse to see it stop.
Takaki Tohno quickly befriends Akari Shinohara when she transfers to his school. They grow closer to each other due to similar interests and attitudes; for instance, they both prefer to stay inside during recess due to their constitutions. As a result, they form a strong bond.
Upon ending their school year, Akari moves to Tochigi, due to her parents' jobs. The two keep in contact by writing letters, but eventually begin to drift apart.
I am a self-published author of seven books, an avid bookworm, film buff, music lover and gaming enthusiast.
I run a joint blog with my wife, Donna – B-Lines & Felines – where we share our mutual interests along with the trials and tribulations of being the parents of six cats.
Two of our cats – Mr Kain and Charlie – have even found the means to share their own weekly musings though their blogs are not for the faint hearted.



Have you enjoyed any of these books or any other titles set in Pakistan, Cambodia or Japan? Let us know in comments!
Literary World Trip: Giveaway

Spread the word and keep stopping by each day to Tweet about the world trip for extra chances to win.