Firefall, by J.H. Bográn
Mapping the Book
About the Book
About J.H. Bográn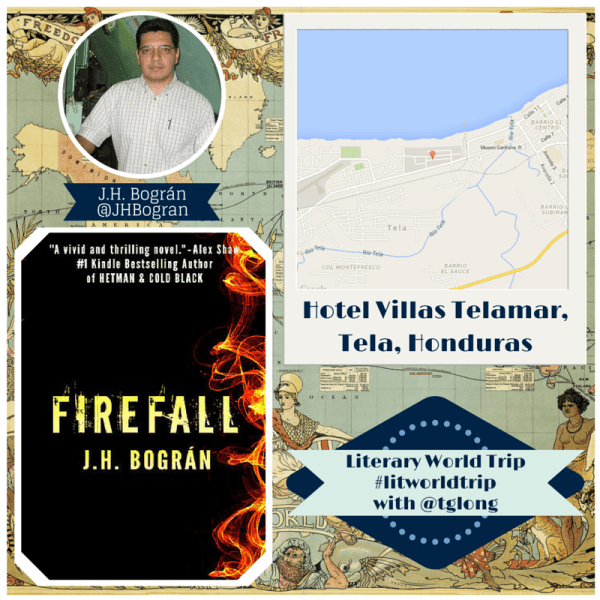 Book/Scene Location: Hotel Villas Telamar, Tela, Honduras
What happens there? Sebastian Martin and Gustavo Fonseca arrive to Hotel Villas Telamar searching for a missing person as that is his last known location. The clue they find there sparks a chain of events that leads toward the climax of the story.
Excerpt
Gustavo saw the flash of the muzzle before he heard the characteristic sound of an AK-47. Almost at the same time, he swerved the car to the right toward the men in the road.

With one hand on the non-hydraulic steering wheel, Gustavo maneuvered and missed hitting the Caravan by a couple of inches, only to plunge into the ditch. The car did not have air bags. Sebastian's flimsy seat-belt had no hope of restraining him and he smashed his head against the windshield. Gustavo flew forward too but did not hit it. However, the impact made him loosen his grip on the handgun, which dropped out of sight.

"Are you okay?" He turned to see Sebastian leaning forward. He pushed him back onto the seat. He was limp. Blood trickled from a nasty gash on his forehead.

Feeling dizzy, Gustavo turned his head and, through the back window, saw two men rushing to the car. He looked down searching for his gun as he thought there were three of them. Where was the third?

As if in response, he heard his door yanked open. He turned in time to see the butt of a machine gun coming at his temple and all went dark.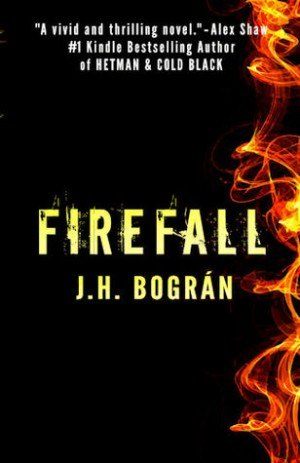 The problem with being reborn from the ashes is, you have to die first.
After the loss of his wife and child in a plane crash, former NYC firefighter Sebastian Martin is nearing alcoholic oblivion when his brother offers him a last-chance job opportunity as an insurance fraud investigator. Despite his reservations, he soon discovers he has an instinct for the job.
A move to Dallas, where he learns it's okay to be alive, proves to be his salvation. Investigating fraudulent claims for a dead child and another for a missing husband, in Honduras, leads him to murders, international car thieves, and torture at the hands of a former KGB agent.
J.H. Bográn, born and raised in Honduras, is the son of a journalist. He ironically prefers to write fiction rather than fact. José's genre of choice is thrillers, but he likes to throw in a twist of romance into the mix.
His works include novels and short stories in both English and Spanish. His debut novel TREASURE HUNT, which The Celebrity Café hails as an intriguing novel that provides interesting insight of architecture and the life of a fictional thief, has also been selected as the Top Ten in Preditors & Editor's Reader Poll.
FIREFALL, his second novel, was released in 2013 by Rebel ePublishers. Coffee Time Romance calls it "a taut, compelling mystery with a complex, well-drawn main character."
His other works include novels and short stories in both English and Spanish.
He's a member of the Short Fiction Writers Guild, Crime Writer's Association, and the International Thriller Writers where he also serves as the Thriller Roundtable Coordinator and contributor editor their official E-zine The Big Thrill.
He lives in Honduras with his family and one "Lucky" dog.
Eolyn by Karin Rita Gastreich
Mapping the Book
About the Book
About Karin Rita Gastreich
Book/Scene Location: Talamanca Mountain Range, Costa Rica
What happens there? The forests in which Eolyn grows up were inspired by the highland oak forests of the Talamanca Mountain Range of Costa Rica. Here Eolyn learns an ancient tradition of magic, and meets the mysterious boy Akmael, whose destiny is tightly intertwined with her own.
Excerpt
Eolyn wandered amid the towering giants, eyes directed toward the high canopy, a tangle of ebony branches silhouetted against the bright sky. Her natural enthusiasm was tempered by the respect her mother had instilled in her heart. She passed one small hand over the rough bark of a massive oak, then grasped the smooth bend of a low-hanging limb. A flash of ivory revealed a patch of fungus beneath the mottled leaf litter, a spot of ruby the last berries on a thorny shrub. As Eolyn gathered these simple treasures, she imagined her mother's voice reflected in the flow of the stream across fine gray stones, and carried on the wind that rippled through the branches.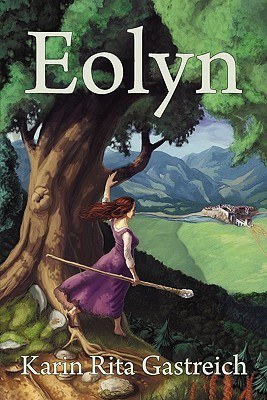 From PUBLISHERS WEEKLY: "Vigorously told deceptions and battle scenes will satisfy fans of traditional epic fantasy with a romantic thread." Sole heiress to a forbidden craft, Eolyn lives in a world where women of her kind are tortured and burned. When she meets Achim, destined to assume the throne of this violent realm, she embarks upon a path of adventure, love, betrayal and war. Bound by magic, torn apart by destiny, Eolyn and the Mage King confront each other in an epic struggle that will determine the fate of a millennial tradition of magic.
Karin Rita Gastreich writes tales of ordinary women and the extraordinary paths they choose. Inspired by a lifetime of exploring ancient forests, her stories blend elements of epic fantasy, historical fiction, and romance. The worlds she creates are a strange amalgamation of medieval Europe and colonial Central America, with misty forests, vast savannas, and steamy jungles. They are populated by brave heroines, noble heroes, and twisted villains. Karin's fantasy novels EOLYN and HIGH MAGA are available from Hadley Rille Books. Her short stories have appeared in Zahir, 69 Flavors of Paranoia,and World Jumping. She runs an on-line discussion forum about women in genre fiction at
Heroines of Fantasy
.



Have you enjoyed either of these books or any other titles set in Tela, Honduras or the Talamanca Mountain Range, Costa Rica? Let us know in comments!
Literary World Trip: Giveaway

Spread the word, submit your locations and keep stopping by each day to Tweet about the world trip – each of these will give you a chance to win.