View from the Sixth Floor by Elizabeth Horton-Newton
Mapping the Book
About the Book
About Elizabeth Horton-Newton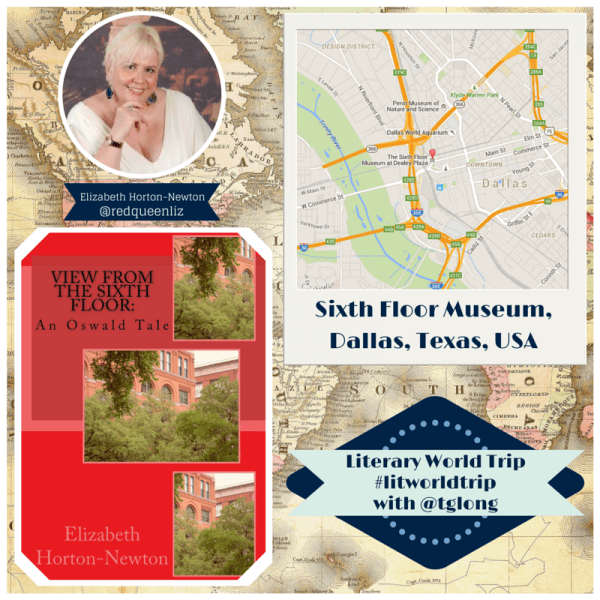 Book/Scene Location: The Sixth Floor Museum, Dallas, Texas, USA
What happens there? Olivia Robertson and Bill Horton visit the museum while investigating the assassination of President John Kennedy. They look out the window at the view of the assassination spot.
Excerpt
I stared into that sealed off area and wondered what it might have been like to hide there, waiting for the exact moment when John Kennedy would enter the sight on that cheap rifle. I turned to say something to Bill who stood a few feet away by the window. He was in profile, staring out at what? I cocked my head to one side, studying him, trying to pinpoint what about that moment disturbed me. The sun cast a shadow across his face as he turned to look at me. His expression was strange, I couldn't define it. He wasn't curious, he wasn't angry, he was something different. I moved closer to him and looked out where he had been staring. There was a tree slightly blocking my view but I could see the street below. A white X was drawn in the middle of the road. It didn't take a genius to figure out that was the spot where Kennedy had been shot. I looked back at Bill to find him still staring at me. "So what do you think?"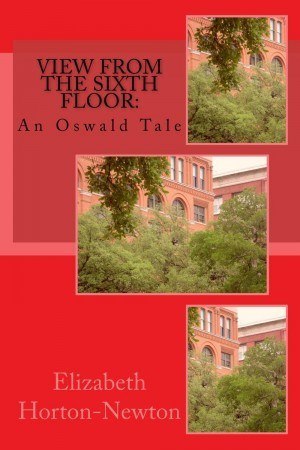 This romantic thriller takes a fictional "what if" look at the JFK assassination. Suppose accused assassin Lee Harvey Oswald had lived to defend himself. Imagine if 50 years after the assassination someone stepped forward to reveal the truth of what happened that day. What if the assassination was a conspiracy and the impact of those revelations reached into the 21st century. This the story of ordinary people caught up in extraordinary events. You'll never look at your neighbors the same way.
The Wastelanders by Tim Hemlin
Mapping the Book
About the Book
About Tim Hemlin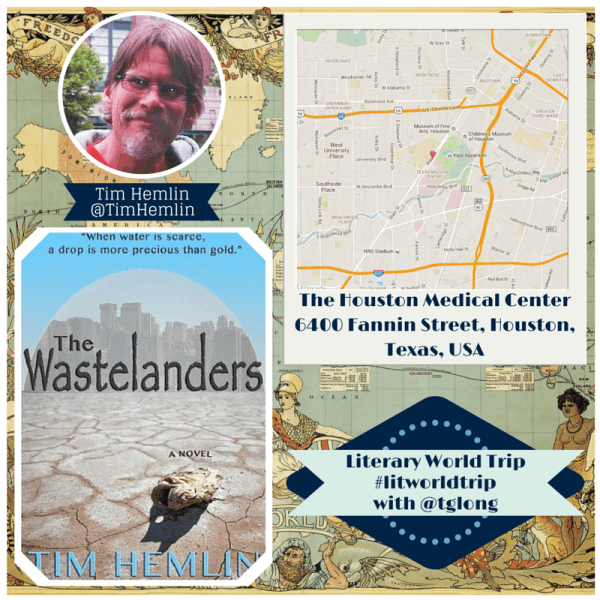 Book/Scene Location:
The Houston Medical Center 6400 Fannin Street Houston, Texas 77030, USA
What happens there? Bernie Hawke catches the tram in front of the Texas Medical Center looking for his son, Joey an innocent suspect in a terrorist attack.
Excerpt
Bernie shook his head…our little Eden in a bubble…Joey had one thing right–people were so very malleable.

All this walking, Bernie realized as he pushed off the fence, only served to distract his thoughts. He found it difficult to focus. He heard the whoosh of hovercrafts and the old-time clanking of the Tram's bells. The revamped towers of the Medical Center loomed before him like crystal needles driven into a cushion of earth. Even on the outside, the streets, the buildings and the people all looked so clean and hopeful. But, like most everything in the city now it was merely a facade.

Bernie take a deep breath and continued toward the center. He decided to catch the tram. He hopped on the first car, took the first empty seat and scanned the crowd, eying them carefully. Any number of them could be from home security. Bernie closed his eyes and leaned his head back. His mind swam. Find Joey, he told himself through it all. Find out what he knows. Joey held the key to proving them both innocent. He hoped he wasn't deceiving himself.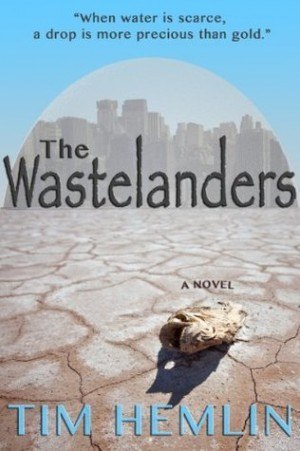 America is controlled by a corporate oligarchy known as the Water Cartel and warrior-priest Joey Hawke finds himself trapped between a mysterious geneticist amassing a clone army and a group of political fanatics convinced that a dead president will rise from his tomb to lead them to salvation. Caught outside his spiritual haven when the Cartel moves against the Wastelanders, Joey is aided by Bear, an enigmatic weapons runner, a lovesick Scrapwoman, and Bernie Hawke, his estranged father. But against the Cartel's military strength, led by the power hungry Rex Fielder, Joey's only hope may be Si-Ting, a young woman with prescient abilities––a woman who not only holds the key to his heart but also to an American conspiracy to crown its future with the withered laurels of the past.
Tim Hemlin is a marathoner, teacher, and has his master's degree in counseling, but his passion for the environment sparked him to write The Wastelanders, a dystopian-clifi published in both e-book and paperback by Reputation Books. He is represented by Kimberley Cameron of Kimberley Cameron & Associates Literary Agency.
Black Silence, available through Amazon, is a Wastelanders short story. Mr. Hemlin is currently in the notes and brainstorming stage for the Wastelanders sequel.
Recently the Muse has allowed him to tap into that creative magic and pen a young adult urban fantasy. If all goes well with the edits and revision, the final draft should be completed by early summer.
Other works include, the Neil Marshall series of culinary mysteries set in Houston, Texas published in the late 90's by Ballantine ~ If Wishes Were Horses, A Whisper of Rage (nominated for a Shamus Award), People in Glass Houses, A Catered Christmas (the one I most enjoyed writing), and Dead Man's Broth. He has recently gotten the reversion rights and is planning on reissuing them under an elite publishing house out of New Orleans.



Have you enjoyed either of these books or any other titles set in Texas, USA? Let us know in comments!
Literary World Trip: Giveaway

Spread the word, submit your locations and keep stopping by each day to Tweet about the world trip – each of these will give you a chance to win.