Food in Fiction (#foodinfic) is a month long celebration of food featured in books. Authors and bloggers have shared their favorite books or their own work, helping to build a fantastic menu. On Day One, I shared some excerpts from In Leah's Wake, giving a glimpse of the role food plays in the book. From here on, authors and bloggers will take center stage and I hope you'll stop by throughout the month to see their submissions, share the posts and enter the giveaway.
Food in Fiction: Day Ten
STIFADO (from The Homecoming by Dougie McHale)
On the Menu
About the Book
About Dougie McHale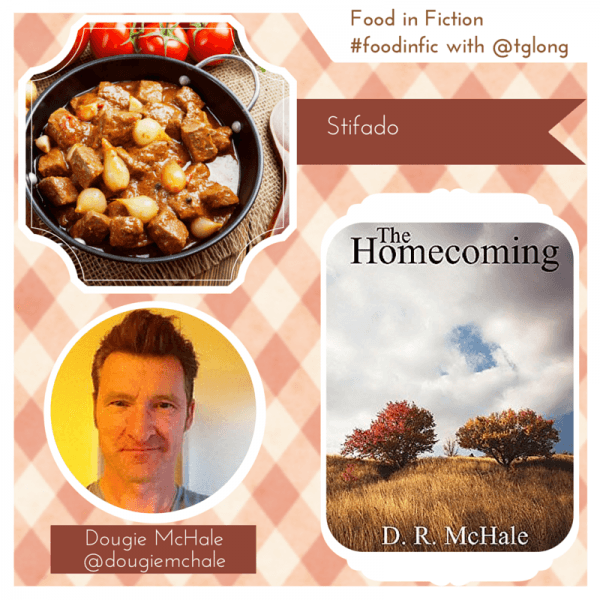 Food/drink mentioned:
Stifado
Who is eating? Why? What is the occasion? The main characters are eating dinner in St. Marcos Square on the island of Zakynthos in Zakynthos Town. This is the turning point in the book where their relationship becomes a central theme.
Excerpt
He scanned the area, intent on finding a face to match to the voice. Already an image was forming, just like when one speaks on the telephone to a total stranger, the timbre of the voice announces an age and the features of a face evolve. An impulse compelled him to advance further into the crowd, now strewed across the temple floor. A warm delicious feeling radiated through his stomach. His eyes strained as they peeled off people, a young couple with a camcorder, a man consulting a guide book and a group of elderly people shading from the sun under an assortments of hats. A collage of colour fluttered in the heat haze. He could feel a tug of irritation and a sense of panic soak into him.

Like peeling bells the voice lifted above bobbing heads, he turned to the right; she was slightly obscured by a semi circled huddle. She spoke slowly and warmth levitated from their delivery, almost glowing, Louis considered. And then, like a lamp being turned on in a darkened room, she suddenly appeared.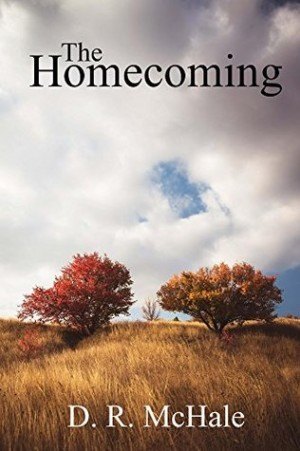 When Louis Satriani discovers his partner's affair and subsequent pregnancy it changes his life irrevocably, leading to a betrayal of the hopes and aspirations that once galvanised his life. The chance meeting with a homeless traveller ignites a revaluation of his shattered life. The prospect of escaping the confines of the past is galvanised when he decides to travel through Greece, an experience he hopes will afford him opportunities to rediscover a sense of normality and reconstruct his life.
Set against the backdrop of Edinburgh in the new millennium, a journey through the landscapes of mainland Greece and the sanctuary of an Ionian island, Louis attempts to readjust to the shifting parameters of events that have shaped and influenced his life. His search for self-identity is woven into life changing events, a voyage of love, reconciliation and the unfolding layers of a secret that can only be resolved by a homecoming.
Amazon
Goodreads
In a past life Dougie has been a musician and song writer, playing in several bands, performing live and recording music. He has a degree in Learning Disability nursing and a post graduate diploma in autism. He is a children and young person's learning disability nurse with a specialist interest in autism. Dougie lives in Dunfermline, Fife, with his wife, teenage daughter, older son and golden retriever.
The Homecoming is his first novel, inspired by a love of all things Greek, her islands, people, landscapes, sea, light and ambience all of which are important themes and symbols in his writing.
Facebook
Twitter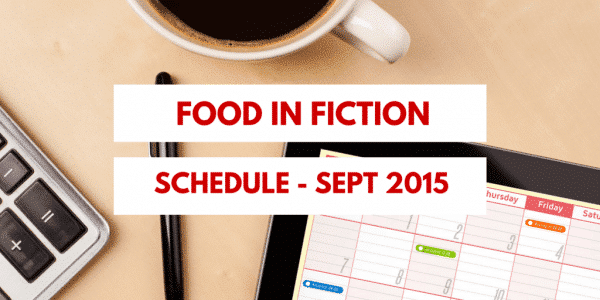 Click here for the rest of the schedule/menu
Food in Fiction: Giveaway
Pin, follow, visit or share and keep stopping by each day to Tweet about Food in Fiction – each of these will give you a chance to win.
Check out the Twitter chatter, plus Instagram and Pinterest pics using #foodinfic. You can easily follow the #foodinfic Twitter feed here.
a Rafflecopter giveaway