Food in Fiction (#foodinfic) is a month long celebration of food featured in books. Authors and bloggers have shared their favorite books or their own work, helping to build a fantastic menu. On Day One, I shared some excerpts from In Leah's Wake, giving a glimpse of the role food plays in the book. From here on, authors and bloggers will take center stage and I hope you'll stop by throughout the month to see their submissions, share the posts and enter the giveaway.
Food in Fiction: Day Twelve
PASTITSIO (from Evanthia's Gift by Effie Kammenou)
On the Menu
About the Book
About Effie Kammenou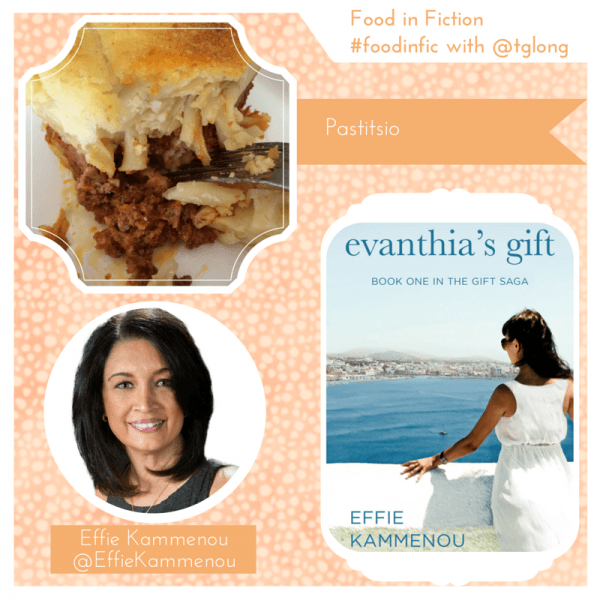 Food/drink mentioned:
Pastitsio
Visit Effie's blog for her fantastic recipe post
Excerpt
Ana spent hours in her kitchen, cooking and freezing trays of pastitsio, moussaka, spanakopita and tiropita. She prepared these foods for Easter, but also for a future occasion, one where she may no longer be with them. In the evenings, she sat by the fire snuggled into her husband's arms, where she always felt safe, and they reminisced about the wonderful years they'd spent together. She spent time with the twins separately, giving them each her undivided attention, and schooled them with all the wisdom she would have bestowed upon them during their most impressionable years. She wanted her words to follow them through their joys and their heartaches, leaving them with invaluable life lessons, "Yiayiá style."

She presented Nicky with a beautiful rose gold and diamond bracelet, one that her father had given her. "This is for you to give your wife one day — not your girlfriend." She shook her finger at him. "Your wife. My father gave it to me and I am passing it to you. I will give it to Mommy to hold for you. You will know who to give this to. She will be the person you can't live without."

"I don't want your things, Yiayiá. I want you," Nicky told her.

"You will always have me, only not in the way you are used to."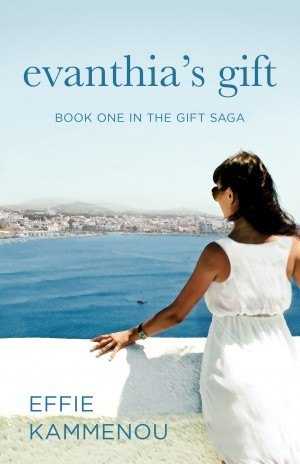 In the year 1956, Anastacia Fotopoulos finds herself pregnant and betrayed, fleeing from a bad marriage. With the love and support of her dear friends Stavros and Soula Papadakis, Ana is able to face the challenges of single motherhood. Left with emotional wounds, she resists her growing affection for Alexandros Giannakos, an old acquaintance. But his persistence and unconditional love for Ana and her child is eventually rewarded and his love is returned. In a misguided, but well-intentioned effort to protect the ones they love, both Ana and Alex keep secrets – ones that could threaten the delicate balance of their family.
The story continues in the 1970's as Dean and Demi Papadakis, and Sophia Giannakos attempt to negotiate between two cultures. Now Greek-American teenagers, Sophia and Dean, who have shared a special connection since childhood, become lovers. Sophia is shattered when Dean rebels against the pressure his father places on him to uphold his Greek heritage and hides his feelings for her. When he pulls away from his family, culture and ultimately his love for her, Sophia is left with no choice but to find a life different from the one she'd hoped for.
EVANTHIA'S GIFT is a multigenerational love story spanning fifty years and crossing two continents, chronicling the lives that unify two families.
Amazon
Goodreads
Effie Kammenou is a first generation Greek-American who lives on Long Island with her husband and two daughters. When she's not writing, or posting recipes on her food blog, you can find her cooking for her family and friends.
Her debut novel, EVANTHIA'S GIFT, is a women's fiction multigenerational love story and family saga, influenced by her Greek heritage, and the many real life accounts that have been passed down. She continues to pick her father's brain for stories of his family's life in Lesvos, Greece, and their journey to America. Her recent interview with him was published in a nationally circulated magazine.
As an avid cook and baker, a skill she learned from watching her Athenian mother, she incorporated traditional Greek family recipes throughout the book.
She holds a Bachelor's Degree in Theater Arts from Hofstra University.
Blog
Twitter
Facebook
BURGERS AND BEER (from Come Tame Me by Tonya Kinzer)
On the Menu
About the Book
About Tonya Kinzer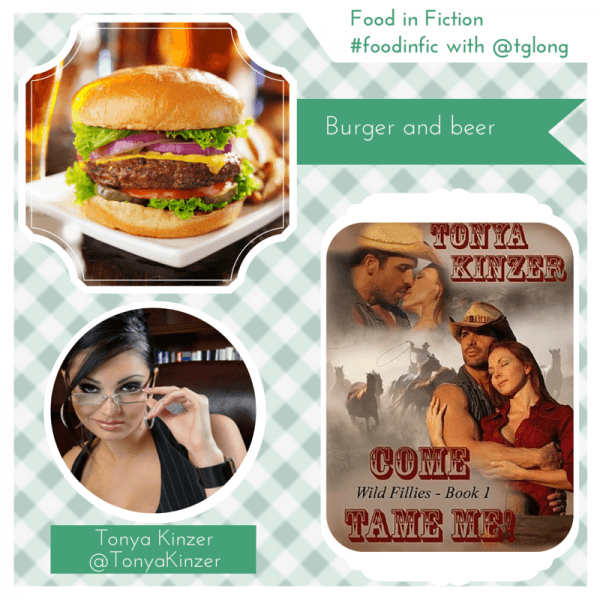 Food/drink mentioned:
Burgers on the grill with beer and friends
Who is eating? Why? What is the occasion? Cassi has pattied up burgers for the grill to eat with Gabe, Dani and Jesse. Cassi and Gabe are attempting to rekindle a relationship they had in the past in the mountains of Jackson Hole, Wyoming.
Excerpt
A finger beneath her chin raised her face up to look into her eyes. "I know you have a lot of things to get settled before you make plans to do whatever needs to be done out here, too. I just pray you don't keep me waiting another ten years…"

She kissed his lips and wished she could stay right here forever in his arms. "I promise I won't do that again. Ever!"

"I don't want you to leave this time…I know you have to, but…"

"I know. We'll figure something out." He tenderly held her face and kissed her deep one more time; her breath caught in her throat as his tongue swept over hers. Knowing Gabe wanted her to stay made her happier than she'd been in a long time.

Pulling from the kiss, he kissed her quick again. "Let's get the burgers on the grill before I take you right here!" Gabe grabbed his beer and the plate of burgers and headed out to start the grill.

Cassi turned to watch him…something she'd never tire of. His strong muscled body intrigued her as she remembered it without clothes…broad, sinewed shoulders, narrow waist….mmmm! Damnit! She scooped the onions into a bowl for later and headed out to the patio with a fresh beer of her own.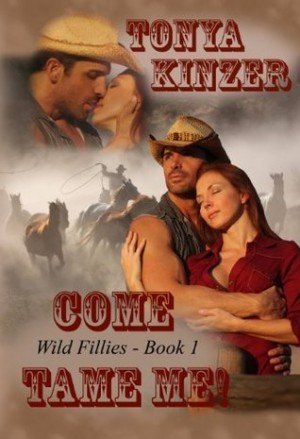 Come Tame Me is a contemporary western romance with sexy cowboys to keep you reading and craving what they do to our minds. My feisty heroines can stand on their own two feet against the world if need be. Cassandra's sharp shooting skills surpass even the men who compete and those same skills come in handy when she's presented with the challenge of taking back her father's ranch.
But she also worries about the relationship she'd had with Gabe ten years ago and knows they will see each other. Can she forgive him and start over to work on re-establishing what they had? Or will she hire a new manager for the ranch? Download your copy to see if these two can convince the other to let down the walls around their broken hearts.
Amazon
Goodreads
I write adult erotic romance with the reader in mind, hoping you can step into a world that might be different than yours. If so, perhaps it will help you get the courage to open dialogue with your partner so you can receive what you really want to happen between the two of you.
Website
Blog
Twitter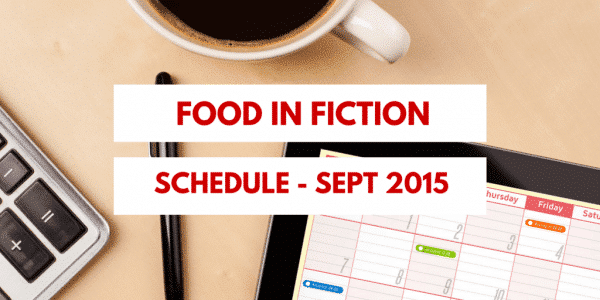 Click here for the rest of the schedule/menu
Food in Fiction: Giveaway
Pin, follow, visit or share and keep stopping by each day to Tweet about Food in Fiction – each of these will give you a chance to win.
Check out the Twitter chatter, plus Instagram and Pinterest pics using #foodinfic. You can easily follow the #foodinfic Twitter feed here.
a Rafflecopter giveaway