Food in Fiction (#foodinfic) is a month long celebration of food featured in books. Authors and bloggers have shared their favorite books or their own work, helping to build a fantastic menu. On Day One, I shared some excerpts from In Leah's Wake, giving a glimpse of the role food plays in the book. From here on, authors and bloggers will take center stage and I hope you'll stop by throughout the month to see their submissions, share the posts and enter the giveaway.
Food in Fiction: Day Eighteen
MEECHAM COOKIES (from The Crimson Orb by Joyce Hertzoff)
On the Menu
About the Book
About Joyce Hertzoff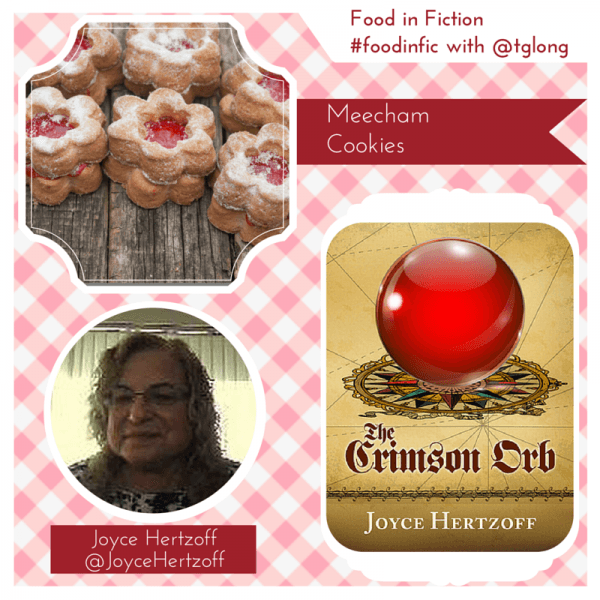 Food/drink mentioned:
Meecham cookies
Click here to visit Joyce's website for her Meecham cookies recipe and pics!
Who is eating? Why? What is the occasion? Nissa and her companions, searching for the missing magic teacher Madoc, were introduced to Meecham cookies soon after they arrived in the town of Meecham, where everyone else was looking for the legendary Crimson Orb. Later, Nissa and Princess Carys worked out the recipe and shared it with the cook at the manor where Nissa grew up.
Excerpt
"Cook, have you met Princess Carys?" I asked.

"Your Highness." Cook wiped her hands on her large apron and curtsied.

"Please, call me Carys," my friend said with a smile. "And thank you for a wonderful dinner."

"Carys and I wanted to talk to you about something." I spied the cookies she'd served at dinner and picked one up. "I think these will do." I showed it to Carys, and she nodded. "We had some delicious cookies during our trip," I told Cook.

"Yes," Carys said. "And they were made with two just like those but with a kind of fruit jam between them."

"Well, no one much cared for these tonight," Cook said with a frown.

I bit into the one in my hand. It wasn't bad, but I think the icing on the outside of the ones used in Meecham cookies made a big difference. Carys and I described more about what they were like and told Cook we'd help her experiment on the morrow.

"So, you'll be acomin' to cooking class with Nissa, Morna and t'other lasses?" Cook asked Carys with surprise.

"Oh, yes!" Carys said. "I want to learn all I can about cooking!"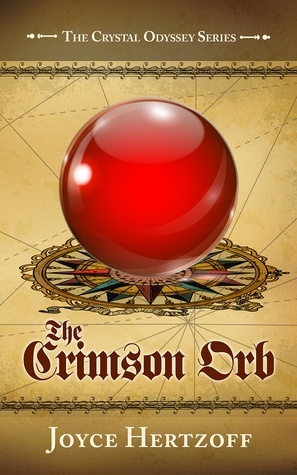 While thousands of people travel to Meecham to seek the legendary Crimson Orb, teenage Nissa Day is more concerned about her missing magic teacher, the wizard Madoc, who failed to return after a journey to care for his ailing father. Together with her older brother Blane, she rides east from Holm Manor to look for him, taking two strange books they found in Madoc's chambers. They secure passage from East Harbor to Fairhaven, the capital of the East Islands. At the Citadel in Fairhaven, they are joined by Madoc's brother Gareth, sister Carys, and two of Gareth's men.
Their perilous journey back across the sea by ship, then south on horseback and west through the Frozen Tundra of Sorn eventually brings them to Meecham, a town teaming with Orb seekers. They learn Madoc is being held by four outlaws, who believe he can lead them to the red crystal before anyone else.
Through their adventures, Nissa learns how little she knows about her world. She is able to develop unexpected skills, including the ability to mindspeak with Madoc.
Will Nissa and her companions be able to use their combined abilities to rescue Madoc? Is the Orb really in Meecham?
Amazon
Goodreads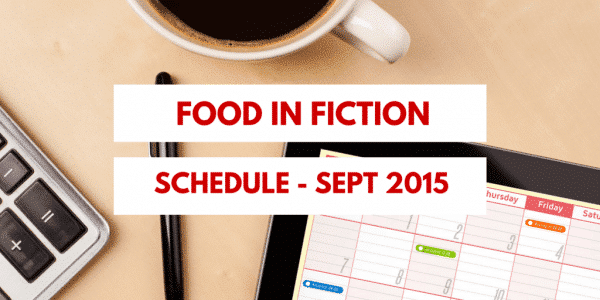 Click here for the rest of the schedule/menu
Food in Fiction: Giveaway
Pin, follow, visit or share and keep stopping by each day to Tweet about Food in Fiction – each of these will give you a chance to win.
Check out the Twitter chatter, plus Instagram and Pinterest pics using #foodinfic. You can easily follow the #foodinfic Twitter feed here.
a Rafflecopter giveaway