Food in Fiction (#foodinfic) is a month long celebration of food featured in books. Authors and bloggers have shared their favorite books or their own work, helping to build a fantastic menu. On Day One, I shared some excerpts from In Leah's Wake, giving a glimpse of the role food plays in the book. From here on, authors and bloggers will take center stage and I hope you'll stop by throughout the month to see their submissions, share the posts and enter the giveaway.
Food in Fiction: Day Twenty One
RASPBERRY CRANACHAN (from Wedding Matilda by Heather Hiestand)
On the Menu
About the Book
About Heather Hiestand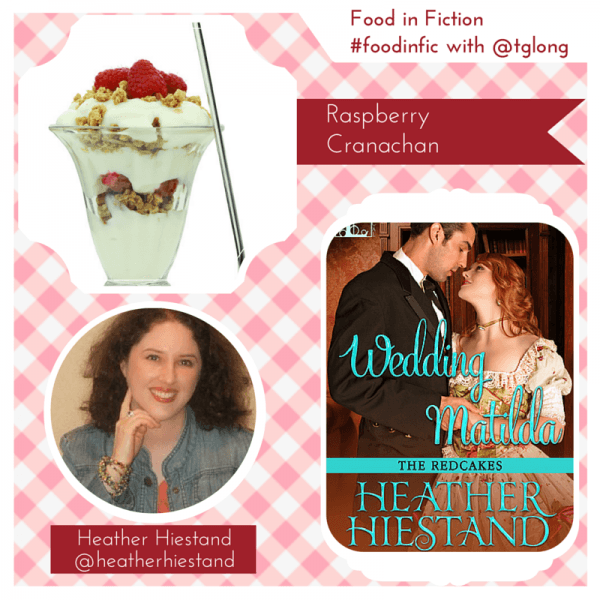 Food/drink mentioned:
Raspberry cranachan
Click here to see Heather's personal recipe and pics
Who is eating? Why? What is the occasion? The heroine, Matilda Redcake, is having lunch with the hero, Ewan Hales, to discuss a business problem. They are at Redcake's Tea Shop and Emporium.
Excerpt
Matilda picked up her glass bowl of the beautiful raspberry cranachan, then took a round spoonful of the creamy oats layered with cheese, cream, and preserved fruit. Her eyes closed involuntarily at the taste of so much rich goodness. Yes, she should have had a bowl of the navy bean soup first, but as usual, she'd wanted to go right to the best part and skip the preliminaries.

When she opened her eyes, she found Mr. Hales regarding her closely, the faintest hint of a smile hovering at the edges of his mouth. His lips were red, and his smile telegraphed itself at the corners even when his lips didn't move. Altogether he had the most attractive mouth she'd ever seen on a man, and now that his hair appeared more in its natural state for the first time, she could see how utterly appealing, how utterly heartbreaking he would be to a susceptible woman.
The problem was, she could be that kind of susceptible woman.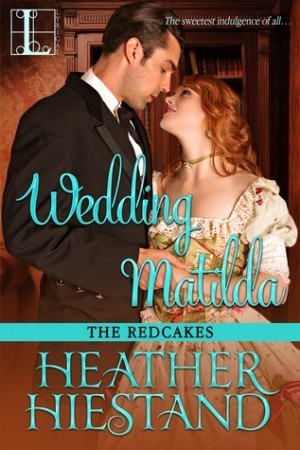 Sugared violets, buttercream…but he craves her kiss most of all…
Orphaned as a boy, Ewan Hales is proud to make his living as secretary to the manager at Redcake's Tea Shop. But the startling news that he's heir to the Earl of Fitzwalter changes everything. While tendering his resignation to lovely Matilda Redcake, however, Ewan is struck by her spirit, the luscious bow of her lips—and a realization. Matilda might not marry a working man—but will she wed a future nobleman?
Ewan's unruly hair and roguish kisses are tempting, but Matilda has far too many problems to consider romance. With sabotage at a cake factory threatening the family empire, she must focus her considerable willpower on keeping Redcake's from ruin—until she learns that her young son has been kidnapped. Together, she and Ewan must uncover the truth before they can savor the sweet freedom of love…
Amazon
Goodreads
Heather Hiestand was born in Illinois, but her family migrated west before she started school. Since then she has claimed Washington State as home, except for a few years in California. She wrote her first story at age seven and went on to major in creative writing at the University of Washington. Her first published fiction was a mystery short story, but since then it has been all about the many flavors of romance. Heather's first published romance short story was set in the Victorian period and she continues to return to historical fiction, ever fascinated by the past. The author of many novels, novellas, and short stories, she has achieved best-seller status at both Amazon, and Barnes and Noble. With her husband and son, she makes her home in a small town and supposedly works out of her tiny office, though she mostly writes in her easy chair in the living room.
For more information, visit Heather's website at www.heatherhiestand.com. Heather loves to hear from readers! Her email is [email protected].
Website
Email
Twitter
BAKLAVA (from Evanthia's Gift by Effie Kammenou)
On the Menu
About the Book
About Effie Kammenou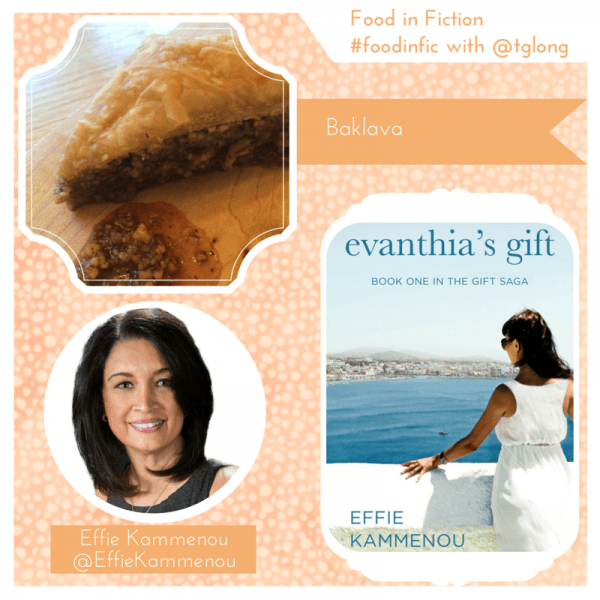 Food/drink mentioned:
Baklava
Excerpt
As the weeks went by, the change in Sophia could not be suppressed. She was lighter, happier and her eyes had a more dreamy quality to them. Whatever her task, it reflected the love that was bursting from the depths of her soul. Her bouquets at the flower shop were the most beautiful and creative work she'd ever fashioned. For Valentine's Day she baked a delicious batch of baklava, while daydreaming how Dean would lick the sticky phyllo and walnuts off her fingertips, and she would kiss the rest of the honey off his irresistible lips. At the dance studio, she lost herself in romantic love songs, staying after class to choreograph pieces to the music that expressed her love for him. But it still bothered her that Dean wanted to keep their relationship a secret.

She wanted to shout to the world that she finally had her Dino. After all these years of daydreaming and wishing, she now knew he felt as she did. But a sour pit in her stomach kept her from complete bliss, and that pit was called dishonesty. It wasn't in her nature and she didn't wear it well. At best, she got used to it like a favorite pair of shoes that hurt your feet, but were too pretty to take off.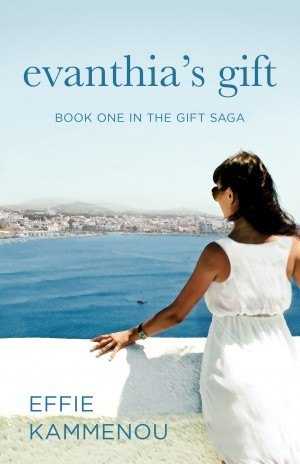 In the year 1956, Anastacia Fotopoulos finds herself pregnant and betrayed, fleeing from a bad marriage. With the love and support of her dear friends Stavros and Soula Papadakis, Ana is able to face the challenges of single motherhood. Left with emotional wounds, she resists her growing affection for Alexandros Giannakos, an old acquaintance. But his persistence and unconditional love for Ana and her child is eventually rewarded and his love is returned. In a misguided, but well-intentioned effort to protect the ones they love, both Ana and Alex keep secrets – ones that could threaten the delicate balance of their family.
The story continues in the 1970's as Dean and Demi Papadakis, and Sophia Giannakos attempt to negotiate between two cultures. Now Greek-American teenagers, Sophia and Dean, who have shared a special connection since childhood, become lovers. Sophia is shattered when Dean rebels against the pressure his father places on him to uphold his Greek heritage and hides his feelings for her. When he pulls away from his family, culture and ultimately his love for her, Sophia is left with no choice but to find a life different from the one she'd hoped for.
EVANTHIA'S GIFT is a multigenerational love story spanning fifty years and crossing two continents, chronicling the lives that unify two families.
Amazon
Goodreads
Effie Kammenou is a first generation Greek-American who lives on Long Island with her husband and two daughters. When she's not writing, or posting recipes on her food blog, you can find her cooking for her family and friends.
Her debut novel, EVANTHIA'S GIFT, is a women's fiction multigenerational love story and family saga, influenced by her Greek heritage, and the many real life accounts that have been passed down. She continues to pick her father's brain for stories of his family's life in Lesvos, Greece, and their journey to America. Her recent interview with him was published in a nationally circulated magazine.
As an avid cook and baker, a skill she learned from watching her Athenian mother, she incorporated traditional Greek family recipes throughout the book.
She holds a Bachelor's Degree in Theater Arts from Hofstra University.
Blog
Twitter
Facebook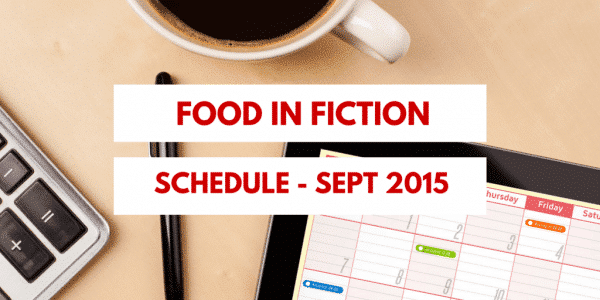 Click here for the rest of the schedule/menu
Food in Fiction: Giveaway
Pin, follow, visit or share and keep stopping by each day to Tweet about Food in Fiction – each of these will give you a chance to win.
Check out the Twitter chatter, plus Instagram and Pinterest pics using #foodinfic. You can easily follow the #foodinfic Twitter feed here.
a Rafflecopter giveaway