Food in Fiction (#foodinfic) is a month long celebration of food featured in books. Authors and bloggers have shared their favorite books or their own work, helping to build a fantastic menu. On Day One, I shared some excerpts from In Leah's Wake, giving a glimpse of the role food plays in the book. From here on, authors and bloggers will take center stage and I hope you'll stop by throughout the month to see their submissions, share the posts and enter the giveaway.
Food in Fiction: Day Four
LOBSTER (from Eclipse Lake by Mae Clair)
On the Menu
About the Book
About Mae Clair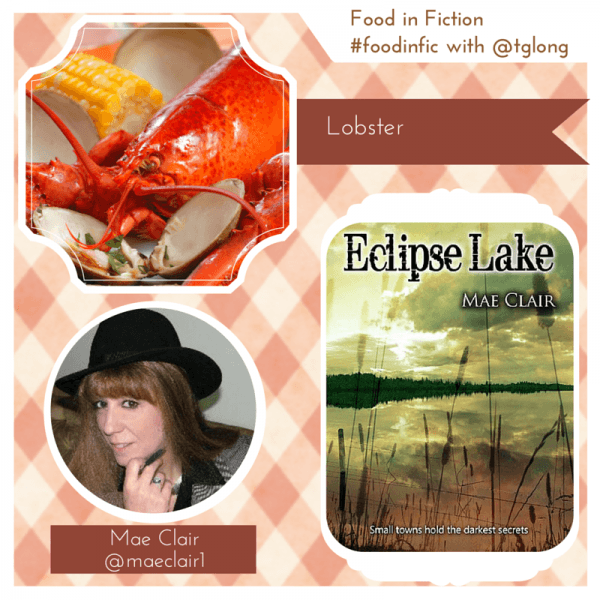 Food/drink mentioned:
Lobster
Who is eating? Why? What is the occasion? My hero's son, Jesse Carlisle and Jesse's uncle, Jonah Carlisle. The two don't care for each other. Jonah has lost a bet to Jesse and the lobster dinner is payment. During the meal they discuss my hero, Dane Carlisle (Jonah's brother, Jesse's father) and why Jonah is at odds with him.
Excerpt
With a flick of his wrist Dane sent the stone skimming across the lake. "You know that skeleton they found?"

Ellie nodded.

"I've got more skeletons than a graveyard. Half of my life is here and half's on the west coast. I have to make them fit together."

The revelation reminded her of the family she'd left behind in Idaho. "You told me you're from San Diego. I did a photo op there four years ago. What do you do for a living?"

"I get by." He took her hand and started walking again.

She sent a speculative glance in his direction. He wore a Rolex, and though dressed casually, clearly had expensive taste. Yet he'd booked an ordinary cabin rather than one of the exclusive chalets higher up the mountain.

She liked the feel of his fingers around hers, warm and firm. What was wrong with her, getting caught up in his touch as if it were magic? He had skeletons in his past, a brother who couldn't stand the sight of him and a sheriff who wanted to run him out of town. Eccentric, or just plain trouble?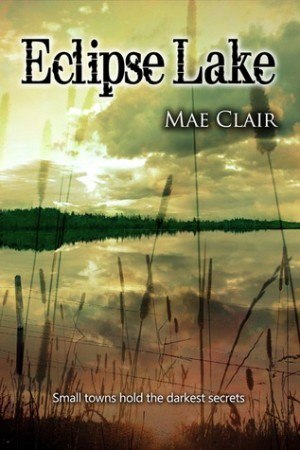 Small towns hold the darkest secrets.
Fifteen years after leaving his criminal past and estranged brother behind, widower Dane Carlisle returns to his hometown on the banks of sleepy Eclipse Lake. Now, a successful businessman, he has kept his troubled past a secret from most everyone, including his seventeen-year-old son.
But memories in small towns are bitter and long.
Ellie Sullivan, a nature photographer for a national magazine, has a habit of ping-ponging across the map. Her latest assignment leads her to Eclipse Lake where she becomes caught up in the enmity between Dane, his brother Jonah, and a vengeful town sheriff. When freshly-discovered skeletal remains are linked to an unsolved murder and Dane's past, Ellie is left questioning her growing attraction for a man who harbors long-buried secrets.
Amazon
Goodreads
Mae Clair opened a Pandora's Box of characters when she was a child and never looked back. Her father, an artist who tinkered with writing, encouraged her to create make-believe worlds by spinning tales of far-off places on summer nights beneath the stars.
Mae loves creating character-driven fiction in settings that vary from contemporary to mythical. Wherever her pen takes her, she flavors her stories with mystery and romance. Married to her high school sweetheart, she lives in Pennsylvania and is passionate about cryptozoology, old photographs, a good Maine lobster tail and cats.
Discover more about Mae on her website and blog.
Website/blog
Twitter
FRESH SEAFOOD, SHRIMP AND CLAMS (from Depression Carpenter by Java Davis)
On the Menu
About the Book
About Java Davis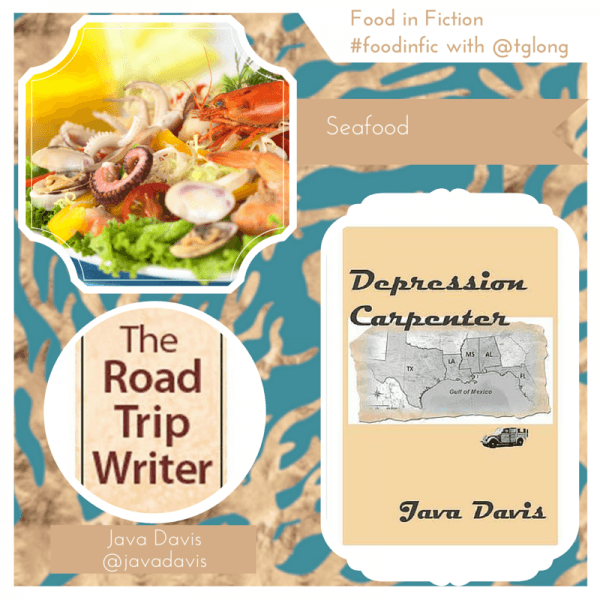 Food/drink mentioned:
Fresh seafood, shrimp and clams
Who is eating? Why? What is the occasion? Jake and Chin are camping on the beach at the Gulf of Mexico, getting the shrimp from working on a shrimping boat and finding the clams in the sand along the beach.
Excerpt
There was no money to hire on new crews, but Chin worked for free seafood just to get a feel for it. Days on the water were blistering hot. The loads of shrimp and small fish were heavier than a mere carpenter was used to. We ate buckets of seafood.

I can't remember why I had the day off. Probably Christmas. We were working on the bank seven days a week. I was up early as usual and decided to go shrimping with Chin. What was the attraction? Chin introduced me to Captain Destaing, who agreed to take me out for the day after Chin assured him I would pull my weight on the boat. There was no room for loafers. Chin surprised me later by working hard and smart, as Captain Destaing had trained him.

At the end of the day, Chin and I took our pay, a small portion of the day's catch, and headed back to our campsite near the beach. The seafood tasted much better since I'd help catch it.
Depression Carpenter: A Road Trip through the Gulf States during The Great Depression
Coming of age, race relations, historical fiction
A young man, Jackson "Jake" Ferry, born into a privileged New York family, loses them in a car accident. Young and wealthy, he needs to justify his existence during The Great Depression. He is skilled in carpentry and drives around the Gulf of Mexico, working on building projects with his peculiar friend and partner from Florida, Chin, who has cheerfully abandoned his family in favor of an adventure. Together, they travel an amazing road trip, helping poor folks along the way, repairing their homes and their lives.
From St. Augustine, Florida, through the Gulf states of Alabama, and Mississippi, Jake and Chin travel together as a team. A falling out parts the men in Louisiana. Jake stops in the capitol city of Baton Rouge to take care of some financial business. He realizes that he can't run forever from his responsibilities as a wealthy man.
Eventually, Jake lands in Galveston, where he stays to help rebuild the island after their first Great Flood, building an inter-racial school for the island's orphans.
Retracing his steps, Jake reconnects with Chin in Vaughanville, Alabama, and the two head back to St. Augustine together.
The road trip comes to an end with Jake back in New York City, an older and wiser man with an internal compass guiding his path.
Amazon
Goodreads
I am a self-published author/self-publisher on Amazon and CreateSpace. All my books have some sort of travel theme, so I started up the website, The Road Trip Writer, which features a variety of things: a travel photo page, a links page for finding other travel and travel writer sites, a blog page that includes book and movie reviews relating to travel, a contacts page, and a page promoting my own books.
Twitter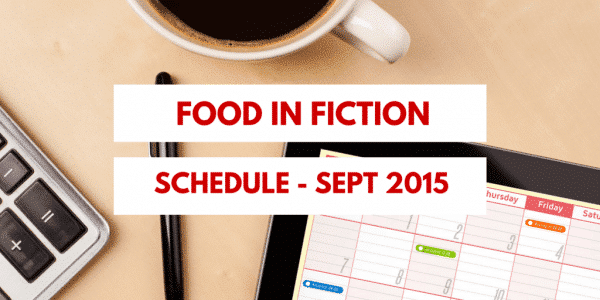 Click here for the rest of the schedule/menu
Food in Fiction: Giveaway
Pin, follow, visit or share and keep stopping by each day to Tweet about Food in Fiction – each of these will give you a chance to win.
Check out the Twitter chatter, plus Instagram and Pinterest pics using #foodinfic. You can easily follow the #foodinfic Twitter feed here.
a Rafflecopter giveaway