Food in Fiction (#foodinfic) is a month long celebration of food featured in books. Authors and bloggers have shared their favorite books or their own work, helping to build a fantastic menu. On Day One, I shared some excerpts from In Leah's Wake, giving a glimpse of the role food plays in the book. From here on, authors and bloggers will take center stage and I hope you'll stop by throughout the month to see their submissions, share the posts and enter the giveaway.
Food in Fiction: Day Five
PIZZA (from Rising Tide: Dark Innocence (The Maura DeLuca Trilogy Book 1) by Claudette Melanson)
On the Menu
About the Book
About Claudette Melanson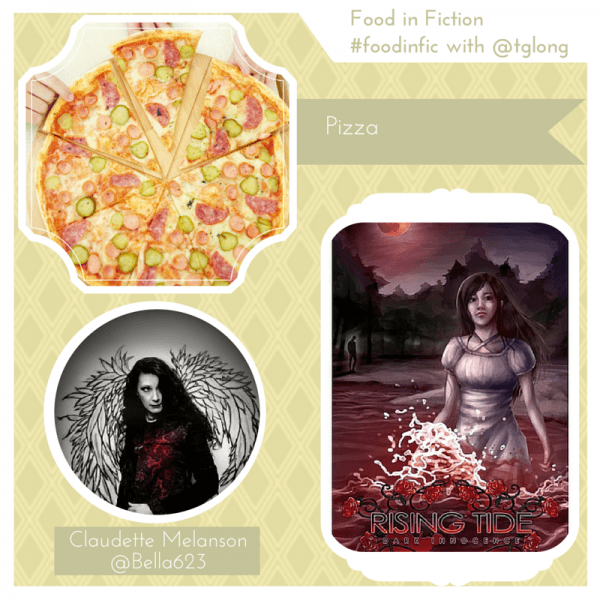 Food/drink mentioned:
Pizza
Who is eating? Why? What is the occasion? Maura, the main character in the book, is a changeling vampire. Her changing DNA has activated an overactive appetite, causing her to crave raw meat and gulp down any source of protein she can get her hands on–in this scene meat lover's pizza at a fraternity gig her boyfriend's band is playing.
Excerpt
My mind flashed a brief picture of red, raw meat at me, and my stomach growled aggressively in response. I didn't know quite how to feel about that, but I turned away, somewhat reluctantly, and let myself be dragged up the staircase, through the living room and into the small kitchen of the frat house. There was pizza on the table, along with several bowls of chips and dips. My stomach flip-flopped with joy as I inhaled the scent of cheese and pepperoni deeply. I'd had always been a hearty eater, and refused to apologize for it!

I was wolfing down my fourth slice before I even looked up at Merina again. She was staring at me a little wide-eyed. "Wow….you are hungry."

I looked at her sheepishly, unfailingly tearing away at the slice. "Sorry, when I get nervous, I get hungry."

She laughed it off and picked up her second slice of vegetarian. "I'm just envious that's all. If I ate that much, I'd gain a zillion pounds!"

I took it easy after that, casually picking at the chips, though I felt like burying my head in the bowl. I used the distraction of the guys coming upstairs to wolf down another two meat laden slices.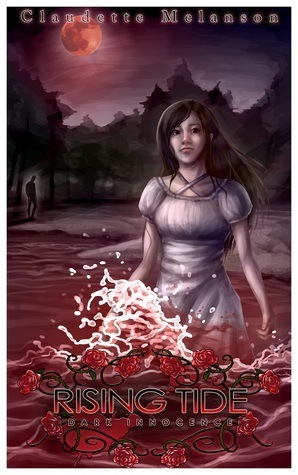 Rising Tide will sink its fangs into you, keeping you awake into the wee hours of the night
Could Maura's life get any worse? …turns out it most certainly can.
Isolated and sheltered by her lonely mother, Maura's never been able to make friends. She seems to drive her classmates away—except for the odd times they pay enough attention to torture her—but she doesn't understand why. Maura considers herself to be a freak of nature, with her unusually pale skin and an aversion to the sun that renders her violently nauseous. Her belief is only worsened by the fact that almost everyone around her keeps their distance.
Even her own father deserted her before she was born, leaving Maura alone with her emotionally distant mother, Caelyn. Even though Maura is desperate for answers about her unknown parent, Caelyn remains heartbroken and her daughter can't bring herself to reopen her mother's wounds. Or is there a more sinister reason Caelyn refuses to utter a word about her long-lost love?
When a cruel prank nearly claims Maura's life, one of her classmates, Ron, rushes to her rescue. Darkly handsome & mysteriously accepting, Ron doesn't seem to want to stay away, but Maura is reluctant to get too close, since her mother has announced she's moving the two of them to Vancouver…nearly 3,000 miles away from their hometown of Indiana, Pennsylvania.
If life wasn't already challenging enough, Maura begins to experience bizarre, physical changes her mother seems hell bent on ignoring, compelling Maura to fear for her own life. Vicious nightmares, blood cravings, failing health and the heart-shattering loss of Ron—as well as the discovery of a tangled web of her own mother's lies—become obstacles in Maura's desperate quest for the unfathomable truth she was never prepared to uncover.
Amazon
Goodreads
Claudette Melanson writes & edits in Guelph, Ontario, with her husband Ron and four bun babies: Tegan, Pepper, Butters & Beckett. She graduated from Indiana University of Pennsylvania with a BA in English and an MA in Literature. She's wished to be a Vampire since age five. She hopes to one day work full time as an author, since there are many, many books living inside her head.
In her spare time she enjoys watching Japanese Anime and reading vampire stories….along with other great fiction. She is also very interested in good health and is an advocate of Ketogenic eating, using whole and natural foods. Her favorite foods are bulletproof coffee, cashew flour crust pizza and treats made with xylitol and almond, coconut or cashew flours.
Future dreams include writing many more books and spending more time with her son Jacob. Her biggest dream is to make Universal Halloween Horror Nights a yearly event with hubby and son. A Rabbit Rescue fanatic, she also hopes to help rescues all over the world save many innocent lives.
Website
Twitter
PUDDING (from A Study in Temperance
by Ichabod Temperance)
On the Menu
About the Book
About Ichabod Temperance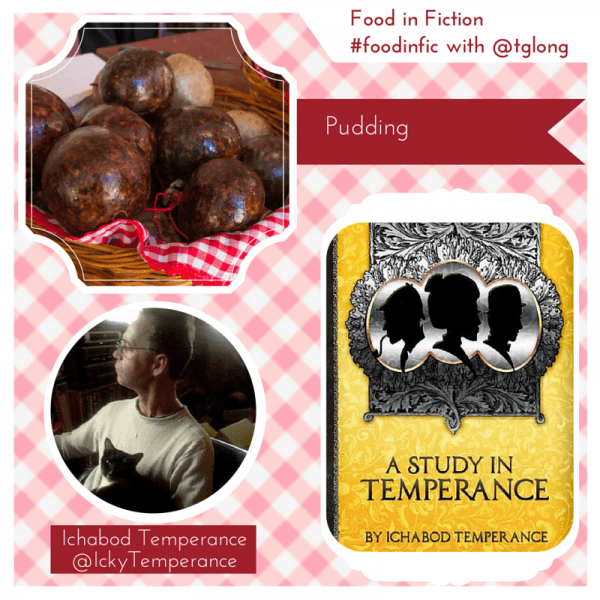 Food/drink mentioned:
Pudding
Who is eating? Why? What is the occasion? Miss Persephone Plumtartt and I have just returned to England after many thrilling adventures around the globe. We are celebrating the occasion by dining at Londons finest restaurant, 'The Royal Baboon'.
Excerpt
"Let us whet our appetite with a nice bowl of 'Cullen Skink'. I know from personal experience that this chef serves up some of the handsomest 'toad in Hole' on this side of the river. I confess though, I intend to eat my fill of the Scottish dish, Haggis. They serve up great bags of it on lovely beds of neeps and tatties. Perhaps you hold out for Black Pudding served with Bubble and Squeak?"

"That Black Pudding sounds pretty good. I sure like desserts! Are you okay, Miss Plumtartt? You just snorted your tea out your nose and back into your cup."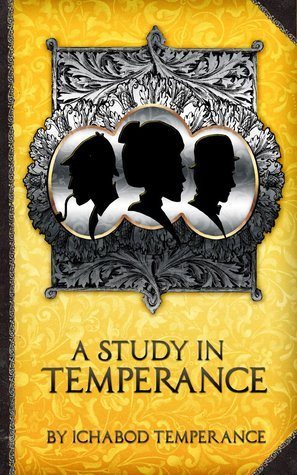 "Gee, Miss Plumtartt, after our calamitous arrival on this unsuspecting city, do you think we are still under threat of imminent murder by gangs of assorted, yet stylish, assassins?"
"I say, I do fear this to be the case, Mr. Temperance. The machinations of intrigue are not unlike one of your ingenious spring-driven contraptions, sir. Yes, plots boil and swarms of suspicious characters are at our every turn, eh hem?"
"Yes, Ma'am, Miss Plumtartt, Ma'am. It's a good thing we have enlisted the assistance of this notorious, Victorian-era London detective to assist us in this baffling murder mystery adventure, for I fear there is more to this tale than meets the eye!"
Amazon
Goodreads
My name is Ichabod.
I am transmitting my adventures to you from the year 1877 using my trans-universal di-temporol tele-text-o-rator in the hope that you do not make the same mistakes I do.
Twitter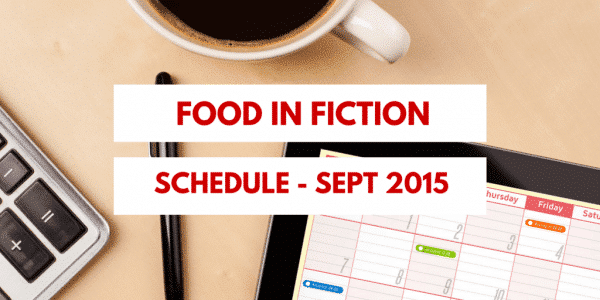 Click here for the rest of the schedule/menu
Food in Fiction: Giveaway
Pin, follow, visit or share and keep stopping by each day to Tweet about Food in Fiction – each of these will give you a chance to win.
Check out the Twitter chatter, plus Instagram and Pinterest pics using #foodinfic. You can easily follow the #foodinfic Twitter feed here.
a Rafflecopter giveaway