Food in Fiction (#foodinfic) is a month long celebration of food featured in books. Authors and bloggers have shared their favorite books or their own work, helping to build a fantastic menu. On Day One, I shared some excerpts from In Leah's Wake, giving a glimpse of the role food plays in the book. From here on, authors and bloggers will take center stage and I hope you'll stop by throughout the month to see their submissions, share the posts and enter the giveaway.
Food in Fiction: Day Seven
MAC AND CHEESE (from Forever Grace by Linda Poitevin)
On the Menu
About the Book
About Linda Poitevin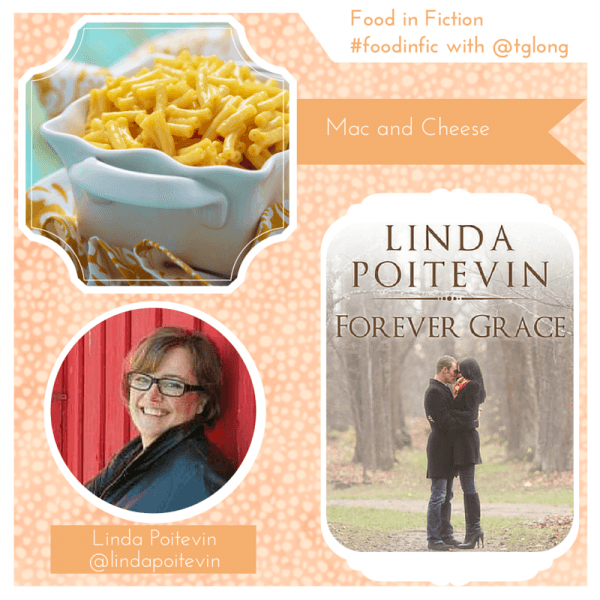 Food/drink mentioned:
Mac and cheese
Who is eating? Why? What is the occasion? Grace has become caregiver to her sister's four children, but can't cook to save her own life. Just when meal mutiny (or starvation) seems imminent, however, her handsome cop neighbor comes to the rescue with Grace's first cooking lesson–because who doesn't like mac and cheese mixed with a little heat?
Excerpt
The warmth in Grace's belly climbed up to scorch her cheeks. She covered her discomfiture by taking out the ingredients he'd requested and setting them on the counter by the stove. Sean retreated a couple of steps to lean against the peninsula, and from there, he started issuing orders.

"First, a pot of water. Bigger than that. You need lots of water for cooking pasta or else it clumps together."

"Do you have some kind of broth? Bouillon cubes are fine. You'll need to dissolve one in boiling water."

"Grate your cheddar while you're waiting for the water to boil."

"Add your macaroni to the water and turn the heat down so it doesn't boil over. Now set your timer so you don't overcook it."

The instructions came at a steady pace, interspersed with gentle reminders to stir this, wash that, add something else. Twenty minutes later, Grace stared down in astonishment at the steaming pot of completed macaroni and cheese before her, chunks of vibrant green broccoli sprinkled throughout.

"That's it?" she asked, shooting Sean a suspicious look. "That's all I have to do?"

"It's the…quick and easy method," he responded diplomatically.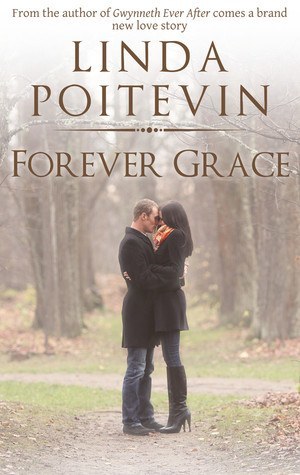 When injured police officer Sean McKittrick heads to his cottage, he's planning on some much needed rest and recuperation. But the idyllic peace he expected to find is shattered by…children?
It's not that Sean dislikes kids, he just isn't interested in having any of his own. Or in settling down, for that matter. Ever. Unfortunately, the woman in charge of his young neighbors has an unsettling way of making him forget why.
Grace Daniels is attractive, single, and despite her brave face, overwhelmed by the responsibility of caring for three nieces and a nephew. When she helps Sean out of a jam, he feels obliged to return the favor, but he soon realizes there's more to this cobbled-together little family than meets the eye. Grace is hiding something, a secret that piques Sean's cop suspicions—and stirs his protective instincts.
As Sean digs for the truth, however, the line between professional curiosity and personal interest becomes increasingly blurred. A family might not be quite what he had in mind for his future, but he's beginning to wonder if he can live without this one…or if he wants to.
Amazon
Goodreads
Linda Poitevin is a writer possessed of both a light side and a dark one. On the dark side, she's the author of the Grigori Legacy, an urban fantasy series featuring a hard-as-nails cop caught up in the war between Heaven and Hell. In her lighter moments, she writes the sweet and funny Ever After contemporary romance series. And when she's not plotting the world's downfall or next great love story, she's a wife, mom, friend, coffee snob, gardener, walker of a Giant Dog, minion to the Itty Bitty Kitty, and avid food preserver (you know, just in case that whole Zombie Apocalypse thing really happens).
Website
Twitter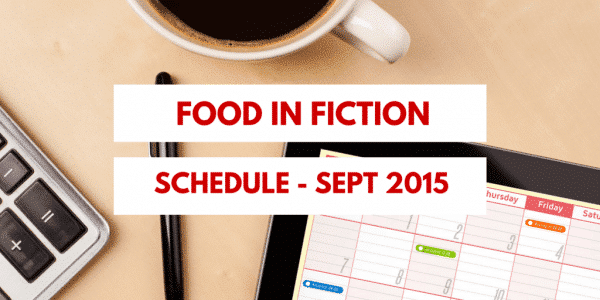 Click here for the rest of the schedule/menu
Food in Fiction: Giveaway
Pin, follow, visit or share and keep stopping by each day to Tweet about Food in Fiction – each of these will give you a chance to win.
Check out the Twitter chatter, plus Instagram and Pinterest pics using #foodinfic. You can easily follow the #foodinfic Twitter feed here.
a Rafflecopter giveaway