Food in Fiction (#foodinfic) is a month long celebration of food featured in books. Authors and bloggers have shared their favorite books or their own work, helping to build a fantastic menu. On Day One, I shared some excerpts from In Leah's Wake, giving a glimpse of the role food plays in the book. From here on, authors and bloggers will take center stage and I hope you'll stop by throughout the month to see their submissions, share the posts and enter the giveaway.
Food in Fiction: Day Nine
FRIED EGGS IN TOMATO SAUCE (from The Flow (Book 2 in The Lady of the Pier trilogy) by Effrosyni Moschoudi)
On the Menu
About the Book
About Effrosyni Moschoudi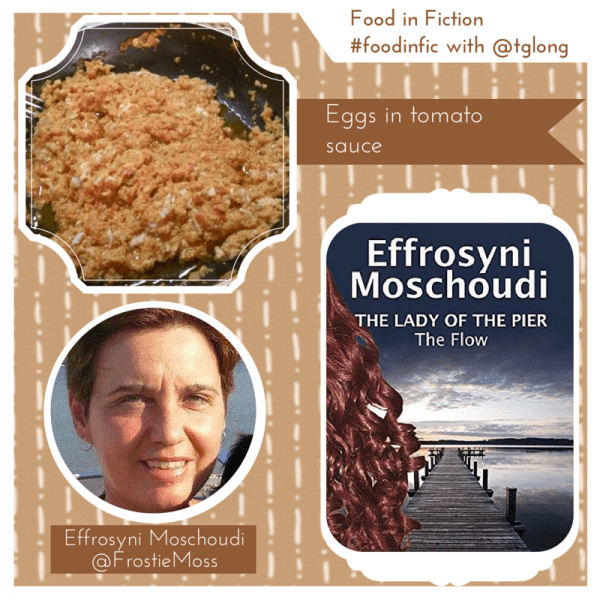 Food/drink mentioned:
Fried eggs in tomato sauce (a recipe from Corfu, Greece)
Click here to find out more about Effrosyni Moschoudi's recipe
Who is eating? Why? What is the occasion? Sofia returns to the island of Corfu to spend another blissful summer at her grandparents' house. Her gran is an excellent cook but even her simplest meals are mouth-watering, like her fried eggs in tomato sauce that are easy and quick to rustle up!
Excerpt
The song played on, soothing her senses now, in sync with the tender wind that stroked her gently. It was the most welcoming touch in the world, and at the same time, the most painful. She could have sworn Danny had caressed her neck once that way too, giving her goose bumps.

She grimaced the bittersweet memory away and withdrew her eyes from the pier, rummaging through her bag for some more face cream. The sun was blazing. She raised her face to it as she unscrewed the cap, closing her eyes. It burned her skin, but she was thankful. She knew that by the time she were in England in late September, she'd be longing for this warmth.

Danny had once said that the summers in England are very brief and sometimes, even non-existent. Typically enough, he'd even joked that on one occasion he'd missed the British summer altogether. He had then made a pause, issued a devilish grin and piped up, "I overslept that day!"

The distant memory caused Sofia to let out a quiet little laugh. Funny how humour can be so strong, able to survive even through the most unbearable heartache.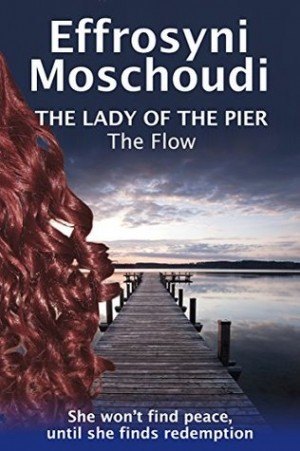 She won't find peace until she finds redemption.
But it'll take more than love; it'll take two worlds, to merge into one.
BRIGHTON 1938
Laura and Christian enjoy a blissful summer, while Charles watches from a distance, waiting for the right time to intervene. This time, he's prepared to do something truly vile as to leave nothing to chance. WWII breaks out, and Laura does her best to settle in a new life, having paid a terrible price. Will she find happiness at last, or will the past continue to haunt her?
CORFU 1988
Sofia arrives in Vassilaki brokenhearted over Danny. Just as a new boy comes into her life, the strange dreams start anew. Now in Brighton, she meets Danny again, but he blows hot and cold. When she sees a female apparition on the West Pier, she finds out the locals call her 'The Lady of the Pier'. Is this the woman in her dreams and why is Sofia the only one who can see her?
Amazon
Goodreads
Effrosyni Moschoudi was born and raised in Athens, Greece. As a child, she often sat alone in her granny's garden scribbling rhymes about flowers, butterflies and ants. She's passionate about books and movies and simply couldn't live without them. She lives in a quaint seaside town near Athens with her husband Andy and a naughty cat called Felix. Effrosyni is a proud member of the writer's groups, eNovel Authors at Work, ASMSG, and The Fantasy & Scifi Network.
In her website/blog, EffrosyniWrites.com, she mainly posts author interviews and book reviews but there's also the odd post about her beloved Corfu as well as some quite popular author tips.
Website
Twitter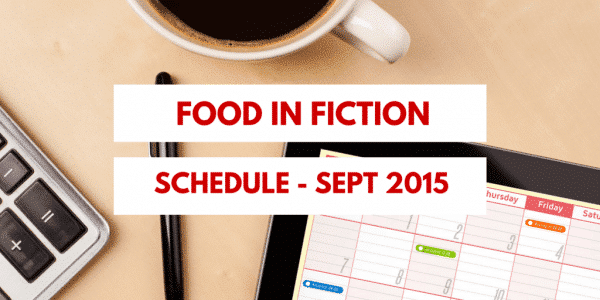 Click here for the rest of the schedule/menu
Food in Fiction: Giveaway
Pin, follow, visit or share and keep stopping by each day to Tweet about Food in Fiction – each of these will give you a chance to win.
Check out the Twitter chatter, plus Instagram and Pinterest pics using #foodinfic. You can easily follow the #foodinfic Twitter feed here.
a Rafflecopter giveaway