This week, the immensely talented Susan Salluce joins me to talk about her incredible new book, GriefINK. Within the pages of GriefINK, Susan has shared stories of incredible hope, strength, and fortitude, alongside beautiful and inspiring images from photographer Matt Molinari. The title of this book – GriefINK: Tattoo as the Language of Grief – is fitting in every way. This is a book that shares unique stories and experiences in a beautiful, touching, and inspiring way. I am beyond delighted that Susan has agreed to visit to talk about the book and that Matt has so kindly shared some of his stunning work to post on the blog. I hope you enjoy the feature!
Please stop throughout the week to enjoy this ongoing celebration of this wonderful book. You could also win a $25 Amazon gift card by taking part in the giveaway below.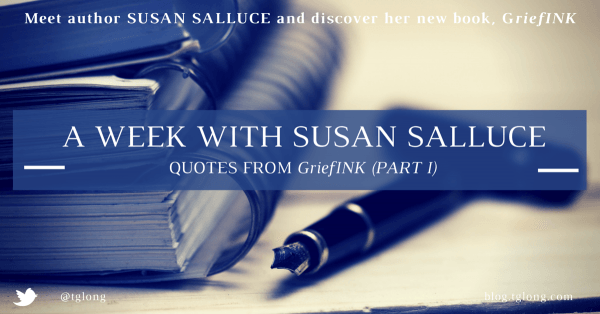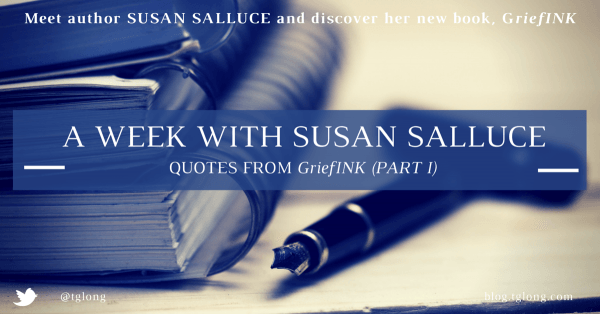 We heard stories about a nine-year-old son's death from leukemia, an adult son's suicide, a young fiancé who died from a heart attack, and a big wave surfer who drowned.
SUSAN (AUTHOR QUOTE)
Leona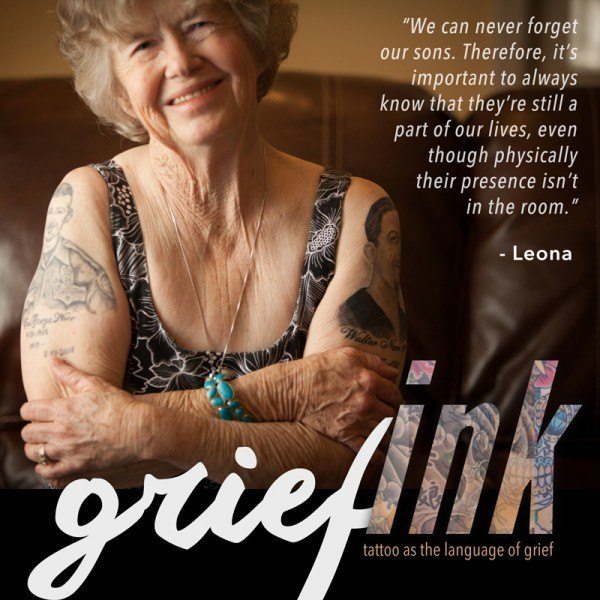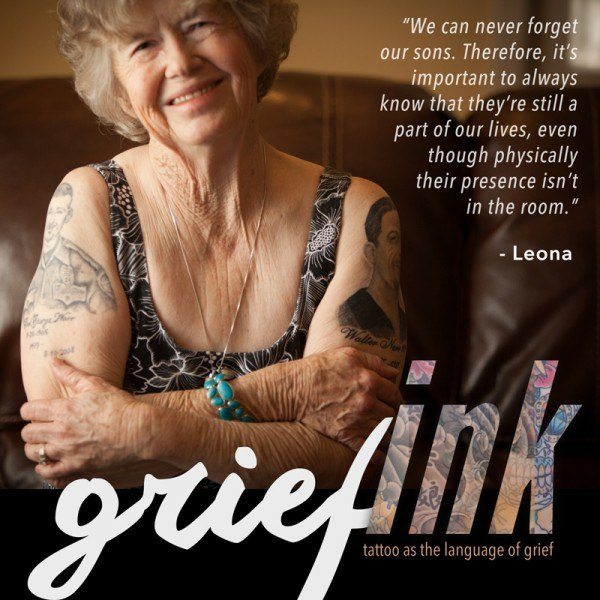 "We can never forget [our sons]. Therefore, it's important to always know that they're still a part of our lives, even though physically their presence isn't in the room. It's okay to talk about them, tell stories, have some laughs, and remember what joy they brought to us for all of their 42 and 45 years. And this," Leona says, patting her tattoos, "helps bring up the subject."
LEONA
Sarah and Annie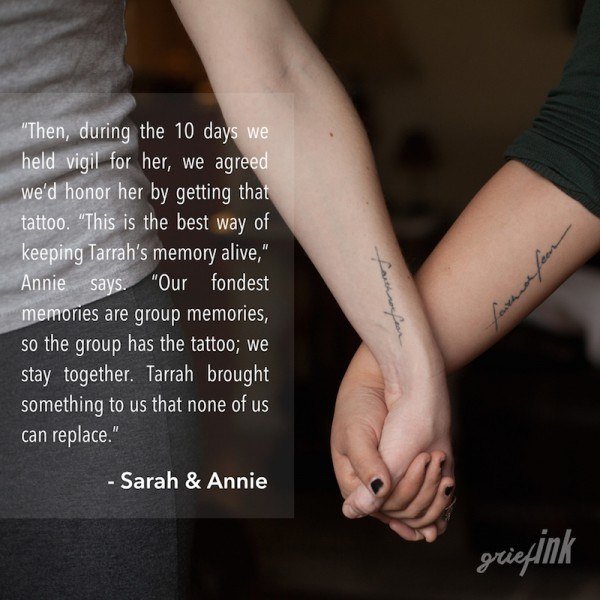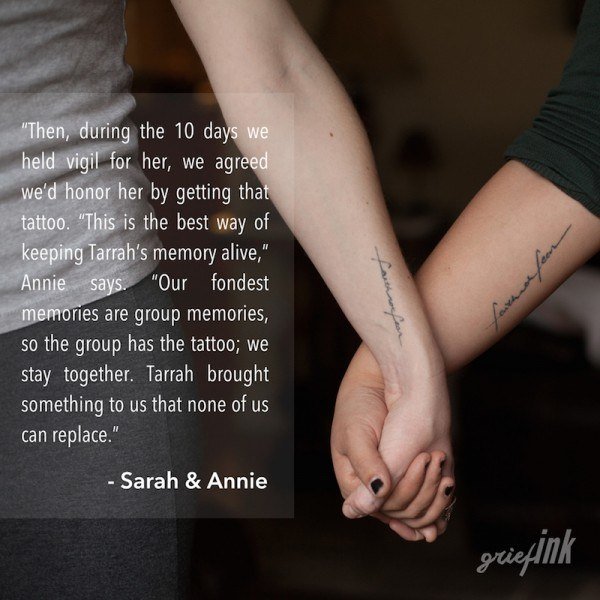 In August 2011, Tarrah was in a car accident. The week prior to her death, Tarrah told her friends she wanted a tattoo on the inside of her arm that read "Faith not Fear." "We were like, what? That's a saying that would be on trinkets around your house," Sarah recalls, laughing. "Then, during the 10 days we held vigil for her, we agreed we'd honor her by getting that tattoo. "This is the best way of keeping Tarrah's memory alive," Annie says. "Our fondest memories are group memories, so the group has the tattoo; we stay together. Tarrah brought something to us that none of us can replace."
SARAH AND ANNIE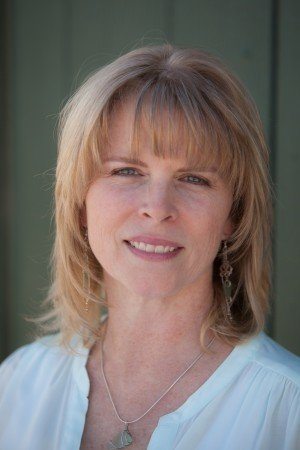 Susan Salluce, MA, CT, holds a Master's Degree in Counseling Psychology and is a Certified Thanatologist–a death, dying, and bereavement specialist. Her recent book, GriefINK: Tattoo as the Language of Grief, is a narrative and pictorial book about the outward expression of tattoo as the inner process of grief that gives voice to loss, continuing bonds with the deceased, and comfort to the living. In addition to GriefINK, Susan is the best-selling author of psychological thriller, Out of Breath, available on all E-readers. Out of Breath has sold over 35,000 copies, placed in the top three of the South West Writer's competition for Mainstream/Literary novel, and is an Amazon Kindle Top 100 book in Psychological Thrillers. Out of Breath was translated into German–titled Himmelstranen–where it remains as a Top 100 Kindle EU Psychothriller. Susan is a contributing author to Pathways to Purpose and Hope: A Guide for Creating a Sustainable Grief Support Organization for Families and Friends After a Suicide Death. She continues to contribute to the field of bereavement through her writing, and consultant work, and is a former facilitator for Friends for Survival, a non-profit dedicated to those affected by a suicide death. She is currently at work on a historical fiction novel based on the life of a Vietnamese nail artist who fled Vietnam after the fall of Saigon. When Susan is not writing, you can find her either in the foothills of the Sierra Nevada's or on the beaches of Aptos, Ca with her family.
Website
Facebook
Twitter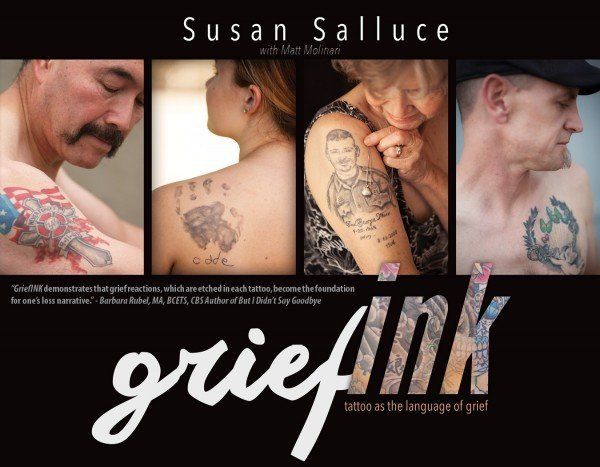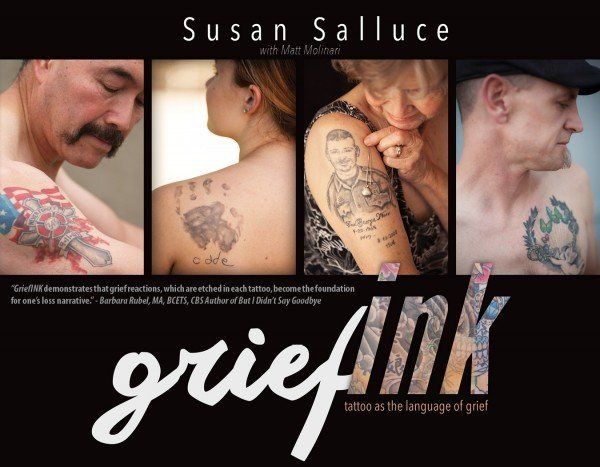 As an author and grief specialist, I've observed several powerful memorial tattoos in my clients and on strangers. I sought a deeper understanding to this expression of loss. Grief is a reaction to loss, and the ink of a tattoo puts a stamp on those reactions. I believe that the boom in memorial tattoos is an outward expression of an inner process—a language of grief—that gives voice to loss, allows for a continuing bond with the deceased, and offers solace to those still living.
Together with my photographer, Matt Molinari, we interviewed and photographed over thirty individuals who invited us into their homes, their lives, and into their deepest pain.
Each of the featured participants outlined the decision-making process to get a memorial tattoo—how they chose an artist and uniquely designed the tattoo—and explained the impact that the finished tattoo has had upon their life. They confirmed my belief that tattoos can open conversation about loss, bring the deceased into the living world, and offer comfort to those who mourn.
Amazon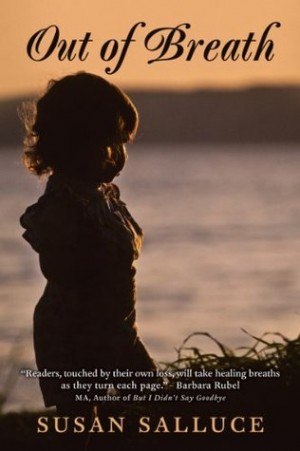 On a drizzly October night in the coastal town of Santa Cruz, California, seventeen-month-old Nevaeh drowns. Her mother, Alyssa Buchanan, is wild with rage and regret for placing her trust in her husband Seth, a former pro surfer who has a drug problem. Seth is adamant that he was clean the night of Nevaeh's death, yet a dirty drug test contradicts his story. His parental rights stripped and criminal charges looming, he battles to prove his innocence, love, and family devotion. Adding to the couple's grief, their five-year-old daughter Daisy hasn't uttered a word since her sister's death. Alyssa turns to childhood friend and local police officer, Greg Wallace, for comfort and support. Although Greg portrays heroic devotion and justice, inwardly he swims with loss, narcissism, and explosive rage. He has long despised Seth and is more than willing to meet Alyssa's needs that reach far beyond friendship.
Into this fragile scene steps therapist Katherine Middlebrook. Her practice consumes nearly all her time–time that is even more precious now that her mother's cancer has returned. She hesitantly accepts three new clients–Greg Wallace, and Seth & Alyssa Buchanan, unaware of their intertwined history. Buried deep in Katherine's past is the loss of her own child. She's sure she can keep the boundaries of her past and her clients' lives clear until their intersecting tragedies awaken old demons.
An award winner in the South West Writer's Contest for literary and mainstream novel, Out of Breath is an exploration of parental grief, addiction, compassion fatigue, and suicide; it's the prodigal story of grace undeserved. Salluce's expertise as a psychotherapist and grief specialist enables her to create dynamic characters that will leave you breathless as you jeer their shadow sides and cheer their heroic journeys.
Amazon

On Friday, Susan shares more beautiful quotes from GriefINK, combined with more of Matt Molinari's wonderful photographs